Last Crumb is the latest CPG startup to embrace the drop model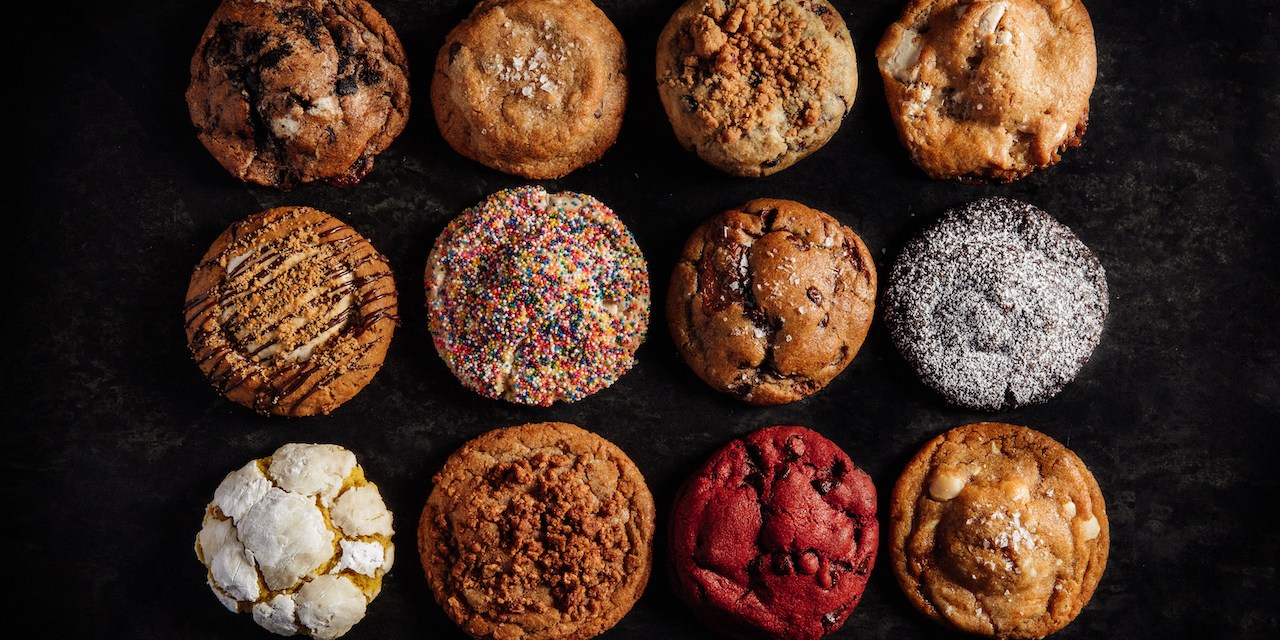 Image via Last Crumb
Since launching in May, luxury cookie brand Last Crumb has amassed a waitlist of thousands for its limited batches.
The list, which is used as a pool for a weekly lottery draw, is how Last Crumb has managed to create early hype around its brand. On average, the week's batch sells out in under a minute.
The limited release model has now become ubiquitous in fashion and streetwear — everyone from Nike to Supreme to the SNKRS App has deployed it. But CPG startups ranging from Last Crumb to direct-to-consumer cookie brand Fat & Weird are just starting to explore the drop model. Selling products in limited batches helps these brands drum up followers in their early days, by getting people to sign up for email listservs or follow them on social media in order to get notified about a new drop. It's also a way for these brands to try and justify a higher price point — Last Crumb's cookies, for example, cost $12 each and retail for about $150 per dozen count boxes. 
This week, Last Crumb raised just over $1 million, according to Forbes, to help scale operations and move production facilities to meet demand. The angel investor round was led in part by the founders of Truff hot sauce, EDM DJ Zedd and Lenny & Larry's Complete Cookies co-founder Barry Turner, among others. 
The brand currently offers a core collection of 12 cookies, which features flavors like 50 Cent (birthday cake) and When Life Gives You Lemons (lemon bar). The brand has 72 unreleased cookie flavors in the pipeline, which are still being tested for future drops. 
Matthew Jung, CEO of Last Crumb, told Modern Retail that because everyone has the same opportunity to score a box every week, the "drop" model has created a sense of scarcity among fans. "When we started, we chose weekly releases based on early production and testing capability," said Jung. However, when the early batches sold out by receiving viral social media reaction, the company decided to keep the model. To date, the brand's TikTok page has generated over 240,000 likes. In recent weeks, the cookie boxes were featured in actor and singer Ben Platt's latest album release, in which Last Crumb created custom mailer boxes that were sent out exclusively to celebrities and influencers.
Bakery chain Crumbl follows a similar playbook, releasing its limited-edition cookies through a rotating weekly menu. To execute the release, every Sunday Crumbl announces the following week's four new flavors available for purchase.
The sense of urgency "is a big part of the selling point," Jung said. He went on to say that so far, the startup has been able to acquire waitlisted customers without paid advertising. "We also don't send a lot of boxes to influencers, so the people buying them are generating the most buzz." 
The brand's waitlist is growing at a 10% rate per week, Jung confirmed. Last Crumb currently has nearly 28,000 Instagram followers, and almost exclusively uses the platform to alert customers of product updates. However, the email waitlist is the only way to get alerts about purchases. Given the high price tag, the brand has an audience that skews older, Jung said. "It's also not easy to get a second box, so we also have a growing list of repeat customers waiting to buy another box," said Jung. 
Given the high price-point and the element of scarcity, it's a purchase most people tend to share with friends and family. "We realized the unboxing experience itself is creating organic customer acquisition," he said. Jung noted that, according to generated social media content, many customers have done "tastings" events when receiving their box. What's more, the company has started highlighting unlucky customers in its marketing. To highlight the "FOMO," Jung said the social team has posted complaints the company has received about not being chosen to showcase how far customers are willing to go for the boxes.
Kendall Dickieson, a marketing strategist for CPG and DTC food brands, said that the time-sensitive release model is transitioning from fashion into food. The gourmet dessert space, in particular, is embracing the drops model, Dickieson said
"Whether it's weekly, monthly or quarterly drops, these brands are using the scarcity approach to entice consumers," she explained. And this selling format is proving that "many customers love the chase and can't wait to flaunt their unboxing online."
In a way, the food world is parlaying the in-person treat purchase into an e-commerce experience. In the past, it meant waiting in line for a Magnolia's Bakery cupcake or Dominique Ansel's Cronut. Now they can buy the latest sought-after desserts and have it shipped to their door.  
Jung said he's unsure whether Last Crumb will continue with the exact weekly drops permanently or switch to a more scalable made-to-order model. The trick, he said, will be to ramp up production to shorten wait times while still maintaining the cookie's slow, handmade process. He noted that future plans could include a "VIP waitlist" for existing customers.
"There are a lot of opportunities for collaborations and expansion, but we're focused on catering to our waitlist right now."