Levi's adds more sizing features to its website in DTC sales push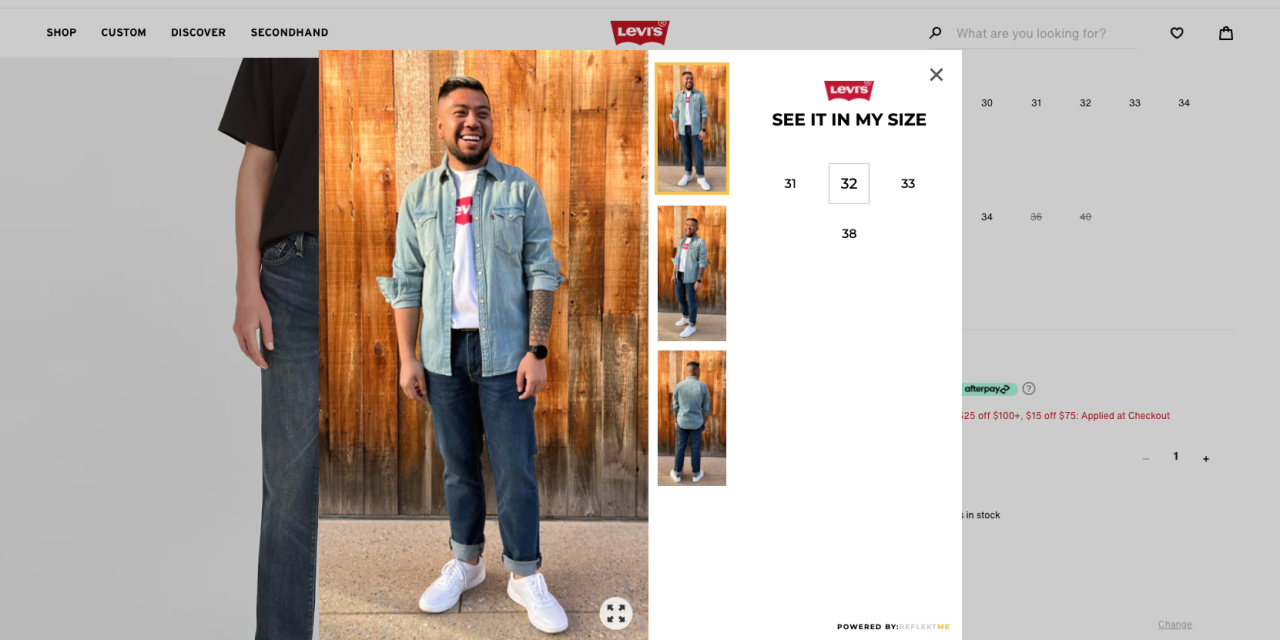 Levi Strauss & Co.
Denim brand Levi Strauss and Co. is adding more digital tools to help customers find the right size jeans, as part of its mandate to grow direct-to-consumer sales.
On Tuesday, the company announced two new digital fit features to its site: a predictive fit algorithm and a photo-bank of products on people of different body types. The features are currently in pilot, but will launch more broadly on desktop in six European countries and on the U.S. mobile app in June this year.
Levi's has made building out its direct-to-consumer business an area of focus for the past few years, with CEO Chip Bergh telling CNBC that "we're going to be DTC-led going forward" in April last year. Bergh added that he hoped that DTC sales would account for 60% of revenue in 2021, though the segment ended up closer to 40% of revenue. But with more direct-to-consumer sales comes the potential that brands — particularly those in apparel — will have to spend more money processing returns. As a result, brands like Levi's as well as Nike — have invested more in digital sizing tools in recent years.
Lara Lasisz, direct-to-consumer innovation lead at Levi Strauss & Co told Modern Retail that Levi's recognized that fit can vary across styles and online shopping could be challenging for consumers. "Consumers are looking to retailers to solve this obstacle," said Lasisz.
In response, Levi's invested in a predictive algorithm called "What's My Size," where shoppers enter their weight, height and gender and are given a size prediction. "The algorithm will recommend the best size to select based on the knowledge of the Levi's size charts as well as the understanding of the consumers' body measurements," said Lasisz.
Alongside this feature, the company is also rolling out a more elaborate tool: "See It In My Size." After clicking on the See It In My Size button on certain product pages, shoppers are given more photos highlighting what items look like on a person with a more similar size, height, body shape and skin tone.
"Inclusivity and representation are critical in building deep connections with today's consumers," said Lasisz. "When our fans shop online, they want to see a reflection of themselves and someone who has a similar body type."
To get the large amounts of photos needed for the feature, the brand tapped into both its workforce from its over over 3,100 stores and shop-in-shops globally as well as its micro-influencer base.
Employees were asked to submit a photo in Levi's clothes for a voucher and — in select retail stores — could participate in an in-store photoshoot. "As soon as we sent the email to our team asking for participation, we had almost all sizes covered within an hour," said Lasisz.
The brand also worked with personalization company Reflektme to bring micro-influences to select stores for additional photos. "By working with micro-influencers and our own employee base, we were able to capture a diverse range of sizes, heights, body shapes, and skin tones," said Lasisz.
The feature may also help the retailer with issues of online returns. In a blog post about the features' launch, Levi's pointed out that 40% of online returns are due to sizing and fit issues.
Erin Schmidt, a senior analyst at Coresight Research, said, "As sizes vary from retailer to retailer, frequently many consumers order multiple sizes and return the sizes that do not fit which is a cost to retailers and a burden for consumers."
Schmidt added that these fit concerns could be particularly important in the denim category. "There are a lot of consumer decisions including rise, length, flare, pocket width, amount of stretch and color," said Schmidt.
Levi's isn't the only brand embracing fit tools to grow its DTC channel. In 2019, Nike unveiled Nike Fit, a computer vision and machine learning tool to help consumers measure their feet via a smartphone camera for better sizing. At the time, Nike's global head of digital products Michael Martin said that the sneaker giant hoped that Nike Fit would solve a number of problems. Specifically, that it would help Nike cut down on returns, and to get a better sense of what sizes it should carry for specific styles.
Like Levi's Nike's investment in fit technology coincides with an increased focus on its direct-to-consumer business. During Nike's fiscal third-quarter earnings presentation in March, the retailer revealed that Nike Direct sales grew 17% year-over-year, accounting for 42% of Nike's total sales.
Other retailers, meanwhile, are partnering with tech startups to address sizing issues. Big-box retailer Walmart announced a partnership with virtual fitting room technology platform Zeekit, in March, and eventually acquired the startup outright in May. Similar to Levi's, Walmart will offer a broader bank of more inclusive models to help visualize how clothes might look on them.
Lasisz said there was "no one solution to address the entire online sizing challenge," but explained that the company was looking into multiple ways to help customers in online fitting.
"We've also learned from previous tests that although some digital renderings can help, it is sometimes much more efficient and appreciated to show real people wearing real clothes," said Lasisz. "Right now, we're piloting What's My Size and See It In My Size to see what will resonate with our fans as we continue to test new technologies."