Levi's first-quarter sales growth is driven by wider-leg denim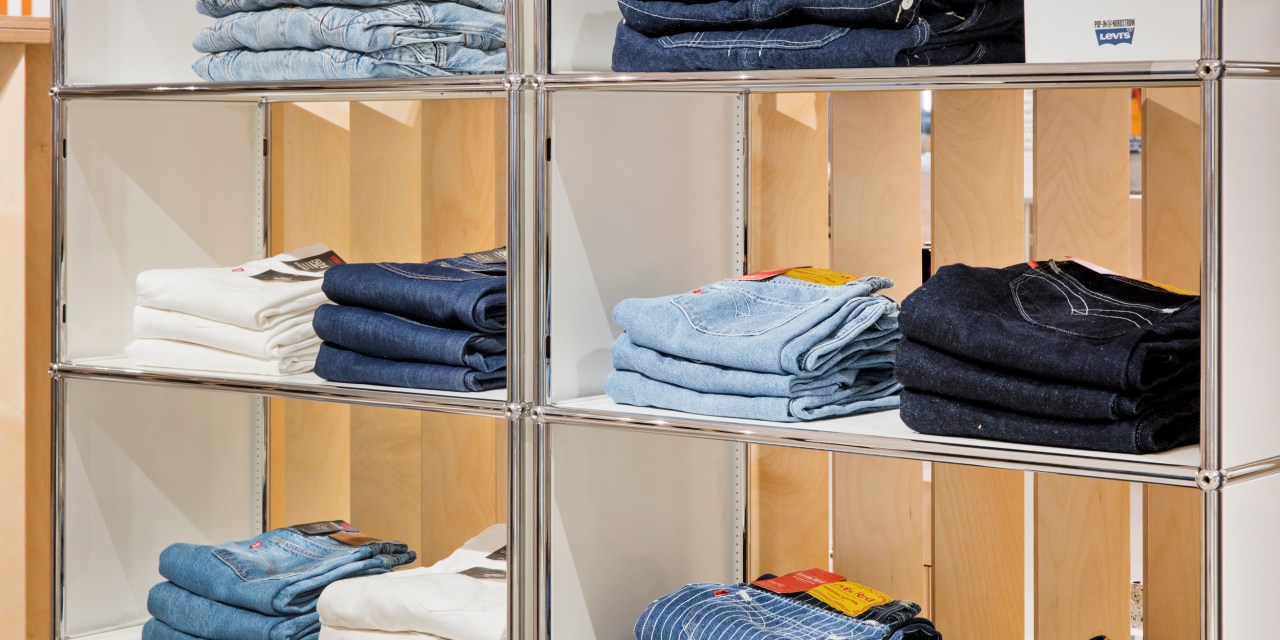 Levi's X Nordstrom
Levi's reported 22% year-over-year revenue growth during its first-quarter earnings call on Tuesday, driven largely by the popularity of wider-leg silhouettes.
In March, research firm The NPD Group announced that straight leg jeans surpassed skinny jeans as the best-selling jeans style in 2021 sales, accounting for one-third of the category or $3.3 billion. Also according to The NPD Group, the denim category as a whole was up 9% in 2021 compared to 2019, outpacing average apparel growth. At Levi's, looser fitting styles accounted for about half of bottoms sales in the first quarter. The pivot from skinny denim — and the need to refresh closets amid a return to events — suggests further growth opportunities going forward.
Late Wednesday during the retailer's first-quarter earnings presentation, Levi's president and CEO Chip Bergh claimed Levi's had "started" the loose denim trend. It's a hard claim to prove definitively: wide-leg preferences have gone in and out of style each decade — from the 70s flare to the 90s baggy. Moreover, most denim retailers have long offered a mix of wide and skinny silhouettes.
However, Levi's — founded in 1853 with its "501" straight leg style — was well-positioned to meet 2022 demand for wider styles. Its 501 style alone grew 50% year-on-year in the first quarter.
"As the market leader by far on a global basis, we believe that a big part of our responsibility is driving category growth," said Bergh. "When your most iconic item is growing like that, it says something about the overall strength of the brand."
Levi's isn't the only retailer that's seeing increased interest in wider-leg styles.
Apparel brand Guess's COO Carlos Alberini told investors in the company's fourth-quarter earnings call last month that 75% of denim at Guess North America last year used to be skinny jeans. However, Alberini said that "skinny jeans now would represent only 50% of our assortment going forward."
Sonia Syngal, CEO at Gap Inc., said "inventory composition at Old Navy is changing dramatically along with customer preference" in the retailer's fourth-quarter earnings call last month. These customers, she added, are embracing "denim with new leg shapes."
"[Levi's] is definitely a brand that does play heavily into that [wider-leg] trend," said Jessica Ramirez, a retail research analyst at Jane Hali and Associates. "It's good for the entire apparel industry and obviously denim is definitely benefiting from it."
Ramirez said the trend is certainly not new, but pointed to The NPD Group's findings as proof that wide-leg had moved from early adopters to a more mainstream appeal, with broader sales opportunities.
"We still have the bell curve, where you have the innovators setting trends, followed by early adopters and then it starts hitting mainstream and mass," said Ramirez. "That's usually the bulk of the business, which I think is where we are heading."
While many discuss wider styles within the lens of women's denim, Ramirez said the trend was playing out in men's as well.
Wider styles accounted for half of bottoms sales at Levi's in both men's and women's this quarter, and men's bottoms sales more broadly were up 24% year-on-year. This, added Bergh, represented men's bottoms "highest first-quarter revenue in over a decade."
Denim — and Levi's — took a sales hit in the beginning of the pandemic as consumers stayed home and embraced sweatpants. In 2020, Levi's lost $127 million, while peers like Lucky or G-Star filed for bankruptcy. However, in 2021, wider styles of denim seemed to allow people to stay comfortable while dressing up for the return to out-of-home events.
"There is still that element of comfort," said Ramirez. "But there is a lot of enthusiasm in fashion… How people have been dressing when they step out to the street has been much more exciting than I've seen in quite some time."
In 2022, Levi's still faces headwinds — most notably, inflation.
The company raised the average selling price of an item by 10% this quarter. Levi's evp and CFO Harmit Singh attributed "half" of revenue growth to these increases. Bergh, meanwhile, added "there remains additional headroom to raise prices in parts of our portfolio through the balance of this year and beyond.
However, Bergh also said that "we're not seeing any real pushback on pricing at all at this point."
Ramirez added that thanks to the return to events and the rising popularity of new denim styles, consumers will continue to refresh their wardrobes even amid inflation.
"The product that we're seeing — not only with denim but across the board — is more in tune with what consumers want," said Ramirez. "And at a time when there is supply chain issues, and low inventories, you're going to pay what you have to pay to get that product you need."