Linktree adds Shopify integration, as it seeks to ramp up e-commerce partnerships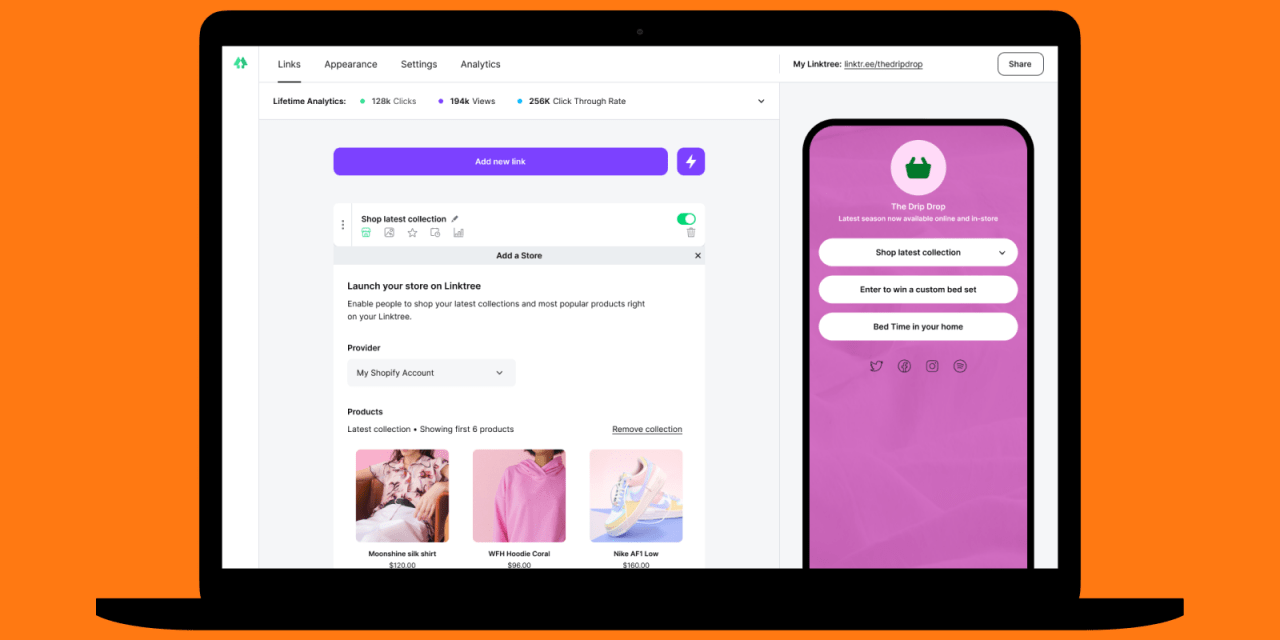 Linktree
Today, link-in-bio company Linktree announced a new partnership with Shopify, integrating Shopify storefront features directly into users' link-out Linktrees.
Linktree was founded in 2016 as a solution to social media sites like Instagram only allowing a single link to be featured in users' bios. The service — which lets users curate their own list into a multi-link hub or "Linktree" — raised $45 million via a Series B funding round in March, following a $10.7 million Series A round in October 2020. The service operates on a freemium model: it lets creators use basic functions for free as well as offers a $6-a-month Pro service with more features like access to a greater variety of customization tools and themes.
However, as social media sites invest in new, direct integration of e-commerce partnerships and features with players like Shopify, link-in-bio companies are facing an existential threat. In response, Linktree is now focused on building out a "suite" of e-commerce tools and serving as an aggregator of multi-platform presences, explained Anthony Zaccaria, Linktree's co-founder and chief commercial officer.
Under the new partnership with Shopify, Linktree users will be able to incorporate storefront features directly into their Linktrees. An influencer can now host multiple links to different Shopify storefronts or collections, highlighting six products under each link.
"Shopify is such a massive ecosystem and trusted by millions of businesses around the world," said Zaccaria. "We wanted to allow users to get closer to their audiences and reduce the friction in their paths to monetization."
Zaccaria added that the latest partnership with Shopify was another step for the company in "widening out an e-commerce suite of tools." Linktree calls this multi-platform strategy its Commerce Links initiative, which comes at no additional cost to Linktree users.
This isn't the only example of these services doubling down on commerce features. Koji, which also offers link-in-bios, centers the majority of its commerce investments in-house. This summer, Koji rolled out its own in-app storefront and, last month, promoted further commerce integrations like single product instant checkout with its "Commerce Week" event. Linktree, instead, has focused its energies on commerce partnerships.
In May, Linktree partnered with Square to enable direct payment capabilities for the first time. Then, in June, Linktree partnered with Spring for its first storefront shopping experience. And in August, Linktree partnered with PayPal in order to expand its direct payment capacities.
"E-commerce is a massive area for the internet as a whole and social commerce, in general, is growing rapidly," said Zaccaria. "The more partnerships like this that we can do, the better it is for our users."
Finding unique ways to integrate e-commerce into creators' social media presences grows ever more critical as social media platforms themselves integrate direct commerce. On Thursday, for example, Facebook rolled out "Facebook Pay" on its "Subscriptions" creator service, an in-app, no-fee alternative payment system to Apple Pay. The week prior, TikTok began testing a livestream feature that allows viewers to send creators monetary "Tips." For now, TikTok isn't taking a percentage of those tips.
This raises the question, if Instagram is partnered with Shopify for a multi-link shopping experience that incorporates affiliate revenue streams, what is the need for a link-in-bio company like Linktree? The answer, said Zaccaria, is multi-platform aggregation.
"A massive differentiator is that our users use Linktree because there's more to them than just what is on [a single] feed," said Zaccaria. "[Linktree] curates their whole ecosystem, whether that is a path to monetization, a look at a YouTube video or a sign up for a mailing list."
Michael Felice, associate partner in the Consumer, Media and Technology practice of consulting firm Kearney, agreed that there is still a place for link-in-bio companies, even as social media sites beef up internal commerce capabilities.
"Social media companies like Facebook, Twitter, TikTok and others are more incentivized to drive traffic internally and continue to capture their own first-party data that they can then monetize within the site," said Felice. He added that link-in-bio companies can appeal to people or brands that want to avoid the "margin compression" that selling through social media companies might add.
Felice added that e-commerce and link-in-bio partnerships, in particular, have the added value of pooling multiple forms of data together.
"The more you can create scale outside of big tech, the better," said Felice. "Combining one sub-scale first-party data pool with larger third party data pools from other players helps to unlock more ability to connect to a consumer."
Linktree's Zaccaria also pointed to the platform's growing user base and interactions as proof of concept. The platform's 18 million users generate a billion views a month.
"We're all about democratizing internet presence and empowering our users… [and these numbers] show how much we've grown over the last five years," said Zaccaria. "They're another proof point of why we're integrating with the likes of Shopify."