'A record year': Liquidators and resellers are poised to profit from the online return rush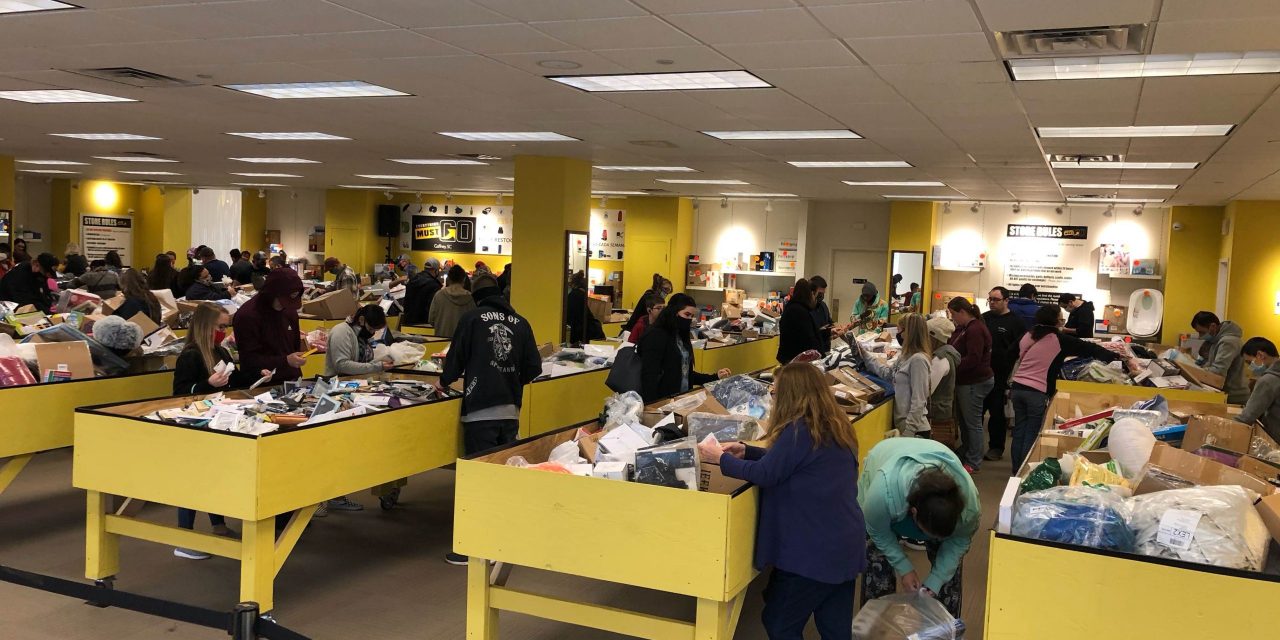 The growing pile of returned holiday gifts is fueling a booming industry of end-of-the-line vendors.
Indeed, professional liquidators are preparing to receive all the goods being sent back to retailers — and turn them over to individual resellers, who sell them once again.
"We had a record year," said Butch Maltby, the spokesperson for Quicklotz Liquidations, a company that specializes in reselling unsold or returned goods and has partnerships with Target, Home Depot, Amazon and Nordstrom Rack. Declining store visits left many companies overstocked over the last year, and many sent their excess goods to Quicklotz.
When customers return a piece of clothing or a phone charger, it can meet a number of possible fates, all part of a process sometimes dubbed "reverse logistics" or the "reverse supply chain." After an inspection, about 25% of returns are simply thrown out and dumped into landfills. Some are deemed in good quality and can be resold as new. Other times, lightly used products will be shuttled to a company's outlet store, if it has one.
Everything else — products that are in good quality, but for one reason or another aren't a good candidate to be restocked — might end up on a liquidation site or at a warehouse, where small businesses, resellers or regular consumers can buy pallets of products at steep discounts. In recent months, many of those liquidators have reported a surge in inventory, right as resale platforms like Poshmark are ballooning in popularity — and to unload products faster, the two industries are working together.
The big business of retail liquidity
The record number of online sales is fueling a boom for liquidators like Quicklotz. Online holiday sales hit a record $234.9 billion this year, according to research by CBRE — and of that, $70.5 billion, or about 30% of overall holiday orders, will likely be returned.
One reason the shift to online shopping is so consequential for the retail liquidation business is that online orders result in returns at a disproportionately high rate. By one estimate, 15% to 40% of goods bought online are returned, far higher than the 5% to 10% for in-person purchases. This year, anticipating a flood of returns, Amazon and Walmart have each made it easier for customers: Walmart by partnering with FedEx, Amazon by allowing people to drop off any unwanted Amazon order at hundreds of Whole Foods locations.
All those returns, if they do get pushed toward the liquidation industry, are funneled to a patchwork of online auctions and hyper-discounted retail stores. One of the largest auction sites is, Liquidation.com, buys up unsold and returned goods from Amazon, Wayfair, Lowe's and Target, and then bundles into pallets. On its website, the company offers a suggested retail value of all of the bundled goods, a few photos and their overall weight; this week, one apparel pallet, weighing 58 pounds and worth an estimated $1,723, sold for $115.
Frequent bidders include small business owners, individual consumers who are willing to risk some uncertainty about what they're buying in exchange for great deals or — more likely — professional resellers who will sort through the bundle and list the best items on resale sites eBay or Poshmark.
Although buyers usually turn a profit on a pallet, occasionally they might buy one that's mostly worthless. "It's not that [the industry] lacks rules," he said. "It's just more of the wild west in some ways than other, more traditional marketing or consumer-oriented selling scenarios." (Quicklotz, he added, does some "macro-level" sorting to prevent a nightmare situation.)
Liquidation.com is far from the only online store: Quicklotz is much smaller, but it does much of the same work. The company B-Stock operates a series of online marketplaces for companies like Walmart and Macy's, where they sell returned or unsold goods to professional resellers or to liquidation warehouses. A company called Optoro runs two sites — BULQ.com (targeting resellers) and BLINQ.com (which sells to consumers).
But online auction sites are just one piece of the liquidity sector. Across the country, a patchwork of small stores — with names like Bintime and Dream Deals — buy up loads of returned and unsold goods and sell them out of giant bins at massive discounts.
The pandemic impact
Retailers are so swamped with returned orders and unsold goods that Optoro has started bringing them directly to resellers.
Optoro handles returns for companies like IKEA and Best Buy. When returns are shipped back to company warehouses, Optoro sorts through the items and those that are headed for liquidity might shift to the company's resale arms, BULQ and BLINQ.com.
In November, BULQ announced a partnership with eBay to bring those excess goods directly to resellers, in hopes of unloading merchandise faster. Those eBay sellers buy in bulk, then list the best finds — this time for consumers — individually on the site.
That eBay partnership, said Blair Staunton, Optoro's VP of marketing, was born out of the deluge of unsold inventory this past year. For retailers, said Staunton, "their pain was exacerbated by the fact that they were sitting on a lot of inventory and they weren't quite sure what to do with it all."
By listing liquidated goods directly on eBay, Staunton believes the industry is entering a "smarter" phase of retail liquidation. She defined traditional liquidation as an unsold or returned product "going to one warehouse, and another distribution center, until it finally has nine clearance stickers and is in the back rack of some store."
Those back-and-forth shipments are expensive. But as more returned items flood in, Staunton forecast that retailers will start selling returned goods on their online stores immediately. Patagonia, which is investing heavily in its Worn Wear resale platform, might be one model.
The timing is also fortuitous: resale sites like Mercari and Poshmark are seeing spiking numbers of customers (though many resale platforms are subsidizing orders so much that they haven't been able to turn a profit).
For now, both liquidators and resellers are preparing for an avalanche of items. As online returns begin to trickle back to retailers following the holiday rush, Quicklotz — like the rest of the industry — is gearing up for a spike in inventory. Exactly how big the spike will be is "still a little early for us to know," Maltby said. "We feel like supply is going to be good for us, but you never know until the truck rolls up."
(Photo of an Everything Must Go store via Quicklotz)