Looking to grow quickly, online startups are modernizing the franchising model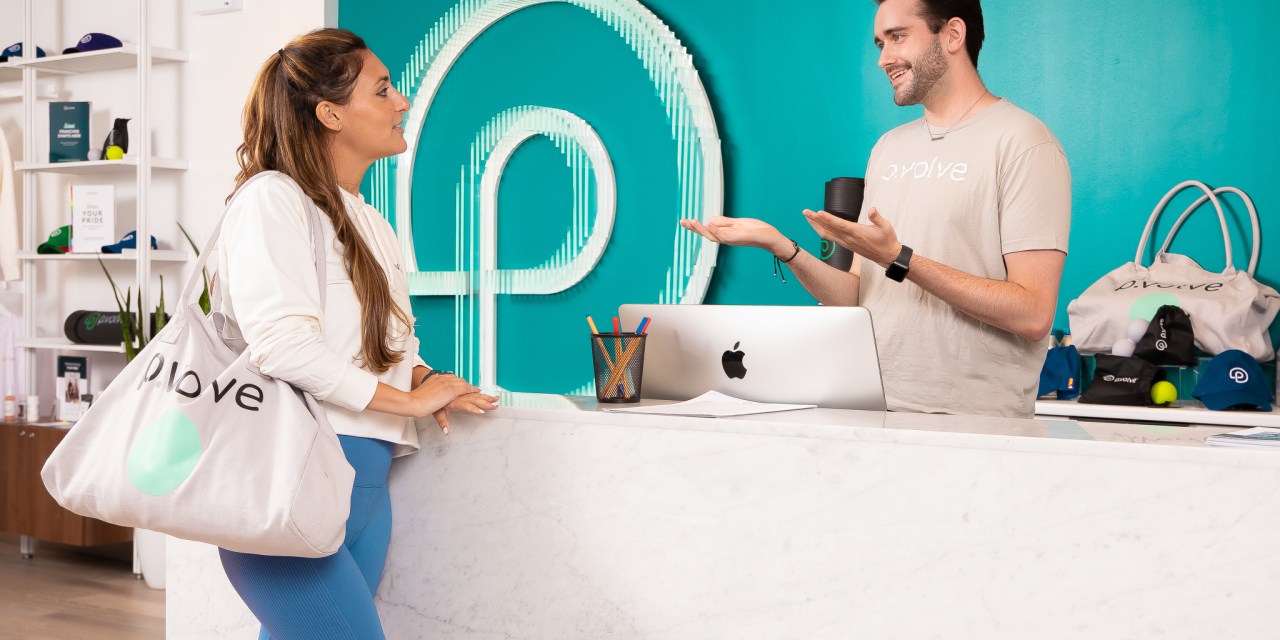 Image via P.volve
Franchising is becoming a popular solution for startups trying to establish a national presence. 
More than a few brands have been testing the franchising waters. This year, for example, facial studio Heyday, which was founded in 2015 and operates 11 company-owned locations, began opening new shops operated by franchisees. The company plans to expand to 300 national franchise locations over the next five years. Similarly, this year salon brand Drybar began increasing its footprint via franchisees. 
Meanwhile, other digitally-native businesses are joining their ranks. Earlier this year, virtual fitness studio P.volve began scouting franchise candidates to open physical studios. And, after starting out by opening its own shops, baked goods brand Crumbl also decided to franchise nationally. As these startups pursue a franchising model, they are taking greater ownership over training the first set of franchisees, and providing them with in-house tech to streamline operations. What's more, data from online business is helping inform future franchising decisions.
Franchising models generally works like this: the franchisees are responsible for the majority of startup and buy-in costs. Depending on the brand, franchises can cost anywhere between $100,000 to $1 million to get a location up and running. There are also franchise fees that the parent company collects from operators, which can cost an average 5% to 6% of volume sales.
According to Jania Bailey, CEO of franchise broker group FranNet, people have historically associated franchising with fast food or quick-service restaurants. However, Bailey explained that in recent years, the model has become a solution for young companies that want to scale their brick-and-mortar presence without investing large sums of capital.
There are some pitfalls. For one, finding franchisees can be challenging for new brands, said Bailey. "It's a big investment." Oftentimes, interested candidates want a consistent track record from a franchise, she said. As for signing franchise contracts in the Covid era, while interest is high, "people are taking their time and we're not seeing impulse buys," said Bailey. 
Capitalizing on a virtual customer base
RJ Krone, vp of studio and franchise operations at fitness studio P.volve, was brought on in April 2020 to head its physical retail strategy. When the coronavirus forced the company to pivot to virtual sessions full time, the physical gyms were put on hold. But those extra 18 months helped the brand grow its online audience before going physical. In October, P.volve opened its first two franchised locations in San Diego and Nashville.
"Even though we were already building out studios, Covid bought us more time to test franchising methods," Krone said. In the past year, P.volve — which was founded in 2017 — opened three owned studios in New York, Los Angeles and Chicago. These owned shops will be used for running pilot programs, such as partnerships with local hotels and apartment complexes. "The idea is to be 12 to 18 months ahead of the franchise locations to inform them of what works," Krone said.
For P.volve, the plan is to award seven total franchise owners by the end of the year, of which it already has four owners signed on. The ultimate goal is to have 250 franchise locations by the end of 2025. 
The company is deciding on new locations based on the number of virtual customers it has in those markets, said Krone. San Diego is one of P.volve's biggest markets, so the company hopes to open two more franchised locations in that city. P.volve is also looking to enter Canada and the U.K. via franchising and is currently in talks with candidates to open a Vancouver location.
To generate interest in franchising, the company began with an email campaign to its customers. It's also working with a national franchise brokerage to attract more candidates. 
Even though the company is looking for owners of these new locations, it still wants to make sure the branding remains consistent. For example, Krone said P.volve takes on most of the marketing efforts, such as social media and PR, on behalf of owners. "We'll be responsible for 70% to 80% of marketing, but the rest is on the franchisee," said Krone.
Figuring out how to maintain brand consistency
For brands that began online, there are advantages to franchising their physical expansions. But these companies are also figuring out ways to make sure the branding and quality stays consistent.
Jason McGowan, co-founder and CEO of bakery chain Crumbl, said that although Crumbl didn't originally set out to be a franchise model when it launched in 2017, "we saw the value quickly after opening our first few stores." The model, said McGowan, is mutually beneficial in that it allows people to own a Crumbl store while helping the company grow its brand. 
In the early stages, the first wave of Crumbl bakeries were owned by the founders' friends and families. Since then, the company has opened it up to more candidates. Crumbl has a franchise fee of $25,000, and owners can expect to pay between $200,000 to $500,000 in total investments. 
Now, the company is expanding at a quick rate, and franchising has become a crucial element to Crumbl's business model, said McGowan. The TikTok-favorite Crumbl now has 300 locations in 36 states, and is on track to open dozens more by the end of the year. "We're currently opening 18-plus stores a week and plan to maintain that growth rate for the near future," McGowan said.
One of the big issues McGowan deals with is quality control and product consistency of its baked goods. To help with that, Crumbl uses an app, which it launched in 2018. Through this online storefront, Crumbl releases new flavors to customers and fulfills digital and in-store orders. The app is powered by Crumbl's official site — which means that all locations follow the same sales and fulfillment protocols — and has helped streamline daily operations. 
"Cookie quality is a top priority for our business, and we've seen our fair share of challenges in sustaining this among so many locations," he said. At Crumbl, each batch of cookies is made from scratch every day, which makes quality control vital while franchising, said McGowan. To oversee this, Crumbl has in-house compliance and quality teams that inspect each location's branding and recipes. 
Another way companies are keeping franchises under control is in the way they find potential franchisees. WellBiz Brands, the parent company of franchised brands Elements Massage, Drybar and Amazing Lash Studio, seeks out avid fans as potential business partners.
Many of the WellBiz brands' newest franchisees were existing studio customers, according to Lauren Wanamaker, senior director of development at WellBiz Brands. "With brands like Amazing Lash, there is a strong following that wants to be involved in the business," said Wanamaker.
WellBiz selects franchisee candidates based on their financial qualifications but also "their understanding of the brand and willingness to uphold standards," said Wanamaker. To ensure consistency across all locations, WellBiz monitors them on a regular basis, including inspection of staff training, marketing materials, and studio aesthetics. 
"We've ensured that we only sign engaged franchisees who are invested in the brand," said Wanamaker. "It's by no means a passive model where the business runs itself." 
For all of these companies, franchises have become a way to grow quick — but they're also figuring out new ways to make sure the locations all work well in concert with each other. Said Crumbl's McGowan, "we have to have specific processes and teams in place to ensure we're controlling the brand."