Lowe's to open Petco shop-in-shops in select locations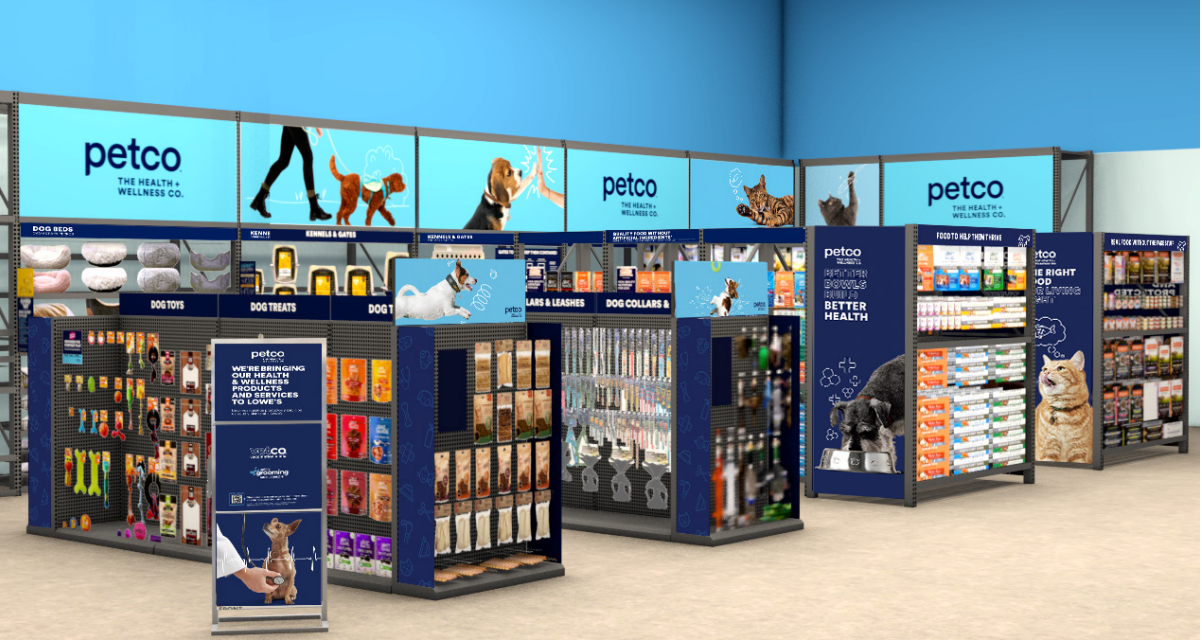 Petco
Lowe's is bringing Petco shop-in-shops to select stores for the first time in its bid to win market share in every aspect of the home category, including pets.  
The retailer said that the first Petco shop-in-shop location will open in early February at Lowe's Alamo Ranch, Texas store, and it plans to expand to 14 more stores in Texas, North Carolina and South Carolina by the end of March. 
Over the past couple of years, Lowe's has been attempting to be a one-stop-shop solution to various facets of home life and upping its product assortment in categories like gifts, fitness and home decor. Lowe's saw big gains during the pandemic with net sales in the third quarter up 31.8% from the same period in 2019. Getting into new categories is part of the home improvement retailer's strategy to keep growing sales. 
Each shop-in-shop will feature a selection of pet nutrition and products from both national brands and Petco's owned brands such as WholeHearted, EveryYay and Youly. The stores will also offer some of Petco's services, including mobile grooming as well as Vetco mobile clinics for vaccinations, microchipping and pest prevention, at select times and locations.
"We're really hoping to better serve consumers who are looking for expertise in the home and pet space by bringing the products and services they know and trust under one roof," Bill Boltz, Lowe's executive vice president of merchandising, said via email. "Over the past few years, we've expanded our pet offering and are really pleased with the growth we've seen in this space so, we're looking forward to seeing how our customers respond to the Lowe's + Petco store-in-store concept."
Lowe's shop-in-shop partnership with Petco brings it closer to becoming a true one-stop-shop destination for everything consumers need, Boltz said. The tie-up with Petco is part of Lowe's "total home strategy," in which the company aims to provide all the products customers need for every component of their home, he said. 
Petco stores at Lowe's will be about 1,100 square feet at most locations, with Petco employees staffing the initial shop-in-shop locations to offer pet-related guidance during peak hours, according to Boltz. The deal also adds to Lowe's existing assortment of pet products and pet-friendly environment.  
"Over the past two years, we've seen a boom in both the pet-first lifestyle market and the housing market, with DIYers prioritizing their pet's needs when planning home projects," Boltz said. Citing a company commissioned survey indicating the rise of pet owners investing in DIY projects for their pets over the last 12 months, Boltz added that "there really couldn't be a better time for us to partner with Petco and offer these DIYers that convenient solution to get both their home and pet needs in one location."
Shop-in-shops have become increasingly popular among big-box retailers in recent years. For instance, Target entered similar shop-in-shop partnerships with Ulta, Apple and Disney. Kohl's, on the other hand, plans to have at least 850 Sephora shop-in-shops by 2023.
However, the concept of shop-in-shops isn't new, said John Cui, associate professor of operations and information management at Georgetown University. It bears similarities to the merchandising strategy of department stores like Macy's and, in some ways, virtual storefronts on Amazon. 
Cui said that shop-in-shops are on the rise as more brick-and-mortar retailers have been struggling to encourage consumers to keep shopping in stores. "Because brick-and-mortar retail stores are trying to survive, they're trying to add more in-store experience."
Specialty retailers that own the mini shops can also benefit from big-box retailers' prime locations, which are oftentimes hard to get, said Lanny Geffen, director of customer experience at Fuse Create. In some cases, retailers can offset logistical costs because they share back-end resources with large retailers, such as shipping, receiving and warehousing, he added.
"If you're working retail, the hardest thing is to get those footfalls so you get that advantage as well," Geffen said. "You got the coalition effects of both brands going to market together each with promotional activities bringing people in."
There are positives for both Lowe's and Petco in partnering up, Geffen said. The deal might give Petco a share of Lowe's consumers who typically might not shop at the pet retailer. By teaming up with Petco, Lowe's might be able to gather consumer data in the pet category to inform its decision to enter new retail categories. Lowe's has been leaning on other types of partnerships — for example, teaming up with influencers to promote how shoppers can find decor and design inspiration at its stores — as it expands into new categories.
Like many business deals, shop-in-shop partnerships also come with some degree of risks, such as issues with faulty products or company scandals, Geffen said. 
Still, offering shop-in-shops can give consumers a good reason to visit stores and essentially "breathe new life" to stores, he said.   
"The idea is that you are getting an added layer of service from a sales perspective. They know the product better. It's not just something on the shelf," Geffen said. "I think that there's a deeper level of relationship and consumer experience when it does get to being a shop-in-shop."