Modern convenience store Foxtrot plots national expansion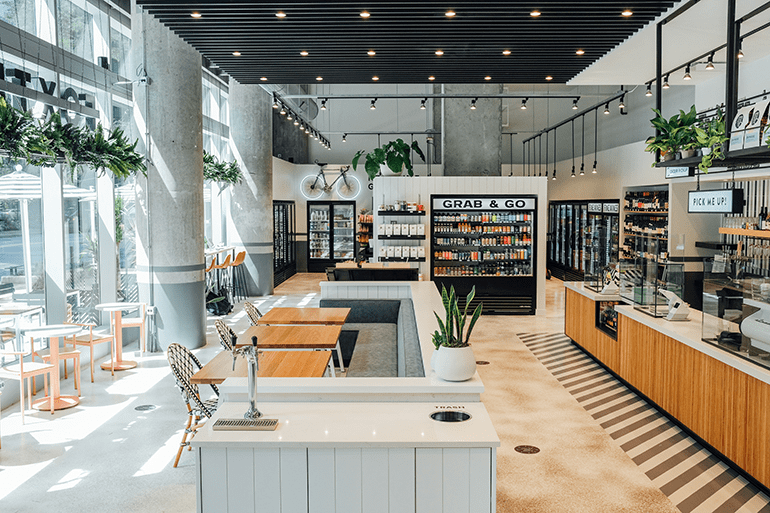 Foxtrot
Modern convenience store chain Foxtrot plans to open 50 new stores over the course of the next two years, expanding to New York City, Austin, Boston, Miami, Los Angeles and Houston.
Founded in Chicago in 2014, Foxtrot has doubled its growth each year, said co-founder Mike LaVitola. Last year was no exception: like many other convenience retailers during the pandemic, Foxtrot's 13 stores in Chicago, Dallas and Washington D.C. thrived. E-commerce sales tripled in 2020 and even in-store sales were up 28%. Year-to-date, retail sales are up 100%, while online revenue is up 22%, compared to the same period in 2020.
Now, Foxtrot says it's going to significantly expand its brick-and-mortar presence. As it expands, Foxtrot plans to rely on speedy fulfillment — offering delivery in under 30 minutes, as well as in-store pickup in under five minutes — as well as a wide selection of local goods in order to stand out from competitors.
Foxtrot was founded in Chicago in 2013 under a delivery-only, dark convenience store model. As a result, it was already primed for online success during the pandemic, said LaVitola. In 2016, the retailer also started offering traditional in-store shopping, as well as in-store pickup in under five minutes.
Foxtrot opted for dense neighborhoods like Chicago's West Loop for its locations, in order to more feasibly offer fast local delivery. Once it got a handle on delivery operations, the retailer then expanded into neighborhoods in the outer edges of the city like Southport. Following that, Foxtrot expanded to Dallas in June 2019 and Washington D.C. in March 2021. Currently, the retailer has thirteen stores: nine in Chicago, two in Dallas and two in Washington D.C.
Over the next two years, LaVitola is excited to re-focus efforts on in-store experiences, after a year of heightened e-commerce sales, bringing Foxtrot's sales back towards the 50/50, online/offline mix of its past.
"Last year, delivery was a necessity and then it became kind of a nice perk," said LaVitola. "[Now], at the end of the day, people want to get out. They want to see other people. They want to be in person."
Foxtrot's new stores will have bigger footprints and feature on-premise dining with expanded menus. They will also have a large selection of goods from local restaurants and stores, which currently make up 40% of Foxtrot's offerings at its existing locations. The on-premise dining options shift from day to night — adjusting food menus and shifting from an espresso bar to a wine bar. Foxtrot carries a range of food, home and drink products from both DTC brands like ice cream brand Jenni's and CBD-focused brand Not Pot, as well as its own private label products, which include potato chips, granola and brightly colored drink tumblrs.
While Foxtrot is a "modern" iteration on convenience, LaVitola said price-point considerations also need to be balanced with fun.
"Our job is to prove that the convenience store can be something different than a last resort," said LaVitola. "At the same time, [it's] making sure [that] it's not an overly expensive, super-bougie, millennial, special-occasion-only play. It has to be useful; otherwise it's not convenience."
Some of Foxtrot's less expensive products come from its own, in-house line, though the retailer also sells products from major brands like Oreo to smaller DTC startups selling in a store for the very first time. LaVitola says that the variation between partners and product across its different locations can be "a logistical nightmare in the backend," but one the company is committed to it regardless, via its owned DTC app and its website.
The new guard of convenience
Foxtrot is one of many disruptors in the convenience space who made gains during the pandemic. Many think of gas-station staples like 7-11 or Loaf N' Jug when they think of convenience. However some digital-first startups have started gaining momentum, said Jackie Tubbs, an analyst at research firm CB Insights.
"Startups across the digital-only convenience store industry have raised over 6.5 times as much funding during the first half of 2021 as they did in all of 2020, largely driven by goPuff's $1.15 billion Series G round in March 2021," Tubbs wrote in an email. "Many of these startups market competitive pricing and have a dedicated delivery staff in place of gig workers to help speed up deliveries — all adding up to an expensive operation that also prioritizes low or no delivery fees for consumers."
Maintaining the consistency of Foxtrot's 30-minute delivery and five-minute pickup services across new locations isn't a concern for the retailer, said LaVitola.
"We started just doing deliveries, so that is really the DNA of the company," said LaVitola. "Probably 80% of the tech that we've built to date is all around those backend systems, enabling around pick-and-pack software, inventory merchandising, all the back of the house stuff that consumers never see but that make the experience work. So for us, as long as we're picking the right locations and opening up [in] dense enough neighborhoods, we're not so worried about the operations side of it."
Going forward, Foxtrot plans to open stores in both centrally located urban neighborhoods, as well as in the suburbs. Both, explained LaVitola, help to grow e-commerce along the way.
"While we will always start first with those dense urban cores, I'm certainly excited about getting into suburban," said LaVitola. "The way that we grow our e-commerce channel is by opening up what's hopefully a beautiful store in your neighborhood that is featuring the right kind of local goods, and is really building a sense of place. If we do that right, that for us really is our e-commerce acquisition strategy [too]."