Modern Retail Research: Search advertising is still king for driving sales
Ivy Liu
The rise of retail media in recent years has unlocked new options for brands' digital ad dollars beyond just Google and Facebook ads.
Amazon is now viewed as a viable and effective — if not necessary — ad channel by many brands that sell on the platform, while Walmart, Target, Kroger and others are making compelling cases to advertisers as well. Advertisers have little choice but to attempt to diversify their ad spending where possible, and these channels have offered new options and opportunities to test.
But when it comes to effectiveness and return on investment, Modern Retail Research found that retail media doesn't yet hold a candle to search advertising – the original e-commerce conversion powerhouse.
A survey of 114 ad buyers from brands and agencies found that Amazon has pulled ahead of the retail media pack in terms of ad effectiveness, most likely because of its inherent proximity to purchase. But despite Amazon's rise in popularity with ad buyers in recent years, 70% of respondents rated search ads as the most effective channel for effectively driving sales.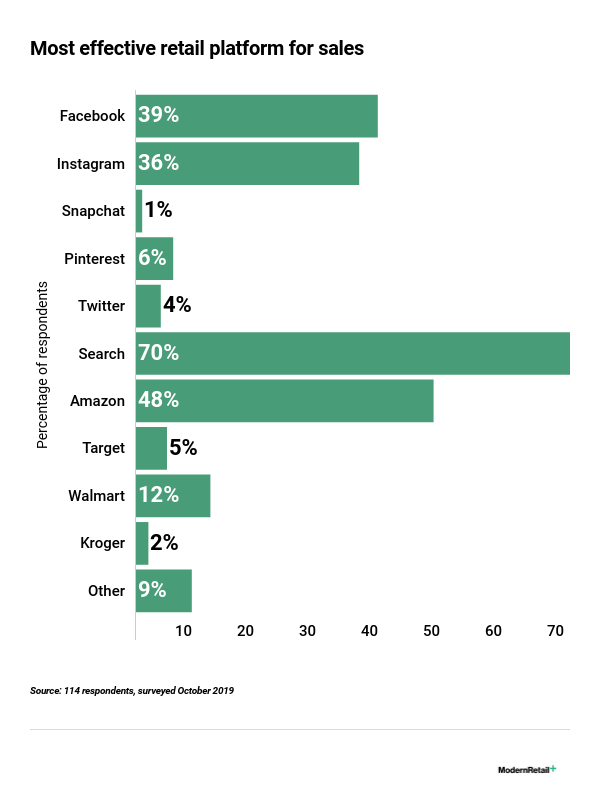 Beyond simple ad effectiveness, respondents to the survey also rated search ads as delivering the best value for their money. Facebook and Instagram provided better ROI than Amazon, they said, but none provided anything like the return that search ads offered, with 66% of respondents rating ROI from search ads as "good" or "very good".