N95 masks get a facelift amid rising demand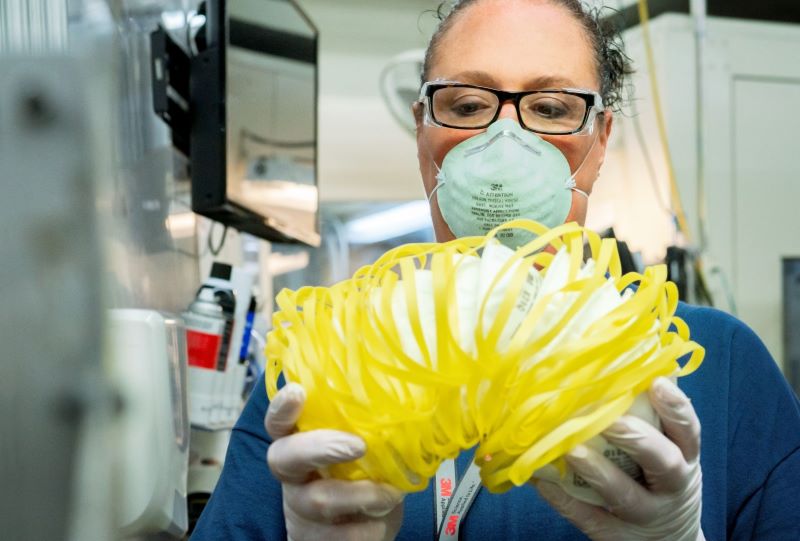 3M
The N95 mask industry is planning for a busy 2022 due to the latest coronavirus wave.
When the pandemic first began, the CDC suggested that, amid a N95 shortage, healthcare workers should be prioritized for higher filtration masks, while average Americans could wear alternatives like cloth or surgical face coverings. However, by December, Fast Company reported that there was no longer an N95 shortage and, indeed, the U.S. had over 100 million in stock.
Meanwhile, the rise of the highly-contagious Omicron variant has led to a spike in Covid-19 cases, as well as increased concerns about the effectiveness of cloth masks. Now, manufacturers and distributors are gearing up for the next wave of demand for high filtration masks by hiring new employees and investing in new styles and products. However, strict FTC product standards and counterfeit confusion complicate growth opportunities.
While sales of cloth masks may have driven platforms like Etsy to success in 2020, scientists and government officials are telling Americans to upgrade to high filtration models in 2022. In turn, over the past few months and past few weeks, the industry has reported rising N95 sales. Nonprofit Project N95, for example, has sold over 3.2 million high filtration masks and personal protective equipment (PPE) items via its marketplace — and donated an additional 300,000 — since late October. In total, the organization has sold 12.4 million PPE items through its marketplace and donated 2.1 million PPE items since May 2020.
Project N95 was founded near the beginning of the pandemic with the goal of connecting manufacturers making masks to the healthcare organizations and workers that needed them. Now, the nonprofit also inspects masks for all Americans to screen for counterfeits, sells verified masks directly to these Americans via its online marketplace and provides educational content to explain mask features.
"We are busier in January than we were all of December, and December was super busy," said Anne Miller, executive director at Project N95. "From our perspective… that means there are a lot of people out there who are anxious and worried and concerned about exposure and protecting themselves."
Aegle, a personal protective equipment (PPE) and high filtration mask manufacturer and brand, also reached "an all-time high" in mask sales in the first two weeks of January this year, said Andrew Moy, Aegle's co-founder.
Like Project N95, Aegle has gone through a variety of spikes and lulls in high filtration mask demand correlated to Covid-19 rates. Last year, the company had to lay off employees as demand dropped, but, this year, the company plans to hire an additional 25 employees in early 2022 — already hiring around 15 in a recent job fair.
Aegle's distribution of sales channels has already adjusted many times over the short course of the pandemic. While company founders initially planned for a business-to-business model, by the time the company launched the team realized stockpiles had been filled and a direct-to-consumer site would provide more opportunities. Now, Aegle does both B-to-B and DTC sales.
"We've had to reach out to different channels," said Moy. "We had to learn some hard lessons."
Going forward, Aegle plans to develop new styles and new colors of high filtration masks, as average consumers once again stock up on high filtration masks. Moreover, the company is also planning to expand beyond masks into other adjacent categories like air filters and antimicrobial toothbrushes.
"We're making more offerings that are easier to wear, easier to put on and that look more aesthetically pleasing, like the Korean style boat masks," said Moy.
Next month, Aegle will also expand into children's high filtration masks.
'There's a huge gap in children's and pediatric masks," said Moy. "Given the vaccine rates and the challenges with in-person schooling going on right now, we're going to be promoting a back-to-school special at the end of the month and we're going to get these masks out there. "
The challenges of high filtration
However, high filtration masks and N95 styles in particular are more complicated to manufacture than cloth styles. The FTC and National Institute for Occupational Safety and Health (NIOSH) have strict guidelines for these styles, and companies like Aegle have to go through regular compliance checks. Even adjusting a mask to a new color requires a complicated series of approval processes, explained Moy. 
"We are applying currently for a black N95 mask, but this just takes more submissions," said Moy. "We can't even change the color of the strap [without notifying the FTC]."
Still Agele has tried to make these strict standards as part of its value proposition for consumers. Using NFC technology — which powers most wireless tap-to-pay services — the brand allows consumers to link to a "tap and trace" platform, so they can trace the products they buy. The platform tells consumers everything from when and where the masks were made to what order lot they were made in to who certified the masks.
"This [data] is what we would submit to NIOSH if they audited us tomorrow," said Moy. "We're able to share all the different tests that we perform internally as part of our quality standards [to consumers]."
Miller said that trust and authenticity is also a major issue in the NIOSH-certified, high filtration category.
"We saw a lot of stories in the news in the beginning of the pandemic — or even recently, in the last six months — where there were 3M respirators for sale in the U.S. market that were counterfeit," said Miller. "It's not a brand issue, it's a supply chain security [issue]. Where did those products come from?"
Now, with mask requirements changing, Miller thinks that consumers will increasingly move to these high filtration styles.
"I think the messaging has slowly gotten out to people that the cloth mask — while it made sense at the very beginning — that [now] we do all need better protection," said Miller.