National retailers are becoming increasingly amenable to CPG startups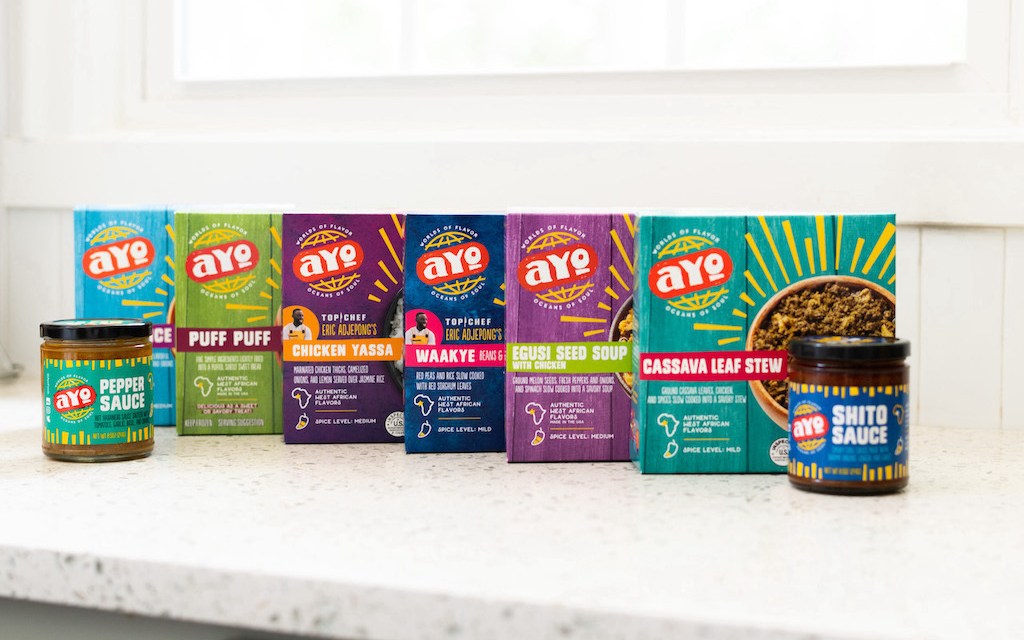 When Ayo launched its line of West African-inspired frozen meals in July 2020, co-founder Perteet Spencer didn't expect to be at thousands of retail locations by the end of its first year on the market. 
"We went from 50 stores to 4,000 in just a few months," she said. 
But this move isn't anomalous. More and more, food startups are gravitating toward a wholesale retail-focused approach. This is largely due to the costs of shipping perishable products, which requires heavy insulation or ice packs. Being at a major retailer also offers a quicker path to brand awareness and legitimacy, while scaling production. 
Even a decade ago, brick-and-mortar was the natural way to grow a CPG brand. While a national grocer represented the golden ticket for any CPG brand hoping to make it big, it was difficult — and often took years — for startups to get major retailers' attentions. Meanwhile, over the past few years, upstart food brands have modeled their distribution after successful DTC brands, like Harry's and Quip, by focusing on online sales. Grocery-focused startups, such as Olipop and Swoon, for example, grew their sales mostly online as a result of pandemic-fueled demand. Meanwhile, packaged coffee brands also found a new cohort of customers as home brewing became the norm.
However, the pendulum is quickly swinging back, with a slew of digitally-native brands focusing more on big box retail partnerships like Target and Walmart as a way to find early new customers. And retailers seem increasingly amenable to selling newcomers.
A retail first approach
When Ayo first launched, it was available mostly online — as well at a few regional grocery markets. But Spencer long had her out for a national partner. "Brick and mortar was always part of the playbook," Spencer said. "We use e-commerce sales to deepen the relationship with customers."
Ayo's first major retail partner was Whole Foods' Southwest region, which saw the startup enter 50 locations at the beginning of this year. Things catapulted from there. "The second inflection point is happening now," said Spencer. Ayo launched at 1,500 Kroger stores in August and entered Target earlier this month, which Spencer said was a "big milestone" for the Midwest brand. It's also struck up distribution at smaller chains, such as MOM's Organic Market and The Fresh Market.
While online was a way to get people to initially try the product, the team knew that shipping frozen food to customers' doors was not a scalable model. For one, Spencer said packing perishable meals on dry ice is too expensive for a startup. What's more, asking customers to order in bulk is a hard sell for a new brand they're unfamiliar with.
Retailers, Spencer said, are becoming increasingly open to startups being featured on their shelves. "It was definitely a combination of the pandemic and changing consumer tastes," said Spencer. "The ongoing grocery shortages were another factor in our fast retail trajectory," said Spencer. Currently, Ayo's co-founders are still pitching the majority of targeted buyers, with 40% of deals coming from inbound interest. 
These retail partnerships are impacting Ayo's product expansion. The new Target and Kroger distribution deals expedited the launch of Ayo's line of hot sauces, which will be sold in the fresh aisle. The brand also recently launched two new items — Chicken Yassa and Waakye — in collaboration with Top Chef contender Eric Adjepong — which are available at the partner retailers' stores.
Plant-based wrap brand Cool Beans launched 18 months ago and has grown its number of retail doors to over 1,200 since then. Much of it has been due to an influx in inbound interest. Most recently, the company added Safeway stores in Northern California, Wegmans in the Northeast, Foxtrot in Chicago and PCC in the Pacific Northwest.
Tyler Mayoras, co-founder and CEO of Cool Beans, told Modern Retail that rapid expansions "have exceeded our expectations and are steadily increasing as the brand gains awareness." Similarly to Ayo, Cool Beans does not bank on its website sales to drive sales. Mayoras said that while the company uses digital marketing to create brand awareness, the company is not investing in DTC as a sales channel. Cool Beans currently sells branded merchandise through its website, but points visitors to a product locator for in-store purchases.
Still a challenging environment
Brittany Fuisz, CEO of flaxseed milk Malibu Mylk, said that it was especially hard to get into new doors at the height of the coronavirus in the first half of 2020, largely because buyers had stopped taking meetings and were busy restocking existing brands. However, 2021 has seen a return to activity. The Los Angeles-based Malibu Mylk is getting back on track by planning to expand to Whole Foods' Northeast and mid-Atlantic regions, along with smaller health food markets. 
Up until now, Malibu Mylk has focused on online sales — it is currently sold on Amazon as well as other marketplaces like Thrive Market. The brand's Amazon storefront has been a successful channel for repeat purchases, and makes up a large portion of the company's digital sales. But it has been trying to strategically expand its physical footprint since launching in 2019, said Fuisz. Until this year, it's been difficult to close deals with major retailers — especially given its higher price-point. "Oftentimes, we're lumped together with the sea of nut and oat milks," she said. Retailer perceptions seem to be changing compared to a year ago, she said.  
Kirsten Barner, senior director of marketing at The Alliance Group, said these examples underscore just how wonky 2020 has been for both brands and retailers. When grocery stores saw unprecedented growth due to the pandemic, "they were more willing to take on new brands that could supply during out-of-stocks because of supply chain issues," said Barner. 
Since then, retailers have become comfortable taking on emerging brands that are either locally-owned, women or minority owned, said Barner. These help them fill a particular category void on the shelf while expanding their portfolio of brands. Some examples include Kroger's announcement in rolling out new products from its Go Fresh & Local incubator. Meanwhile, Target said it's committing to spending more than $2 billion with black-owned businesses by 2025. 
Naturally, grocery startup brands all want to launch in retailers on day-one, Barner said. "However, doing so too early or without a solid trade and shopper marketing plan in place can be detrimental to the brand's long-term growth," she said.
Cool Beans' Mayoras said retailers' growing interest in carrying new brands is another sign that startups are chipping away at big CPGs' market share; "It shows that retailers are catching up to customers' changing tastes."