'New normal': Retailers like Target and Kohl's are giving in-store pickup a facelift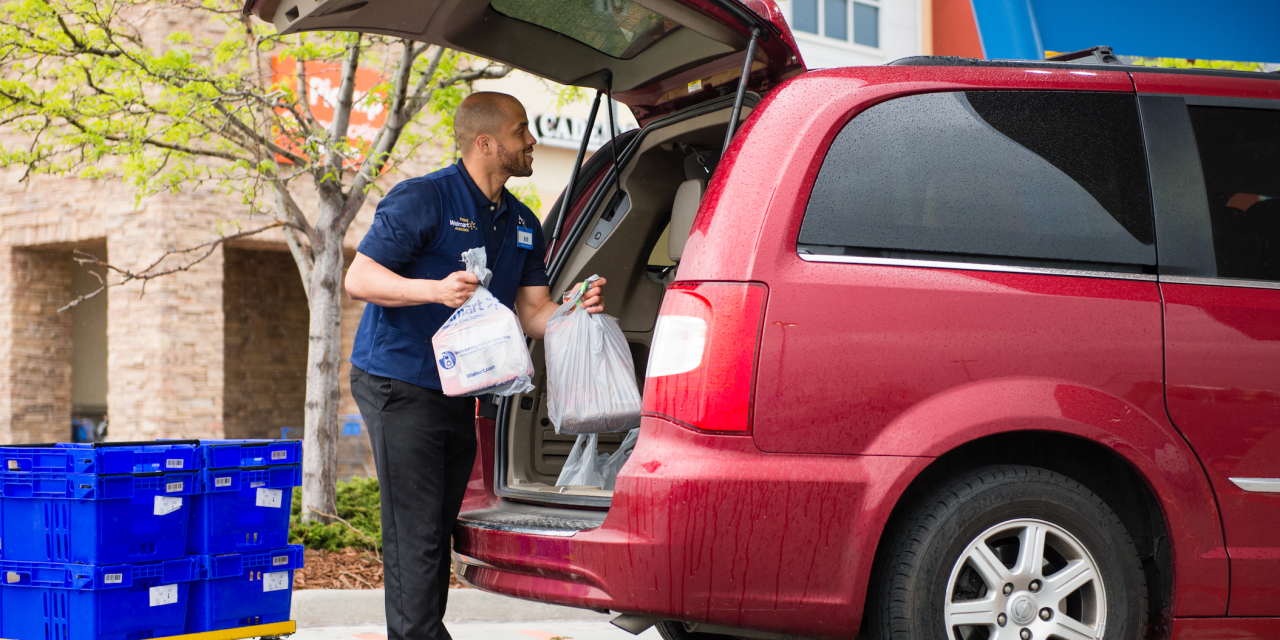 Walmart
Big-box retailers and department stores are upgrading buy online, pickup in-store (BOPIS) and curbside features ahead of the holidays.
From 2019 to the beginning of 2021, retailer adoption of curbside pickup rose from 4% to 58% while BOPIS adoption rose from 66% to 76%, according to FitForCommerce's Omnichannel Retail Index. Demand for same-day pickup services has continued to climb. During Target's most recent third-quarter earnings call, for example, CEO Brian Cornell said sales resulting from pickup and delivery services grew 400% or by $2 billion over the last two years.
In 2020, retailers rushed to offer any curbside pickup service — no matter how hastily it was put together — in order to keep their business afloat while some states shut down indoor shopping. Now, in 2021, retailers like Target and Kohl's — incentivized by the revenue growth they have seen from pickup services in the past 18 months — are focused on adding new services or features, like item substitution or self pick-up, to make their services stand out from the competition.
Retailers build out BOPIS
Over the past few months, Kohl's has been ramping up its investments in-store pickup services, according to a recent press release. Some of the investments include: adding additional drive-up parking spots for pickup at certain stores, as well as additional temporary in-store pickup locations in time for the holidays. Behind the scenes, Kohl's is also upgrading in-store fulfillment and processing technology to help store associates fill online orders more quickly, as well as increasing inventory amount at its "omnipower centers" or mini-fulfillment hubs at 300 stores spread across the country. Kohl's did not respond to follow-up questions about how many stores it is making these investments at.
Moreover, Kohl's is piloting self-pickup at 100 locations, allowing customers to grab products they've bought online and leave the store after scanning a code, without interacting with a sales associate.
"We continue to be encouraged with how the [online and offline] channels reinforce each other," said CEO Michelle Gass in the retailer's earnings call last week. "Store sales increased double-digits and continue to be the principal channel for new customer acquisition. And we're very excited by the significant growth we are seeing in omnichannel customers, which are the most productive customers."
Thus far, the investments seem to be paying off. Last week, during Kohl's week-long Black Friday Week sale, customers placed more than one million orders through its curbside and BOPIS services, according to a press release. To encourage further growth in the channel throughout the rest of the holiday season, Kohl's is offering customers $5 off online orders if they buy online and pick up in-store.
Target too is building out same-day features to provide what chief stores officer Mark Schindele described as "even more flexibility in these options this holiday season" in a recent press release.
Ahead of the holidays, Target added 18,000 more assigned curbside spaces and invested in new app and site features for same-day pickup and delivery. For example, pickup customers can now send a designated "shopping partner" to pick up an order they placed, add additional items after placing an order for the same pickup and designate backup food and beverage items for out-of-stocks.
Other retailers are also are finding ways to reinforce their pickup options before the fourth quarter sales rush. Walmart, for example, is focused on international pickup expansion. The company recently integrated its U.S. same-day fulfillment technology to stores in other regions, and expanded grocery pickup in Canada to stores nationwide.
Curbside competition heats up
While the pandemic may have popularized BOPIS and curbside pickup, Harvey Ma, a senior vice president at NielsenIQ, thinks the services are moving from a "trend" to the "new normal."
Neil Saunders, managing director of GlobalData Retail said that customers are first and foremost interested in the "speed and efficiency" that BOPIS and curbside pickup provide. "Omnichannel fulfillment, where people buy online and collect from inside a store or curbside, is on course to grow by 28.6% this year," said Saunders. "That's above overall online growth.… As we approach the holidays and consumers become busier, store fulfillment will become increasingly important."
As these types of fulfillment services become table stakes, retailers are looking to add features to remain competitive. Target's grocery replacement features mirror those currently features currently found at grocery competitors Instacart and Walmart, for example. Saunders said that some of the features he has noticed retailers add more often to their pickup services include the ability to substitute items that are out of stock, or to be able to edit an order after it has been placed.
"Now that more and more retailers are offering store fulfillment options, it is important for retailers to iterate to remain competitive," said Saunders.