Nike, Lululemon, Walmart & others continue to temporarily close stores and reduce hours as Omicron cases spike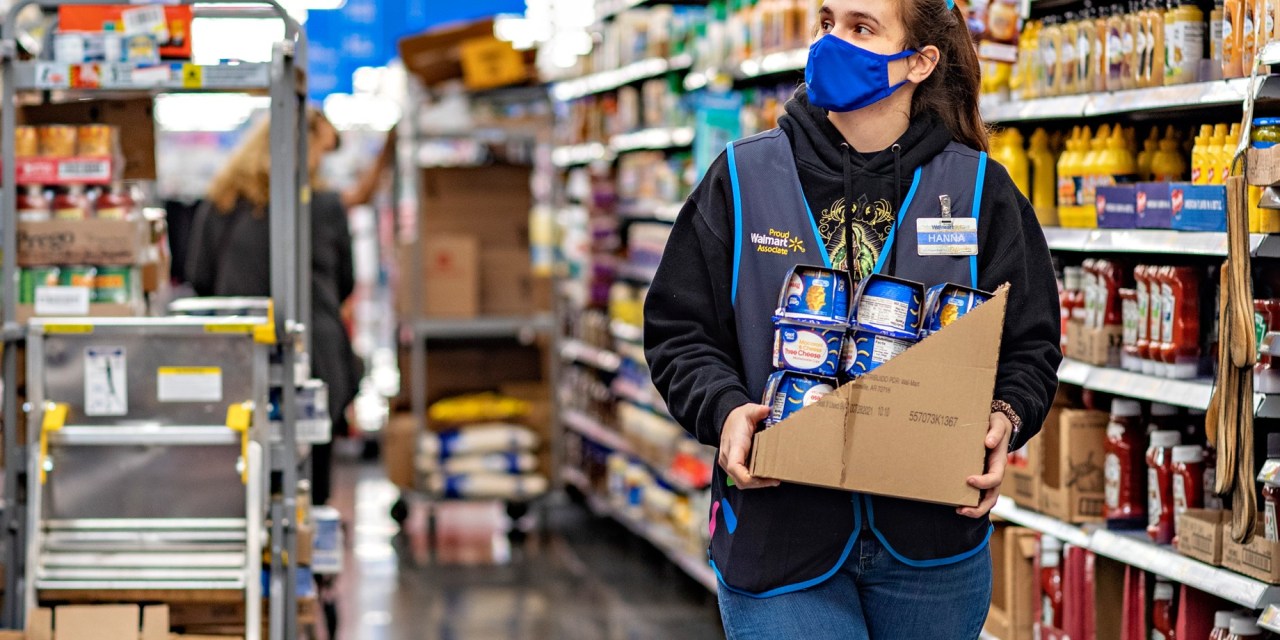 Walmart
Amid a continued worker shortage and Covid-19 case rate spike, retailers continue to cut hours and temporarily close stores.
This week, Nike and Lululemon were the latest retailers to enact shortened store hours at select locations, with Lululemon lowering its fourth-quarter earnings and revenue expectations. The two retailers join Starbucks, Macy's, Walmart, and Apple on the list of large retailers temporarily closing locations or reducing hours due to staffing shortages and Covid-19 safety concerns. For frontline staff, these issues prove particularly challenging: these workers continue to be saddled with new responsibilities in understaffed locations while fearing the possibility of Covid-19 exposure.
Retailers under pressure
The Omicron variant of Covid-19 has an "unprecedented degree of efficiency of transmissibility," according to Dr. Anthony Fauci, U.S. chief medical advisor. In turn, Covid-19 cases and hospitalizations are peaking in a variety of U.S. states.
At the same time, retailers have been experiencing a nearly two-year-long labor shortage. Workforce participation is still below pre-pandemic levels. Many older workers are retiring earlier than ever before, while many younger workers are leaving low-wage roles, in particular.
The wholesale and retail trade unemployment rate was 4.2% in December 2021, according to the Bureau of Labor Statistics (BLS), higher than the rate of unemployment in financial services, professional and business services and government work. Moreover, the BLS reported that 132,000 workers quit their retail roles in November 2021.
"Retailers were struggling to staff their stores before Omicron, and now more employees are out sick" said Tom Hill, a partner at Axiom Consulting Partners. As such, numerous retailers have been temporarily closing stores or reducing hours.
Last week, Macy's announced it was cutting store hours across all its stores, opening at 11 a.m. and closing at 8 p.m., Monday through Thursday. Previously, the retailer was open 10 a.m. to 9 p.m. A Macy's representative told CNBC that in-store staff would continue to work their usual shifts, but declined to share if these changes were due to more staff testing positive for Covid-19.
"[Retailers] are learning how to do more with less, including being open fewer hours," added Hill. "As a result, retailers are gaining a better understanding of how to prioritize their limited staffing levels to cover those peak times."
Walmart, meanwhile, has been temporarily closing stores across the country for one to three days. In an announcement about a North Texas closure, the retailer described the shutdown as time for a "third-party specialist to further sanitize the store" and for associates "to restock shelves and prepare the store to once again serve the community."
According to Reuters, the retailer temporarily closed almost 60 stores in December. Modern Retail tallied an additional six closures in the past week of January alone from local news reports.
Walmart did not return Modern Retail's request for comment if recent temporary store shutdowns were directly linked to employee or customer coronavirus cases. Earlier, the retailer declined to comment to Reuters if there were staff breakouts at stores closed temporarily in December.
Other retailers have followed in the footsteps of Macy's and Walmart, and enacted similar closures and workplace hour reductions. Apple closed at least seven stores in December, according to Bloomberg. A number of Starbucks locations across the country have temporarily reduced hours or shifted to drive-thru only.
"[The coronavirus] continues to be a start-and-stop issue — once we think we're over the hill and we're going to be okay, things have reverted," said Matthew Katz, a managing partner at SSA & Company. "I think it's difficult for a national retailer to have one policy because… [there's] variation in severity across the country and across the globe."
Retail workers strained
Associates are the hardest hit by these new realities, facing the threat of Covid-19 exposure, increased work demands in understaffed shifts and, often, mandatory overtime.
"Retail workers are under a lot of stress, said Hill. "They need to cover more tasks and duties to deliver the expected customer service level amid a resurgent pandemic."
Liisa Luick, a Macy's employee in Washington told the New York Times that "morale could not be lower" as she and her team faced customers "who did not believe in masking."
Wally Waugh, a Stop and Shop employee in New York, meanwhile, also told the Times that checkout lines were growing longer, restocks were slowing down and non-sick employees were forced to work overtime to accommodate an out-sick workforce.
"This is a health crisis, an economic crisis, and a social crisis," said Katz. "It's not enough [for retailers] to offer more money to someone to come back… we need to ensure that our teams are safe."