'No longer on hold': Bridal brands are preparing for a wedding boom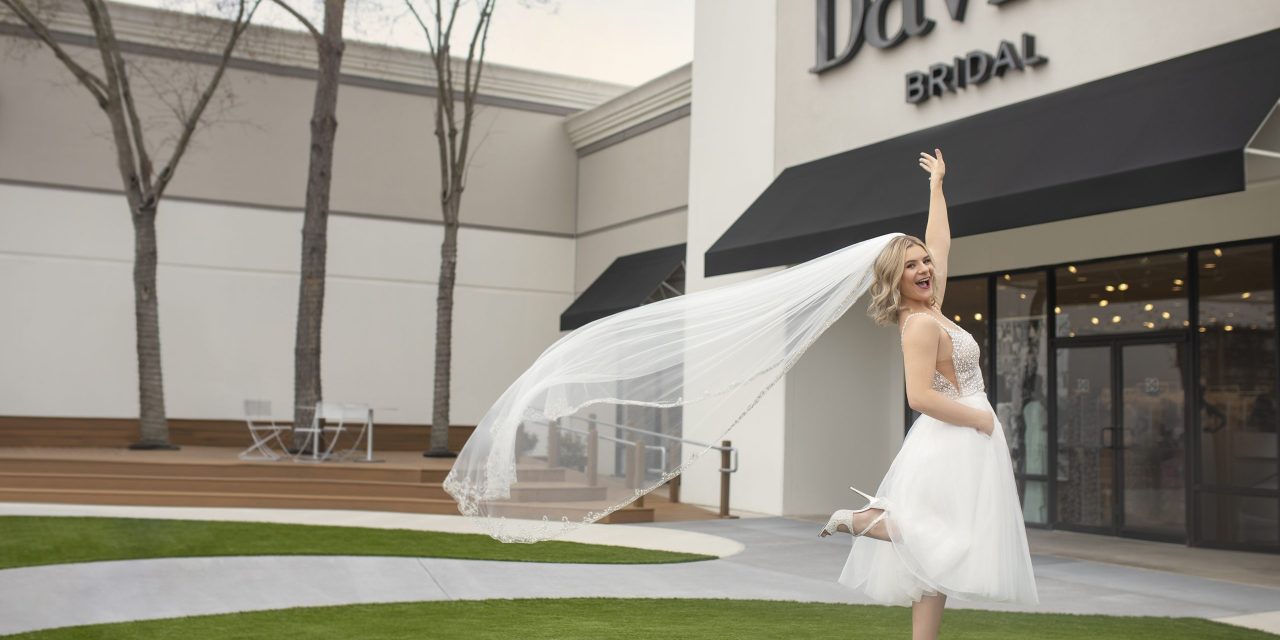 Image via David's Bridal
When New York City shut down last spring, bridal boutique Kleinfeld's customer service and marketing departments made 8,500 calls to brides-to-be with outstanding orders. "In over 70 years, we've never missed a wedding and we were not going to let Covid change that," co-owner Mara Urshel told Modern Retail. As the pandemic wore on over the last year, its customer service team has kept in touch with customers for wedding rescheduling and delivery updates — offering additional fittings free of charge and new fulfillment options.
Kleinfeld is one of several bridal retailers and brands that has had to adjust production and shipping over the past year. With countless gatherings rescheduled due to the pandemic, the wedding industry was one of the hardest hit. According to a 2020 study by The Wedding Report, wedding-related spending decreased by $30 billion compared to 2019. Now, these retailers are preparing for an onslaught of demand. 
A few things now point to pent up wedding demand. For one, diamond sales have gone up, hinting that engagements are on the rise. Another factor is wedding date rescheduling. A recent survey by The Knot — which surveyed 7,600 couples across the country with original wedding dates between January and December 2020 — found that 47% of respondents rescheduled their reception for 2021. 
Rachel Silver, founder of Love Stories TV, a video platform for wedding planning and inspiration, said that the wedding-related businesses that survived the pandemic are hoping to make up for losses in the coming year. The platform features Pinterest-like wedding footage and shoppable reels, which allows users to better plan upcoming ceremonies virtually. "We're already seeing people competing for wedding dates, venues and dress appointments," Silver said, noting that even weekday receptions are being considered. "After all, there are only so many weekends in the year to go around." 
A year of changes and closures
Still, several bridal shops and brands shuttered in 2020 due to the sharp decline in weddings. For example, digitally-native company Brideside closed up shop last November; and, almost a year after opening a flagship New York City store in 2019, retailer Floravere shut down operations and closed its doors at the end of December, according to the brand's social media pages.
Much of the hardships were because the business remains largely analog. Despite attempts to disrupt wedding dress shopping in recent years, "bridal-wear designers still mostly rely on in-store sales," said Silver. Wedding dress experiences are both emotional and costly for customers, she explained. Furthermore, the majority of wedding dresses are handmade to order, so production is highly dependent on orders' long lead times — typically accommodating specific wedding dates.
But vendors and designers spent the last year pivoting to virtual events and consultations, as well as changing their overall retail experience. Courtney Robinson, owner of Winnie Couture Nashville — part of the Winnie Couture chain, which specializes in custom dresses — said that the brand's dresses largely require in-person tailoring and customization. But last year, the Nashville store began offering virtual pre-appointment sessions to get an idea of what the customer wants. Since reopening in summer 2020, the staff has been running in-store appointments one at a time, to minimize traffic and provide privacy, Robinson said, as well as extending hours to the evening.
With so many upcoming weddings changing venues and dates, many customers are requiring alterations on top of different — often expedited — delivery dates, Robinson explained. Some couples are making quick decisions for future events. As a result, Winnie updated its in-house design and production process, and now allows for quick style updates and manufacturing modifications. "We normally advise a six to eight month delivery window, so we began doing rushed orders for an added fee," Robinson said.  
These changes have helped sales growth. By the fall of 2020, business began to pick up, however Robinson said they don't expect to hit original sales goals until next year.
David's Bridal, which owns its warehouses, has also been trying to navigate the e-commerce shift. The retailer, which filed for bankruptcy in 2018 and has been focusing on growing its digital offerings, typically has about 300,000 units in stock or in its facilities ready to sell, said Kelly Cook, evp, chief marketing & IT officer at David's Bridal. This advantage has allowed the company to more easily modify shipping to accommodate customers' moving wedding dates.
The company has also been doubling down on customer service offerings. Last year, it unveiled new chatbot features, and it is now offering 24/7 customer service. According to the company, since launching its updated customer service offerings, over 95% of customer service conversations have occurred via the digital feature. 
Preparing for the upcoming boom
Now, David's is expecting revenue to grow. "We're anticipating 20% to 50% more weddings-related sales this year, in comparison to last year," Cook said. These orders are coming from both brides who have moved their dates multiple times, as well as those opting for two events.
Some customers, Cook said, have decided to wear two dresses. "We're also seeing brides investing in pieces that can be reworn, so we've diversified offerings to include separates and are seeing jumpsuits sales increasing," she noted. Footwear sales have also increased in 2020. On average, the retailer's bride customer bought three pairs, including casual flats and sandals for outdoor ceremonies, said Cook.
Kleinfeld's appointments are also ramping up, with alterations bookings currently full through May. "We're learning that most wedding plans are no longer on hold," Urshel said, with brides following through with summer 2021 wedding plans. Most of the current brides visiting for their first selection are shopping for 2022 and 2023, with some closer dates mixed in, she said. 
Kleinfeld is a special-order business accommodating brides who typically have a wedding date over four to six months away. "However, we can accommodate shorter wedding dates with our sample dresses at a discounted price," she said. In the past year, the retailer created a website featuring "same-day styles" that can be purchased for pickup. These styles have been most popular among New York tristate area brides, according to the company. However, the majority of sales are still happening in person. 
On the brand side, bridal designer Maggie Sottero has chosen to add a virtual component to assist both retail partners and customers with the shopping process. According to the company's vp of sales and marketing, Christina Blanchette, the brand hosted its first-ever virtual runway for retailers for the fall 2020 collection. Through a live watch party, retailers were able to see the gowns closely over video and ask questions through the live chat feature. 
At the same time, the brand is also trying to keep up with new bridal trends. Many events have been downsized into mini ceremonies — a "minimony," as Blanchette called it. And as part of the fall 2021 collection, Maggie Sottero is now offering simpler wedding dresses for small, intimate occasions. These new pieces have gained popularity, and have traction among retail partners and customers, she said.
"We don't think this trend is going anywhere," Blanchette said.