Online art-selling platforms like Artsy are seeing record sales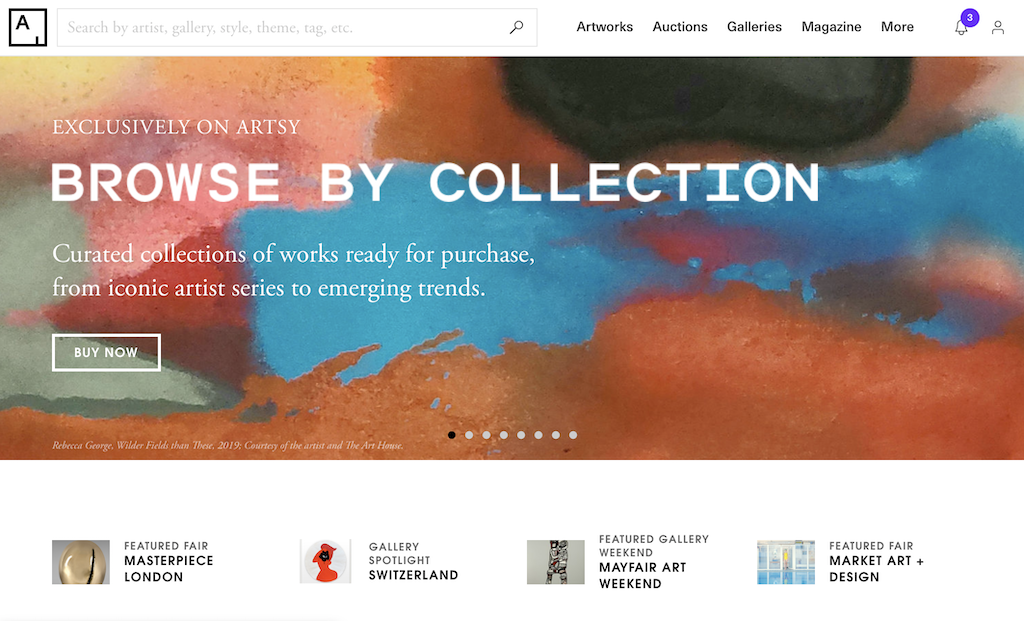 When the pandemic hit last year, galleries and museums were forced to close their doors. Yet, artwork sales have soared — and in some cases set records.
One digital gallery marketplace that's felt this effect is Artsy, a platform for buying and selling artwork. The startup, which was founded back in 2009, sells works from emerging artists starting at a few hundred dollars, alongside pieces from Banksy and Keith Haring. Artsy partners with independent and major galleries, which can list and manage their own inventory for consumers to buy directly. The company saw a 300% gross merchandise value (GMV) growth for its online sales since coronavirus hit American shores. Artsy's number of facilitated online auctions also increased by 300%, compared to January 2020.
The trend is an extension of the ongoing home goods boom; increasingly, consumers have gravitated toward investing in their homes. A number of retailers and startups — including Brooklinen and Williams-Sonoma — saw sales skyrocket when the pandemic first began. While furniture and decor have dominated the space, niche categories like art are also proving e-commerce's current impact. 
With the majority of in-person auctions and fares still being on hold, online artwork selling has finally found its footing in the past year, Artsy chief marketing officer Everette Taylor told Modern Retail. According to Artsy's latest survey of gallery owners, the online exhibit model enabled them to broaden their range of buyers, as well as attract a younger group of collectors. In turn, the share of buyers between 18 and 35 doubled in 2020. Furthermore, more Artsy-affiliated galleries than ever adopted an online-only selling method over the last year, with 35% of respondents reported operating without a physical location. Interestingly, most Artsy purchases tend to come from mobile, with the app having just surpassed a million downloads.
Artsy isn't alone. Auction houses Sotheby's, Christie's and Phillip have all adopted online auction features, albeit they still recorded overall annual drops in revenue. During the first seven months of 2020, Sotheby's total online sales hit $285 million, resulting in online sales accounting for a double-digit percentage of total sales. The auction house fared better than competitors due to a quicker pivot to virtual sales. For instance, Christie's hit $81 million in online sales during the second half of the year. Other indie online brokerages, like Approximately Blue, have also benefited from the increase of young consumers' art collecting.
Taylor said that the overall increased interest in art purchases for home-decorating purposes contributed to the upswing. One of the biggest hurdles for online art shopping is the work's authenticity, he explained. "We're focusing on building tools that allow customers to engage sellers and ask many questions before committing," Taylor said. Galleries have also began to utilize  video consultations via Zoom or FaceTime. He also credited pricing transparency as a contributing factor to attracting younger collectors. The platform employs a "price estimation" scale that shows each piece's market worth. "We also have a return policy, which is virtually unheard of in the art world." 
Since the pandemic began, the platform has added other e-commerce tools for sellers, such as the option to turn on the "buy now" or "make offer" buttons. On the marketing side, Artsy also launched "viewing rooms" last August, in which participating galleries can share content about their collections and programs. 
The rise of online fine art sales is an important shift. Historically, most individual collectors hire a dealer or advisor to work on their behalf. With digital marketplaces, shoppers can browse, research or chat with the seller of a piece before placing a bid.
Rebekah Kondrat, founder of consultancy Kondrat Retail sees the rise of these online art marketplaces as part of a broader trend of younger generations glomming onto new platforms that make exclusive activities more accessible. "Walking into a gallery is intimidating for most everyday consumers, so this democratization of the process is allowing for the market to expand," Kondrat continued.
She also noted that for this new cohort, art collecting is on par with the growing popularity of stock investing apps Robinhood and Rally — which also allow consumers to invest in collectibles. "These are all allowing younger people to more easily own a piece or facet of luxury."