Online retail startups are bracing for a USPS slowdown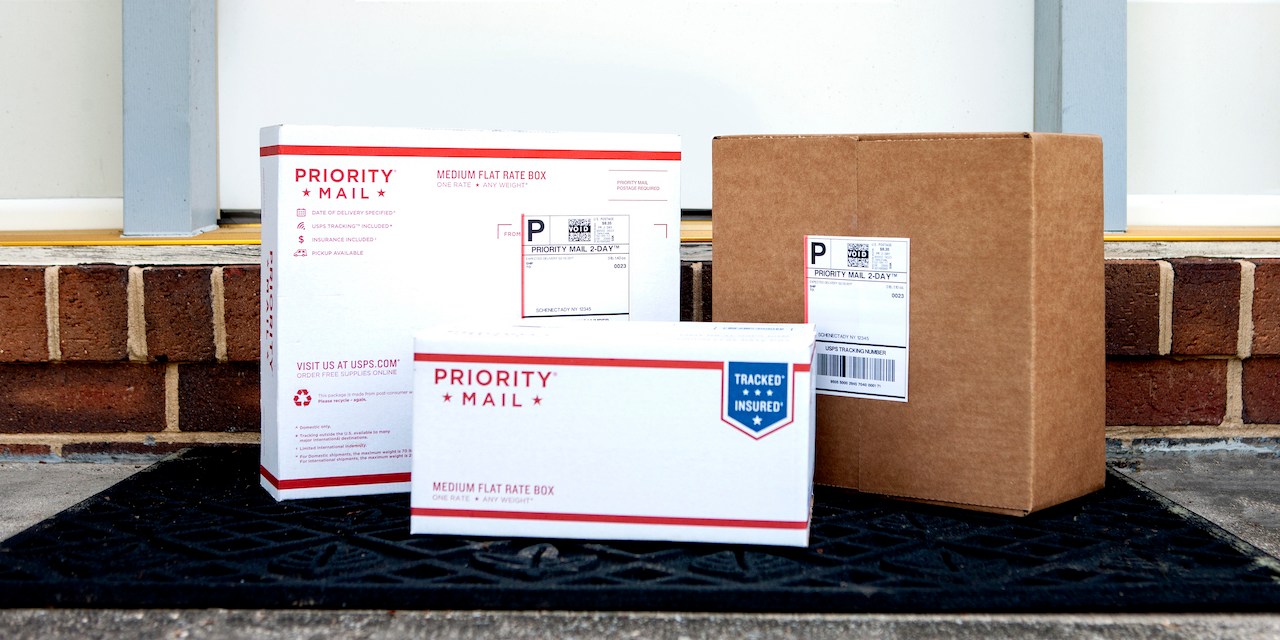 Image via USPS
Starting this month, the United States Postal Service is implementing a slowdown on a major chunk of deliveries. 
As part of the USPS' plan to cut costs, nearly half of all domestic mail pieces will arrive slower than normal. The standard delivery window of one-to-three day on first-class mail will be extended to up to five days. It also arrives on the heels of a holiday price hike, in which USPS will increase package delivery rates as much as $1 between Oct. 3 and Dec. 26.
While the slowdown will largely affect rural zip codes, online retail startups are also anticipating their holiday season fulfillment to be impacted. It's the latest blow for brands as many of them have experienced longer delivery times across a variety of carriers since the beginning of the pandemic. According to brands Modern Retail spoke with, these USPS changes are forcing them to eat more costs and make big back-end changes.
Kerrigan Behrens, co-founder and co-CEO of CBD brand Sagely Naturals, told Modern Retail that since the beginning of the pandemic, the startup has seen a slowdown in service from USPS that's "much greater than two days." 
The brand now tells customers that packages can take up to seven business days to begin tracking, and arrive anywhere from seven to 15 business days after the shipping date. When packages get too backed up, "we stop shipping through USPS altogether," Behrens said. Instead, Sagely eats the additional costs and opts for UPS "until they [USPS] are able to work through the backlog." 
The process has become frustrating on the customer service side, Behrens said, "so we do what we can to be overly communicative and find alternative solutions where we can." 
Choosing USPS for affordability
Andre Fasciola, co-founder and CEO of matcha tea seller Matcha.com, said that for small businesses, USPS' consistent rates help keep delivery costs stable. For context, a standard 10-pound or less box starts at $7.01 per package via USPS Ground, compared to UPS Ground and FedEx Ground's rate of $8.76 or more.
Last year's notorious holiday delays greatly affected Matcha.com "since we're 100% online," he said. In some regions, USPS First Class orders took nearly two weeks to arrive.
However, he said, "at the end of the day, they [USPS] offer the best rates for our level and scale." Some of Matcha.com's special orders are routed via UPS or FedEx when needed — but it is a more expensive solution. 
Despite the horror stories during busy periods, USPS' parcel reliability rates compete with UPS and FedEx. According to delivery experience management platform Convey Inc., USPS' on-time performance (OTP) has consistently beaten private carriers. In July, 93% of packages were delivered on time, compared to UPS (88%) and FedEx (73%).
Partially to offset delivery costs, last year Matcha.com introduced a subscription plan called Matcha Prime, which has the shipping costs baked into the price and encourages customers to buy more frequently. Through the subscription service, customers save 15% on each shipment, and get free shipping. By comparison, customers pay for shipping on orders under $59.
"Currently, about 50% of our customers are subscribers," Fasciola said, noting that the service has grown 300% year-over-year since its launch. Meanwhile, the startup's wholesale business has taken off, with bulk orders helping offset the DTC side. 
Still, the one-time purchases result in higher per-order costs, Fasciola said. In some cases, the brand eats the expenses on small orders. "But we won't be increasing prices because our products are small, and we can still make it work," Fasciola said. 
Experimenting with micro-fulfillment solutions
In the past few months, Matcha.com has also teamed up with last-mile services, such as DoorDash, for same-day delivery.
Kombucha brand Health-Ade has also been experimenting with same-day delivery to bypass long shipping windows, said Calvin Lammers, the brand's vp of e-commerce and digital. The company participated in DoorDash's grocery delivery program, DashMart, on the West Coast. Health-Ade also launched a white-label two-hour delivery via micro-fulfillment provider Ohi. One other reason the brand opted to try out same-day offerings is that Health-Ade's products are bottled in heavy glass and have to be shipped cold. In some cases, it's cheaper to deliver an order locally than to ship it on ice, Lammers said. 
Lammers also explained that, last year, the company's Fedex and UPS parcels were badly hit in the Southeast, such as Georgia and Florida. "So we've been partnering with regional fulfillment partners to avoid those outages," he said.
Currently, the company offers free shipping on all direct-to-consumer orders, which Lammers said may not be possible for much longer. "We'll continue to use First Class delivery as an option until we can't price our products accordingly," he said. 
Leaning on fulfillment partners
Brendan Rogers, chief financial officer at wellness brand Highline Wellness, said that the company is "fortunate enough that the slowdown announcement doesn't affect us too much directly." 
Highline Wellness uses a 3PL partner that allows it to toggle between different shipping carriers based on delivery windows and current rates. "We're able to pivot quickly to more efficient options on short notice," Rogers said. With these latest USPS changes, Highline Wellness will rely on this system to get orders out the door in a timely manner, especially as the holiday season approaches.
Matcha.com's Fasciola said that until more delivery solutions come along, young brands will continue to rely on the USPS. As for the next few months, customer service will be key in facing delays, he said. "We had experience with the long windows last year, so the plan is to inform customers along the way as best as we can."