Online retail's newest trick to drive sales: A countdown clock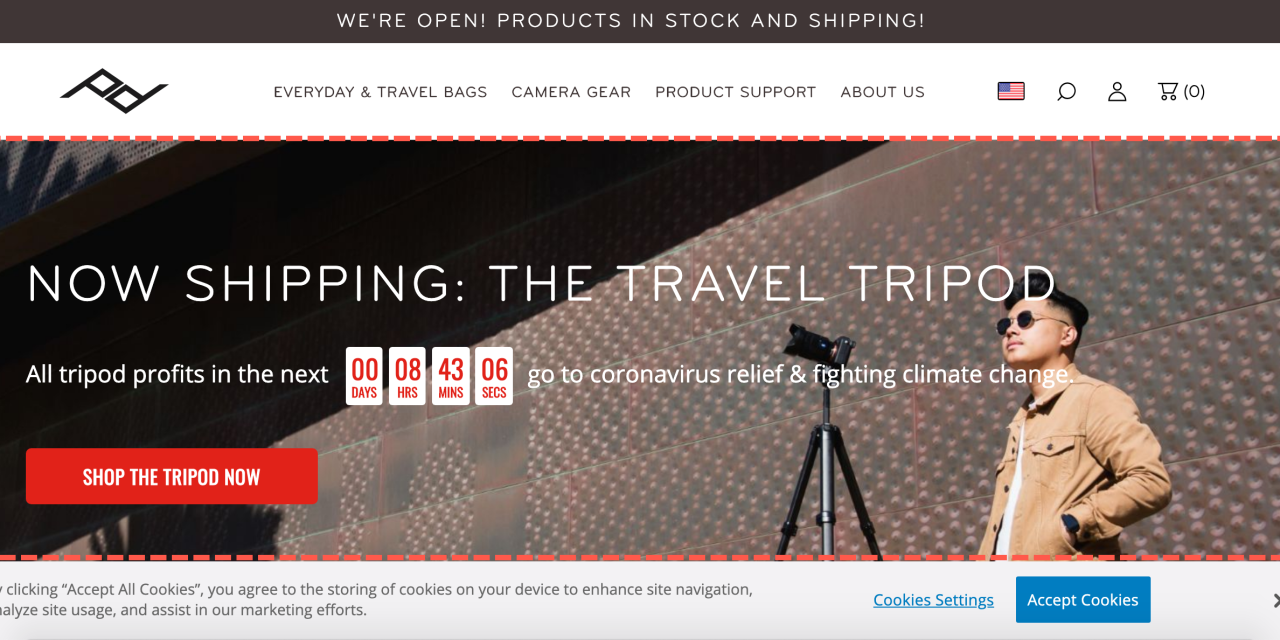 Peak Design, which sells high-end bags, ran a sale last week, something it had never done before, beyond usual Black Friday markdowns. To illustrate the bizarreness of the moment, the promotion was aptly named the "weird times sale." And a week-long countdown clock illustrated that the 20%-40% discount was not going to last forever.
It's a small design decision, but gets at some of the nuanced decision online retailers are making. The world isn't the same place it was some two months ago, and brands have been trying to figure out to be both respectful and forceful — all the while pushing shoppers toward an actual sale. Peak isn't the only company employing the centrally-placed array of numbers; the alcohol delivery Saucey has one for certain promotions it runs on its site, as does the specialty food company Goldbelly. "Brands are really needing to pivot on a dime," said Laura Stude, co-founder of the agency Surefoot that helped launch Peak's most recent campaign.
Countdown clocks are certainly annoying but also psychologically intriguing. They've long been used by travel websites to get people to pull the trigger on that supposedly last room available at a hotel — or stop them from mulling over whether they should or should not buy that impromptu trip to Bermuda (both are quandaries, sadly, that no person faces right now).
Brands have used the clocks during the checkout part of a transaction to ensure the sale is completed. And many businesses for years have used the graphic sparingly or gratuitously, depending on their digital aptitude; certain companies may put up a counter for a Black Friday sale, and other (usually legacy) retailers have been known to send out "one day only sale" emails every week ad infinitum. While this digital touch may have been an afterthought, with consumer behaviors changing overnight — and a very bizarre anxiety sweeping the world — countdown timers are a perfect example of small features potentially having outsized impact.
Stude specifically has been seeing a great deal of demand from online brands needing to figure out new digital campaigns. "What we find ourselves doing with a number of brands," she said, "is spinning up these experiences within one or two days." Most companies are strung thin nowadays, dealing with sales changes and supply chain woes — and perhaps even having fewer team members than before.
Often these companies don't have the in-house resources to devise and deploy a new sales campaign in a short time window. With that, Stude said that there's "definitely less oversight or layers that [these digital campaign decisions] have to go through."
Saucey has used a countdown timer for certain promotions for the last two years, but has been seeing it become more useful over the last month. First time conversions, said founder and CEO Chris Vaughn, used to be between 14 and 21 days — over the last month that's shrunk to as little as a day. "That time to first-time purchase is extremely high — and the second purchase is also extremely high," he said. Thus, a countdown clock, which in Saucey's case gives people 30 minutes to act, is an especially important tool when customers are more likely to pull the trigger at a moment's notice.
Given all the big changes, the company has had to rethink its campaigns. "They do have to be more appropriate given the behaviors we're seeing," Vaughn said. What's more, the frequency of the company's messaging has changed. Before, it would send at most one email to customers a week; now it's increasing that output and highlighting new product-lines because demand has shifted in such a drastic way.
Saucey has had to make quick changes to its CRMs and deploy campaigns that fit with the pendulum-like national behavior shift. "We've had to change all of our messaging to be totally in line with what everyone is doing," he said. For the most part that means understanding that people aren't going out — but also launching promotions and ads that fit with the fact that people are more likely to buy their online purchases in the moment. It's no longer relevant to send an email asking what people are watching on Netflix on Tuesday night, since they're watching it every other night too.
It's this kind of quick thinking and cultural adeptness that marketers are forced to keep in mind. The one big thing, said Peak Design's marketing director Adam Saraceno, is "just don't sound tone deaf." Brands, he fears, are getting too caught up in the current mayhem. "I'm still getting these emails about Covid-19 updates," he said. "The people that subscribe to our email newsletter do it because they like our backpacks."
With that as a guiding force, he and Surefoot launched the week-long weird times sale, which had a quick and dirty message: things are weird, the company is discounting items and there's a timer to show it won't last forever. It worked too. "It was the most successful sale in the history of our company," Saraceno said.
Some of that, he said, was due to the countdown timer and overall user experience. "The other facet is that we don't do sales as a company," he went on. Whatever the case, times are tough and brands are doing any little thing they can to stay afloat.
"It got us a good injection of cashflow," said Saraceno, who previously described the difficult decisions the company has had to make over the last month, "to put our company in a bit more comfortable of a place." Of course, even this financial moat won't last forever.