Online used car sales are booming — but the road remains bumpy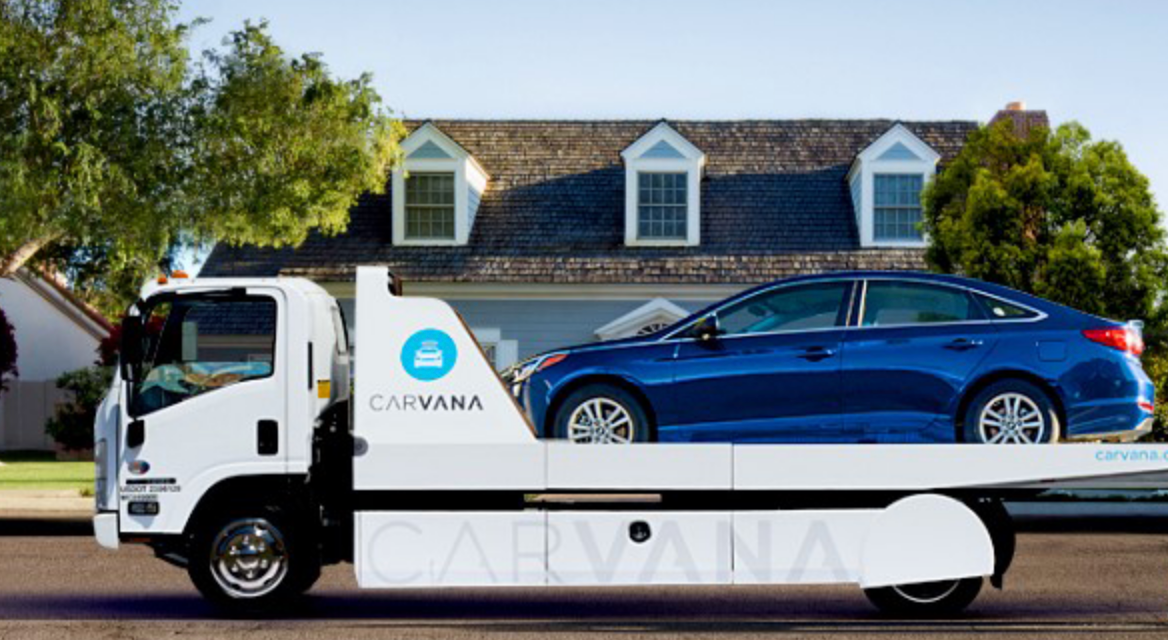 Carvana
E-commerce marketplaces specializing in used car sales are having a moment — sort of.
Last month, the online used car marketplace Cazoo announced it is going public, capping off a big year for the industry. Over the summer, the startup Vroom went public in an IPO that beat expectations. Older used car e-commerce sites, like Carvana and Shift, also logged significant growth numbers. In total, Carvana, Shift and Vroom saw sales jump 36% year-over-year in the first six months of 2020. Those numbers have inspired other used car online marketplaces in recent months — a European e-commerce company called Driverama, which has announced around €400 million in current or planned investment, rushed its scheduled release date by a year and a half to capitalize on the moment.
The growing excitement around online used car sales doesn't mean e-commerce is a significant force within the used car market yet. The vast majority of people — some estimates say at least 98% — still buy cars in person. But used car e-commerce companies are drawing so much attention both because of the number of dealerships closed during the pandemic and because of a larger boom for used vehicles. In other words, as e-commerce continues to sweep the retail world, it has begun to ensnare even nontraditional online purchases — including expensive items like cars.
Still, despite recent growth the online used car market faces a few hurdles before it becomes truly maintream.
Why the hype around used cars?
Vanessa Ton, senior research manager for vehicle technology company Cox Automotive, said that there are a few reasons why auto-related e-commerce marketplaces tend to focus on used cars, rather than new ones.
For one, used car sales far outpace new car sales, by close to a four-to-one ratio, which means that there's much more of a customer base to tap into. But Ton also noted that many states have regulations in place that prevent auto brands from selling new vehicles directly to consumers, requiring them instead to route their sales through an auto dealership. There are some exceptions — some electric vehicles and other specialty vehicles are exempt, for instance. Ton noted that many Tesla customers make their purchases exclusively online. But in general, used cars are much easier to sell online than new ones. "From the used standpoint, [those retailers] were able to get around regulations, and they have a lot of choices" because of it, she said.
Companies like Vroom are also garnering excitement because the used car market writ large — including, but far from limited to, e-commerce — is soaring. The average used vehicle tracked by the online car site Edmunds went for $23,169 in March 2021, which is well above the average $20,484 in March 2020.
"It's been a wild ride to say the least," said Ivan Drury, senior manager of insights at Edmunds. Usually, he said, "the price gets cheaper as you get closer to December, because the car is getting older in people's minds" (that is, a 2013 Toyota seems older at the end of 2021 compared to the start). But, he said, because the number of available new cars have plummeted — both because of pandemic-related production issues and a car chip shortage — used cars have filled the gap. "This time, it was completely out of whack; there was so much demand."
How big of a player is e-commerce?
While the market has grown significantly, e-commerce still represents only a tiny sliver of all used car sales. According to Ton's research, the total number of consumers who bought a used car fully online — meaning they never showed up in person at a dealership — was just 2%. That figure doesn't include customers who bought online but also visited stores in-person, which is a significant cohort. (A J.P. Morgan report from February 2021, which was otherwise optimistic about the rise of used car e-commerce marketplaces, put the number at "less than one percent.")
Online car buying also has big hurdles to overcome, including customer hesitation; it's difficult to convince people to invest so heavily in a product they might only see online. As Drury put it, "It's hard to return things on Amazon sometimes, much less a car."
Still, Ton said that she is confident the market will continue to grow quickly, pointing to, for instance, the fact that many consumers simply aren't aware that these online used car sites exist. "I am almost 100% sure that it's growing because more and more people are becoming aware — and more and more people who have done it are going to do it again," she said. "I really think it's becoming mainstream."
Her research also showed that customer visits to online used car marketplaces have grown rapid rapidly: while only 3% of shoppers visited online car retail sites like Vroom in 2017, 17% did in 2020.
Used car vendors have tried to assuage some of the biggest concerns associated with buying a car online, namely fears about spending so much money on an item that customers might not see in person. In response, companies like Carmax — as well as many smaller dealerships, some of which sell through platforms like Vroom — have introduced at-home test driving services, in which the seller drives a prospective car to a customer's house or workplace. The seller lets them test it, and then comes back to pick it up hours, or sometimes a full day, later. From the car buyers she's surveyed, "people are really satisfied with the experience, and they're very happy that that's even a choice," Ton said. But she noted that around half of car buyers "aren't even aware that that's even an option, to do a test drive at home."
For now, Drury compared e-commerce for used cars to the electric vehicle market: both have attracted significant amounts of investor excitement, and are a hub for startups. "We talk about them all the time, whereas right now they're roughly 2%," he said.
Used car marketplaces do have a lot of runway ahead of them. "They're definitely ruffling feathers. They're getting a lot of attention, but at the end of the day it's going to be quite some time for the impacts that they've had" to become visible, he said. Ultimately, this past year, "I don't know if it's so much of a monumental paradigm shift in used car buying."