Partnerships now make up nearly 20% of weighted blanket brand Gravity's revenue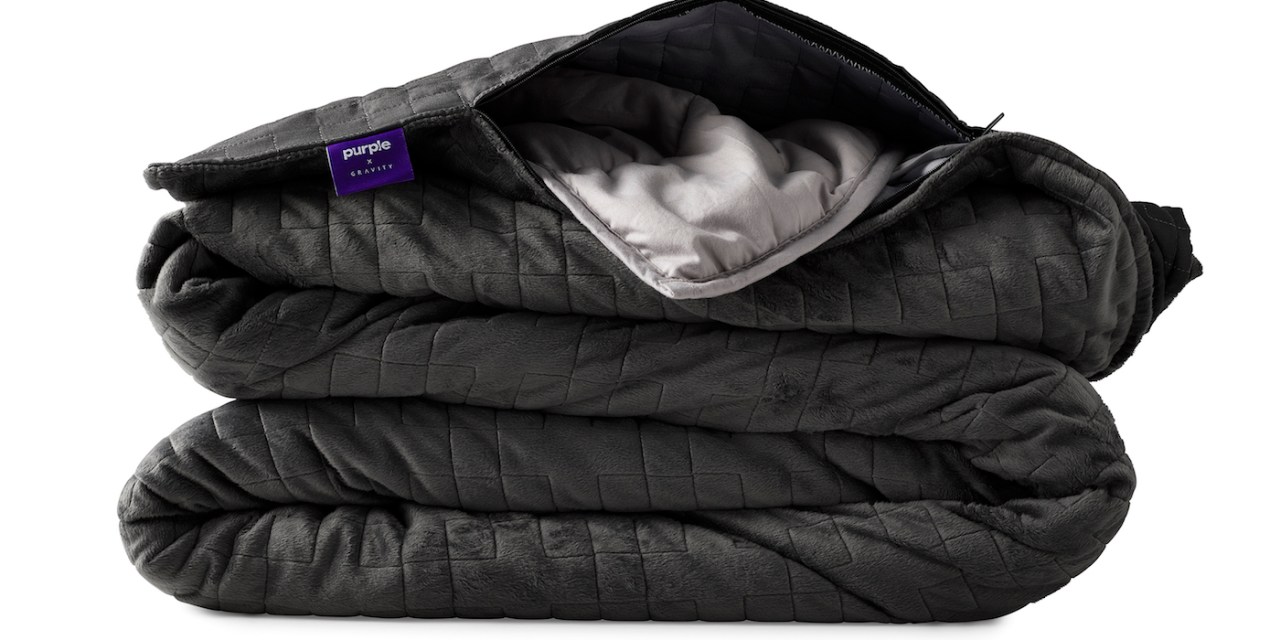 Over the past year, weighted blanket brand Gravity Products has started to partner more with brands on product collaborations in order to lessen its reliance on selling directly to consumers.
Today, Gravity announced that it's partnering with DTC mattress brand Purple on a product collaboration. Purple will sell weighted blankets and eye masks that have been developed by Gravity, with the Purple logo on them, on its website.
Gravity has done two other similar collaborations over the past year, with meditation app Calm and high-tech mattress brand Eight Sleep. As part of these collaborations, Gravity may sell excess products to brands to give away to their customers. Or, Gravity will develop blankets made with unique material compared to its other weighted blanket and eyemasks with the company's logo embroidered on it, for those brands to sell to their customers.
Gravity CEO Mike Grillo said that partnerships now make up nearly 18% of its revenue, up from 2% last year. Gravity is on track to do about $20 million in revenue this year and is profitable.
"We're looking for players that are sort of in an analogous category — not necessarily in blankets or weighted blankets specifically, but obviously sleep, in general, is interesting to us," Grillo said.
Roughly 70% of Gravity's revenue comes from sales through its website, while another roughly 12% comes from selling through other retailers' marketplaces, including Amazon, Macy's and Bloomingdale's.
Gravity first raised the funds to produce and sell weighted blankets via a Kickstarter campaign in 2017. It also got its start as a product development arm of publisher Futurism and officially became its own company last year. As such, its path to growth may not be easily replicated by venture-backed DTC brands, who need to give their investors a 5 or 10x return on their investment.
But, its playbook is one that other brands are likely to take note of as more companies are looking to partnerships to acquire customers in order to lessen their reliance on Facebook and Google ads.
"Partnership marketing is very hit or miss depending on the alignment of the audience," said Alex Song the founder and CEO of Innovation Department. Innovation Department is a startup studio that runs a platform called DojoMojo, where brands can sign up to partner with one another to host product giveaways. Potential new customers sign up to receive emails from both brands, in order to have a chance at winning free products from them.
Song describes email giveaways as the "first date," in partnership marketing, and that brands will sometimes test out these types of collaborations before moving to something more labor-intensive like co-branded products.
Many of these partnership efforts are still in the early innings, and as such, it's unknown just how much of future revenue these types of partnerships can consistently account for. Brooklinen, for example, launched a marketplace last week to sell home goods from other brands. CEO Rich Fulop said that he believes the marketplace could one day account for 50% of total revenue.
How Gravity approaches collaborations
Grillo said that his desire to do more product collaborations was two-fold: one, he was frustrated by how long it was taking to strike partnerships with traditional retailers. "Those organizations are very large, and there are always a million layers to get to the right person," he said. Second, he wanted to find more cost-effective, less labor-intensive ways to acquire customers beyond Facebook and Instagram.
The first company Gravity decided to partner with was meditation app Calm. The startup had just raised a large amount of venture capital funding, so Grillo and his team figured that they would be open to testing out a partnership.
During the holiday season last year, Gravity created a Calm-branded weighted blanket. Included in the purchase of the blanket was a year's subscription to Calm. This year, Calm and Gravity are again partnering to sell Calm-branded weighted blankets and weighted sleep masks. This year, in addition to Gravity's website, the products will be available for purchase in XpresSpaGroup, an airport spa chain that Calm is an investor in, as well as on Walmart and Amazon.com.
Purple CEO Joe Megibow said that the company wanted to partner with Gravity because at one of the company's showrooms on the West Coast, some customers would buy a weighted blanket from a store across the street that sold them, and then come across the street to buy a Purple mattress. Purple's partnership with Gravity mirrors a traditional wholesale arrangement. Megibow said Purple bought "thousands and thousands" of units of co-branded Gravity products to sell, but declined to give a specific number.
As Gravity looks to partner with more brands and retailers, it will have some competitors to fend off. West Elm announced this week for example that it was also partnering with a weighted blanket brand to carry some of its products in time for the holidays.
Grillo said that for now, the plan is for Gravity to continue at a pace of about three to four product collaborations a year. He anticipates that partnerships will continue to make up a similar percentage of Gravity's revenue next year.
"We don't want to dilute the brand by being a 50% partnership-driven business," Grillo said.