Q&A
// July 26, 2022 ■ 4 min read
'People want to engage with the brand': Glossier's executive creative director on opening a new store in D.C.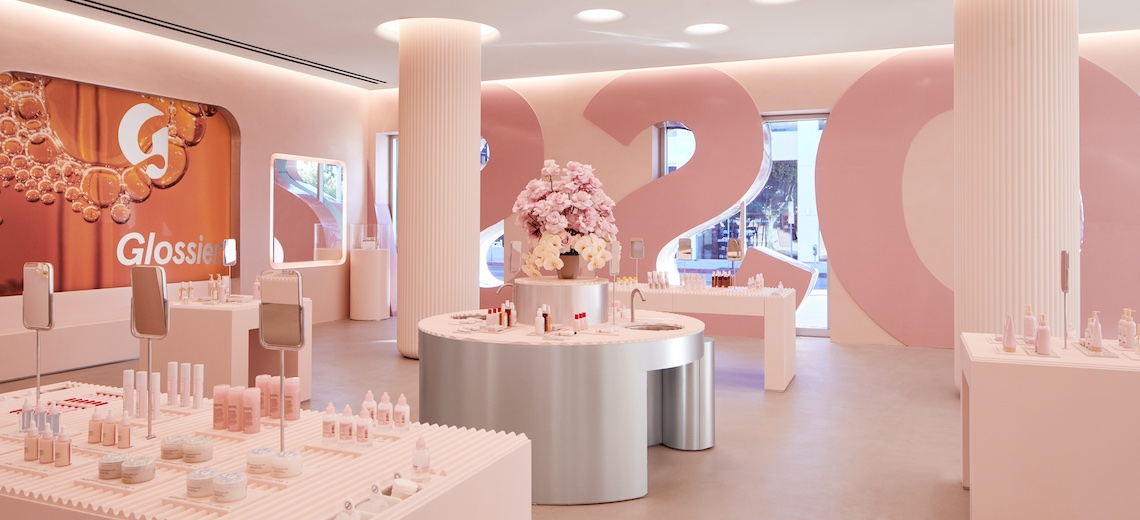 Glossier
Beauty brand Glossier announced that its fifth store, located in Washington, D.C., is open for business starting Friday. 
The new store is situated in D.C.'s historic Georgetown neighborhood, where many digitally native brands like Warby Parker, Everlane and Allbirds have established their own shops. The space is inspired by the Jet Age, as a nod to the Union Station and the Air and Space Museum located in the city. In addition to Glossier's product lines — including skincare, makeup and fragrance products — the store features retro-inspired decor, floor lighting designed to look like an airport runway and seats modeled after the shape of airplane wings. 
After closing all its permanent and temporary retail stores in 2020 due to the pandemic, Glossier has begun rebuilding its physical footprint across the country in a bid to attract more shoppers. The company's stores tend to lean heavily on unique in-person experiences, such as its selfie room and on-site experts, to drive traffic. Since last year, it has opened permanent stores in Seattle, London, L.A. and Miami.
Founded in 2014, Glossier was often credited for pioneering the direct-to-consumer model, with bestselling products like eyebrow pomade Boy Brow and eau de parfum Glossier You. As the company expands its store footprint, it is investing in experiential retail again, taking localization into account when designing the space and selling location-exclusive items like the Glossier Luggage Tag in D.C. and cellphone-style keychains and stickers in L.A. Following an $80 million Series E funding round in July, Glossier reached a valuation of $1.8 billion. Earlier this year, however, the company announced it was laying off over 80 employees, with former CEO Emily Weiss saying it had made "some mistakes" in recent years and "got ahead of ourselves on hiring." 
Marie Suter, senior vice president and executive creative director of Glossier, spoke to Modern Retail about the company's new D.C. location and its overall retail strategy. This interview has been edited for length and clarity.
Why did Glossier decide to open a store in D.C.?
It's a center where there are a lot of people. The retail team does research, etc on where is the best place for us to show up. The community [in D.C.] has been asking us for a while to come. 
We are located in the historic neighborhood of Georgetown, which is an incredible building. We've been super inspired by the location around.
We try to find our take a little bit on the city and we were very inspired by the Smithsonian Museum of Air and Space. So if you had to describe this, it's like we are bringing our community along to travel into space.
I understand that each Glossier location has some unique features in the store. From a design perspective, what are some of the elements you consider when building a new location?
There are a few different, I would say, creative guardrails that we have… and we are always doing some creative research.
We take local inspiration. We try to not make them obvious. We really try to learn from the place, from the community we already have and what they love there.
Some [elements in the store] are repeated like you understand that you're in a Glossier store. But it's really a local take on the city and location.
What would you say is Glossier's goal in expanding its physical retail presence?
We want to delight our communities and we want to go where they want to see us. We've obviously tested a lot of different retail models and we've seen the way the community engages.
I think the way we have approached retail has really brought a new way of experiencing beauty. From what we have seen, people want to engage with the brand… people want to be part of this community and want to show it and live it. 
Although, obviously, you can experience [the brand] digitally, there is something, especially now, about living it in person.
As a brand, we're very bullish that [stores are] something that our community love… and it's a way to really go beyond just buying a product but really experiencing the brand. 
What does Glossier hope to accomplish this year?
We have a few [stores] planned for the rest of the year and we are still looking and figuring out where else to go, nothing like really concrete. But as you might have seen, we are going to come to Philadelphia, Atlanta and Williamsburg later this year, which I'm really excited about.