Pet food startups are capitalizing on the new shelter-in-place lifestyle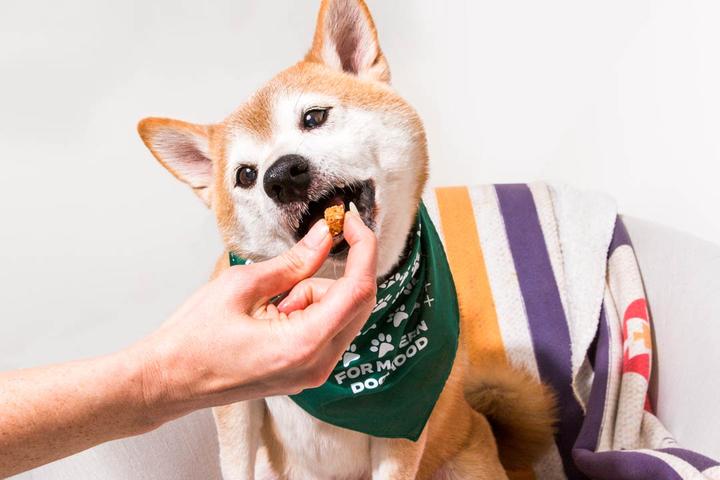 Two weeks ago, over 100 people logged onto their computers to join a webinar. The topic wasn't investing in times of crises, nor was it about business leadership skills. It was a dog webinar.
The pet nutrition event was hosted by the fresh dog food company NomNom and featured its chief nutrition officer. Attendees — all of whom were NomNom customers — could ask questions about best canine nutrition practices. The idea was a sort of experiment — something to take the place of live events. People asked more than 60 questions — which was many more than the company bargained for. NomNom considered it so popular, the five-year-old company has scheduled eight more webinars over the next few months.
It's no surprise people have questions about related to pets. The United States has seen an influx in pet ownership and adoption over the last few months. In April, the CEO of the Humane Society that the rates of fostering increased by as much as 90% in many U.S. cities, according to Wired. Cat and dog adoption is on track to grow 4% this year, with 7 million new owners in 2020, according to L.E.K.
This means an added demand for pet supplies when big players like Amazon and Chewy can't satisfy it. Beginning in March and extending into April, large e-commerce platforms began to see so much demand that shipping times were delayed. It became nigh impossible for many people to schedule Amazon grocery deliveries the last two months, and the company tried deal with the surge by focusing on essential items and hiring hundreds of thousands of warehouse workers. All the same, only until recently, deliveries that once took only a day or two were extended to as long as a week.
Even pet-focused platforms weren't immune to the crunch. Chewy was also dealing with an increase in demand and difficulties fulfilling the influx of orders. "In terms of the shipping delays, yes, we are experiencing a lengthened delivery time," CEO Sumit Singh said at its last earnings report in April.
As a result, companies like NomNom have been seeing a boom. According to CEO Nate Phillips, he had to double production in the first quarter of 2020 in order to keep up with demand.
"My guess is there are people that weren't aware there were digital options," said Phillips.
NomNom is not the only pet company seeing a boom. Dandy, which makes customized dog wellness treats, saw sales grow 40% from March to April and then between 60% and 70% the following month. The company only launched in late 2019, but decided to lean in on the adopting influx by using its digital reach to promote local shelters.
According to CEO Danielle Sobel, the behavioral change is somewhat nuanced. It's not only that people are sheltering in place and don't want to risk walking into a Petco — it's that because folks are spending so much time with their pets, they're becoming more tuned in to their needs. "What is happening across the board is that people are spending more time at home with their pet," she said, that they are "recognizing they are individuals."
Some of these brands have been capitalizing on the shortcomings of large incumbents. Dog food startup Jinx, which launched last January, has been consistently seeing month-over-month growth rates of between 100% and 200%. "So many people are buying their essentials online," said co-founder and CEO Terri Rockovich. "For us, it's been hard to tease out what's working," she went on. It could be the mad dash to e-commerce, the marketing the company has been doing or simply the product. Whatever it is, "the online shopping behavior is indexing in our favor."
Jinx even decided to try and make its product even more on-demand by partnering with Postmates in LA. The company had pallets of its product shipped to a ghost kitchen, and now Angelinos in dire need of dry food can use the app and get it in a few hours. "We're really leaning into it," said Rockovich, adding that she plans to expand it beyond just LA.
It's not only dogs either. The feline-focused company Cat Person has been making similar moves and seeing outsized results. "We've increased our emphasis on delivery and convenience," said CEO Jimmy Wu. Sales, he went on, have grown 50% month-over-month. Certain items have been out-performing too, with cat treats and toys selling at "three to four times the rate we expected."
Cat Person, like Jinx, also only launched earlier this year, but has seen the coronavirus shift help it acquire new customers. "We've seen more people spending time online on our websites," said Wu, adding that the brand has pulled back its out-of-home advertising budget and is reallocating it all to digital.
"We've seen a couple of dynamics play out similarly to what we observed during the Great Recession," said Arpon Ray, principal and COO and Coefficient Capital, which has invested in NomNom. "Pet, of all of the consumer categories was the most resilient in terms of going back to normal."
He pointed to higher-end pet food brands like Blue Buffalo that "doubled in size through the [last] recession, even though they were essentially the most expensive one on the market at the time."
More people are seeking out more premium pet products, he said. With the influx of adoptions of late, that trend is only likely to increase. But these new brands also represent a different way of shopping for pet food. Instead of grabbing them at the grocery store aisle — or even going into a pet food store — more people are seeking out these individual names. It could be a response to big platform shipment delays and lower acquisition costs (NomNom said CAC decreased by as much as 40% over the last few months).
The real question remains whether these companies can continue to ride this wave. Some of these brands are very early, and they can only continue growing 100x for so long. Meanwhile, the Petcos will reopen while Chewy's shipping times decrease; it's uncertain whether these new customers will stick with the products.
Retention for some consumable brands has historically been hard, but these companies think pooches bring about a different kind of shopping and loyalty pattern. "People take pet food very seriously," said NomNom's Phillips. "It's a very considered purchase."
Correction: An earlier version of this piece said Coefficient Capital had invested in Cat Person, which it has not. It has since been updated.