Pinterest's new ad formats target creators and international brands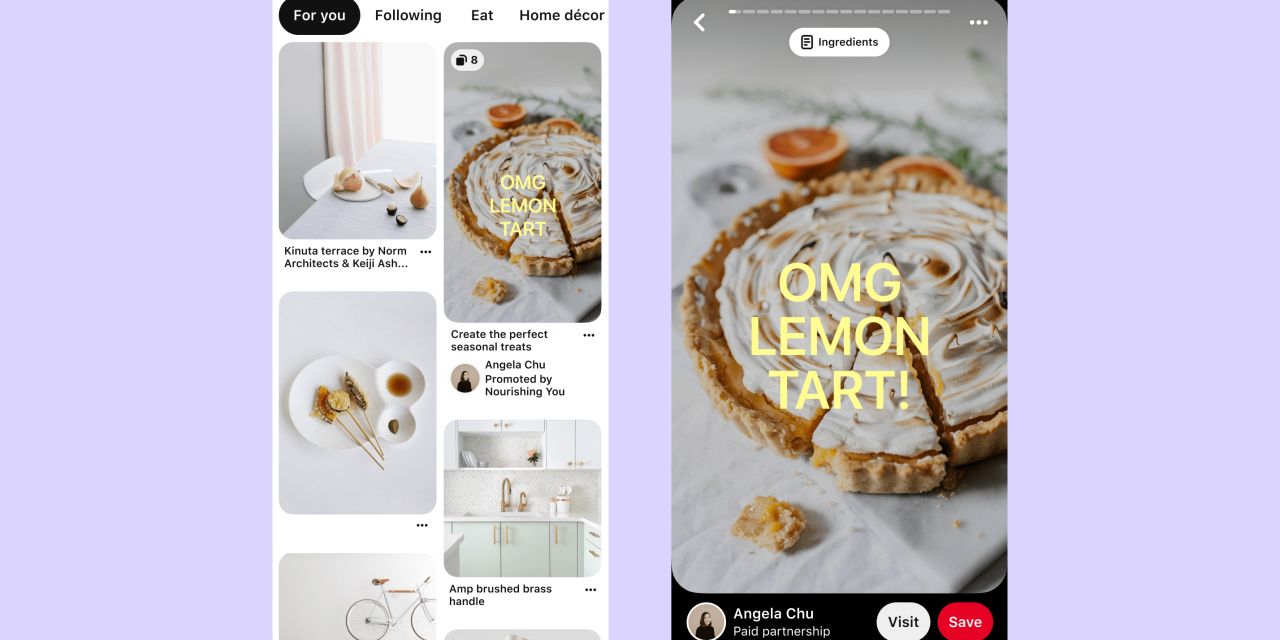 Pinterest
Pinterest is betting on creators and international retailers to fuel the next phase of its shopping strategy, and has rolled out new features and services to target them.
Yesterday, Pinterested announced two new ad products — "slideshow collections" and sponsored "idea ads." The latter is an extension of idea pins — which Pinterest rolled out in July — that allow creators to share a video highlight reel of their ideas and the products they are using. With slideshow collections, brands can now highlight a selection of catalog items in an automatically generated video. As part of its focus on international growth, Pinterest is also expanding its verified merchant program to more countries in Europe and Latin America, including Italy, Spain, Netherlands, Austria, Switzerland, Brazil and Mexico.
Together, the updates are part of Pinterest's ongoing efforts to harness its creator community and international presence to bolster its shopping strategy. Over the past year, a large area of focus for Pinterest has simply been getting brands to upload more product pins, through catalog ingestion tools and a Shopify integration. The new features arrive in the wake of a tumultuous period for the platform that has seen its growth in the U.S. stagnate, while its reach overseas has grown. In its latest quarter, Pinterest lost 5 million domestic users even as its global user base jumped 9% over the past year to 454 million.
The new ad tools build on its recent shopping initiatives that connect businesses with its influencers. Pinterest launched monetization tools for creators this summer, including support for affiliate links in their content and product-tagging in idea pins.
In the past, advertisers and agencies have highlighted that Pinterest has a unique user base that shares little overlap with "over-saturated" audiences on platforms like Google search. 
For its part, Pinterest has tried to distance itself from its rivals by claiming that it is not a social network and that its users are not driven by celebrity influencers. Instead, it "majors in creator expertise," CRO Jon Kaplan said. Now, it is hoping its new sponsored idea ads can help to highlight some of its lesser-known creators. Pinterest piloted the feature with 15 brands including Ikea, alcohol giant Diageo, Nordstrom and Lego.
Pinterest's other new feature is designed to tap into its international growth. The company launched its verified merchants program in the spring of 2020 and is now expanding it to seven additional countries. The feature gives authenticated merchants a blue tick on their profile to show they have been vetted. In addition, those same merchants can now add more info to their profiles such as brand values and the communities they are aligned with. For instance, they can list whether they are black-owned or female-owned businesses, or signal their commitment to sustainability. 
According to Kaplan, Gen Z wants to know about the principles of the brands they do business with — a demographic that will be a key area of interest for Pinterest, and other social apps, in the years to come.