Premium beverage brands are using DTC strategies to rival legacy players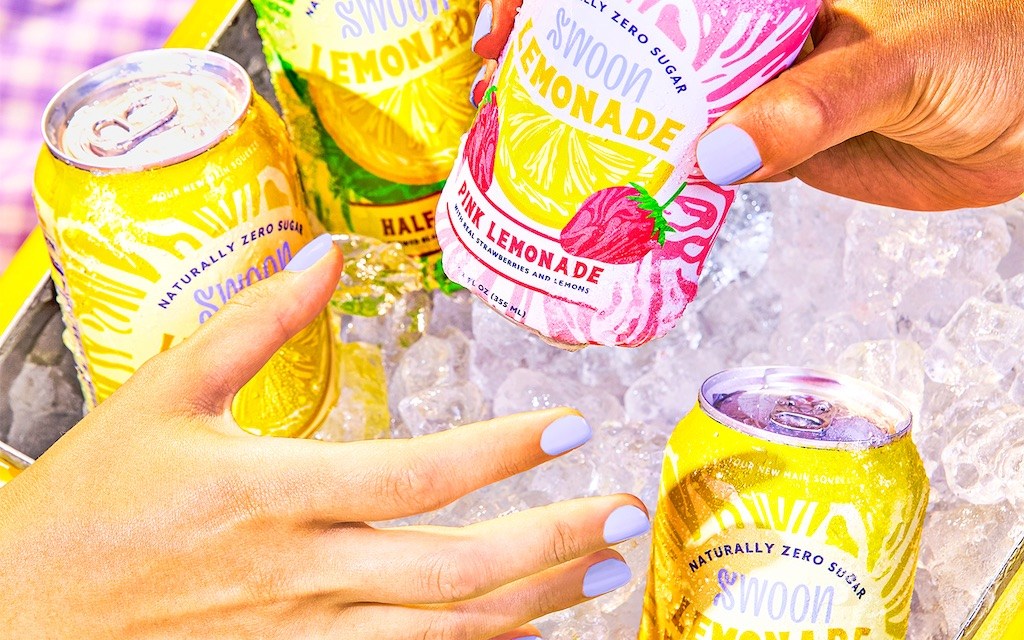 Today's supermarket beverage aisle looks considerably different than it did 10 years ago — thanks to the coronavirus. 
In the past, the usual growth path for startup beverage brands was to participate in popups and trade shows, in hopes for a big retailer to make a big purchase order. The coronavirus outbreak changed this because more people began shopping for their grocery goods online. The costs of running an e-commerce operation — and associated expenses of shipping heavy liquids — often didn't make sense in the past, but recent online sales spikes proved it's a worthwhile segment to pursue for diversifying revenue.
Companies like Swoon, Sanzo, Sunwink and Olipop have built out robust e-commerce channels, and, as a result, they're seeing renewed interest from wholesale distributors and grocery partners. It makes sense, since consumer packaged goods (CPG) sales have had historical spikes, with Procter & Gamble recording its biggest annual gains since 2006 this month, 234% growth, hitting at $3.89 billion. Meanwhile, national retailers have benefitted from shoppers stockpiling goods, helping Walmart record a 74% increase of online sales this past quarter.
During the early days of the pandemic, digital grocery sales saw massive growth across the board, which doesn't appear to be slowing down. According to the latest research from Brick Meets Click and Mercatus, online grocery sales hit $7.2 billion in June, up 9% over May.
All this is causing a grocery shift; premium beverage brands, usually found in specialty health stores and on Whole Foods shelves, are finding quick growth online — and have used that to harness more mainstream distribution. 
Sparkling tonic brand Olipop, for example, experienced a 400% spike in retail sales since mid-March, driven in part by a launch at Sprouts in late May. The Sprouts deal followed the rollouts of other e-commerce channels since shelter-in-place orders began — including a marketplace for SMBs, along with offering 2-hour delivery in New York City, according to co-founder David Lester.
He described the last few months as "the first time that beverage brands have had the opportunity to interact one-on-one with their customers at scale." As an example, Olipop is set to debut a private texting hotline as a way interact with "VIP e-commerce customers on a daily basis." The tool is aimed at building a loyal brand following, while at the same time allow the team to get direct feedback on new flavor launches and collect data for new retail channels.
Stepping back from trade shows and store demos allowed tonic brand Sunwink to try out direct to consumer marketing, seeing almost instant returns on paid social. The brand saw a 300% increase in overall revenue over the past year, with e-commerce now accounting for 30% of it since launching and promoting the channel in March. Until then, the focus was on the grocery and retail space, co-founder Jordan Schenck told Modern Retail, thanks to Whole Foods being an early launch partner. 
The digital sales bump helped increase awareness, leading to more distribution opportunities. Alongside expansion to New Seasons markets and three new Whole Foods regions this fall — including the Northeast, Pacific Northwest and Southern Pacific — Sunwink will soon be available at over 1,000 retail locations. "Where we see a lot of our business growing is the so-called middle of the country," she said, proving there is growing interest in high end packaged goods beyond the urban millennials market. 
Similarly, zero sugar mixer brand Swoon, which first launched in 2015, has also seen major opportunity through online sales and an increased interest from wholesale accounts. Having "been omnichannel from the beginning," co-founder Cristina Ros Blankfein said DTC sales, including "subscribe and save," have doubled since March. 
Swoon's Ross agreed that this is a great time to enter the grocery space, as buyers are returning from fulfilling essentials demand and looking for ways to "enhance their shelves." The brand is sold at national supermarket chains — including Meijer, Stop & Shop and Kroger — as well as regional ones like Wegmans and Erewhon. The company said that it's currently in the process of adding a number of new grocery distributors interested in carrying the brand. And while product development was more challenging remotely, this month Swoon is expanding with a lemonade line, an alternative set to accompany decades-old Minute Made on shelves.
Meanwhile, Sandro Roco, founder of Asian-inspired sparkling water brand Sanzo, said the company is set to expand into Whole Foods across the northeast, along with other premium markets. The expansion comes after closing a $1.3 million seed round this month, led by Away co-founder Jen Rubio and Homebrew's Hunter Walk and Satya Patel, signaling growing interest in the category among investors.
Up until recent months, the company relied on awareness via experimental pop-ups, Asian-American restaurants and fast casual chains, like By Chloe. It wasn't until mid-February that it began to build out e-commerce and secure 3PL partners. Roco said that with customer acquisition costs dropping when the pandemic hit — the lowest he'd seen since 2014 — there was an opportunity to experiment with reaching customers via social feeds, something he hadn't considered until then. 
Indeed, more consumers are discovering grocery brands online. The past few months have created an "endless aisle," said Harris Diamand, vp of customer experience at CPG solutions platform 1WorldSync, which works with national chains like Kroger and Walmart. As more shoppers buy groceries online, "they're entering a much more equal playing field to browse beverages than in stores, where big brands take up most of the shelving at eye-level," explained Diamand. Furthermore, with the past wave of CPG shortages in stores, customers have been forced to try out other products in the interim, which has turned into longer purchasing habits. 
This means that more people are buying things online — as well as testing out new products. Right now, brand loyalty "is still in flux right now," said Sunwink's Schenck, making it a great time to convert new customers. "Beverage has always been an accessible luxury," she concluded. Which is to say, for the first time in decades, there is room for more players to compete with the CPG juggernauts.