Reebok is launching a new membership program to build direct customer relationships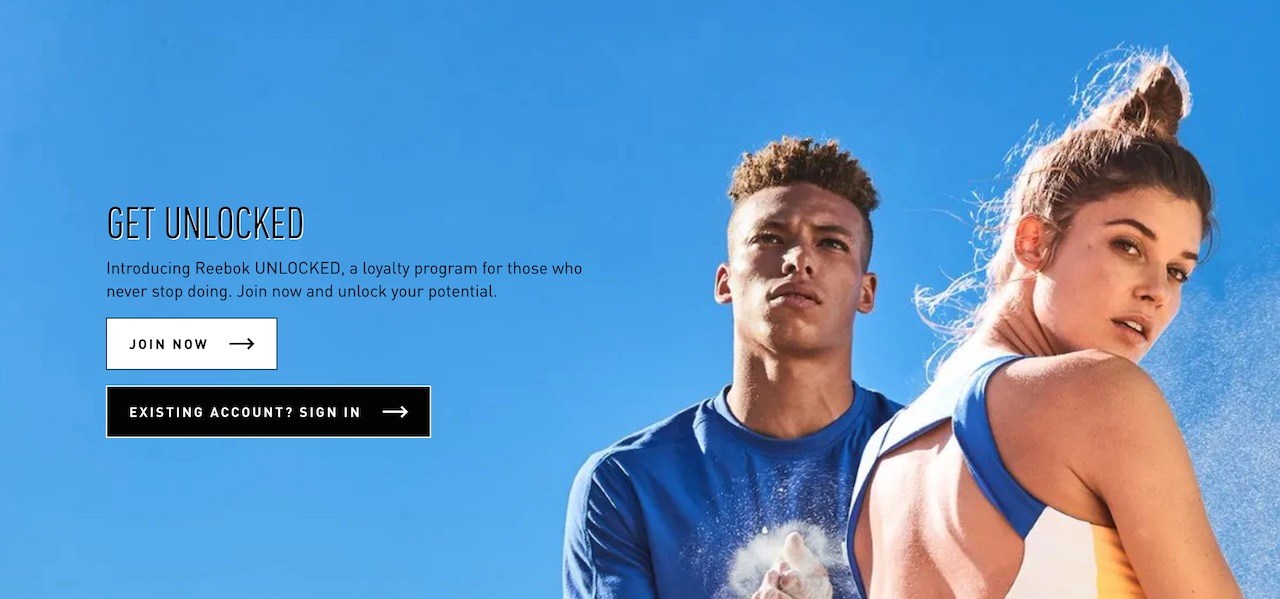 Reebok is angling for a deeper relationship with its customers through a tiered loyalty program that offers free shipping and returns, VIP customer service, events, training sessions and other personalized offers.
On Tuesday, the company launched Unlocked, a new tiered member program that quietly rolled out on Reebok's site last month. For Reebok, it's a competitive move against newer brands that have had a head start on loyalty programs like Lululemon or Under Armour. It's an effort to grow sales, build customer relationships, and get additional feedback as it evolves its product selection.
"Unlocked is fundamentally a value-based program; it rewards our consumers for interacting with our brand," said Matt Blonder, Reebok's global head of digital. "There are points associated with dollars spent, but there are also points associated with social interaction, with account creation and enrichment, event interaction, et cetera."
Customers can sign up for the program by creating a profile on Reebok's site. They can gain points by buying products, but customers also have opportunities to build reward points balances just by interacting with the brand, including reviewing products, posting to social media platforms about their experiences with products on Facebook, Instagram and Snapchat, and going to events. In return, customers get benefits like free shipping and returns, training sessions, early access to products, invites to exclusive events, and personalized customer service. Through experience-based rewards, Reebok is encouraging customers to offer more information on their preferences, so it can tailor rewards and offers to members' needs. ReebokOne, the brand's trainer network for Reebok-certified fitness professionals, is also seeing benefit updates with the roll out of Reebok Unlocked.
The profiles the company wants to build are an effort to acquire more customer data to personalize loyalty offers and get feedback to inform future product releases. It's a completely in-house effort, Blonder said, the result of a 30 percent digital staff increase over the course of the past year.
Reebok's global revenue for 2018 was $1.8 billion, a small component of parent company Adidas' $24.5 billion global revenue. Adidas has been working to lift sales for Reebok, whose third-quarter sales dropped 5%, with revenues dropping by 1%. Adidas CEO Kasper Rorsted said in an earnings call in November that the company is prioritizing profitability and "getting the brand attractiveness up to a level which is acceptable." By building a loyalty program, Reebok is tapping into consumer trends around wellness.
The company is partnering with other companies to deliver rewards, including Well+Good, Follain, Exhale, ProBar, Tula, Country Archer and Les Mills. The personalized, experienced-based rewards are tools Reebok is using to help encourage customers to populate their customer profiles, tag the brand in social-media posts and write product reviews.
"It helps us to tailor the information that we share, to tailor products and product recommendation," Blonder said. "It also helps to inform our entire product creation, design life cycle, as well as how we come to market."
Using customers as influencers is a powerful way to drive conversion, Blonder said, and it's an extension of an influencer marketing strategy it's been using for a few years.
The company will also launch a revamped website later this month that loads faster and whose back end offers improved data analytics capabilities. Pairing the loyalty program launch with a revamped website is a good strategic move, argued Gartner senior specialist Ben Feldman.
"Typically, when brands launch a loyalty program, they have to layer new features onto an existing site infrastructure," he said. "Reebok's ability to integrate loyalty with the online shopping experience in one fell swoop is a big advantage."
And by building in personalized lifestyle rewards instead of discount coupons that have traditionally accompanied loyalty programs, customers have added incentives to share data. But for legacy brands like Reebok, it's still a game of catch-up with online-first brands that already have rich customer data repositories.
"They're likely starting with a data deficit," said T3 president Ben Gaddis. "Those other [online-first] companies are probably years ahead — Reebok is going to have to figure out how to take that to the next level and win back some of those customers."

—
Sign up for the Modern Retail Briefing to get retail news, analysis and insight delivered to your inbox every morning.