Regional parcel carriers are eyeing national expansion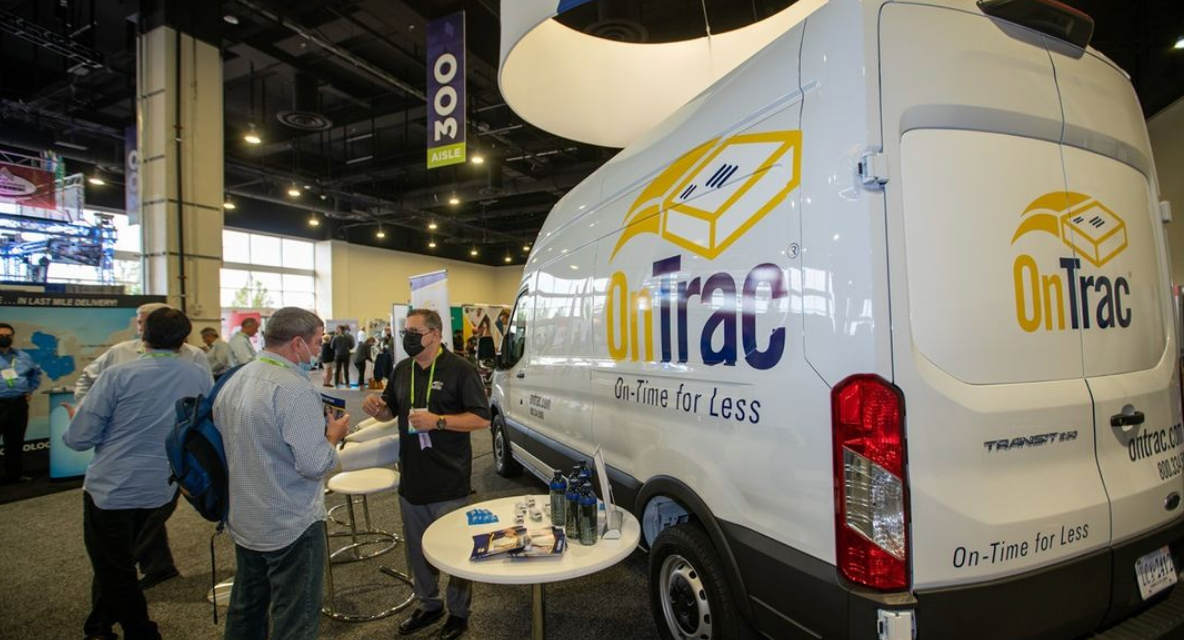 OnTrac Instagram
Two of the biggest regional parcel carriers are merging to form a single company — marking the culmination of a boom period for regional deliverers.
This month, LaserShip, a carrier focused mostly on the East Coast with a presence in 21 states, announced it is buying OnTrac, a carrier with operations in eight Western states including California, for $1.3 billion. That is coming right as regional carriers have become a popular alternative for retailers who are looking to avoid the capacity restrictions at traditional carriers like UPS, FedEx and the USPS. Among the companies using regional carriers are Best Buy, Kohl's and Ulta, according to a roundup by Supply Chain Dive.
The acquisition will turn LaserShip into a national parcel carrier, albeit one with shipping levels far below UPS, FedEx, the USPS and Amazon Logistics. In 2020, the U.S. shipped 20.2 billion parcels, up a whopping 37% from 2019, thanks to the rise of e-commerce sales over the last 18 months, according to the postage technology company Pitney Bowes. That growth is radiating out to all companies within the parcel carrier ecosystem — including regional carriers like LaserShip, OnTrac and others. Additionally, with the Postal Service slowing down its shipping speeds, regional carriers are offering a way for brands and retailers to diversify their delivery options ahead of the holidays.
"The market is good for any company that has capacity and a network to make parcel deliveries because the demand is an excess of capacity," said Satish Jindel, founder of the logistics-focused firm SJ Consulting Group.
While many of these regional carriers haven't disclosed revenue, they have benefitted from the uptick in e-commerce sales. "I think it's fair to say that, in general, if you are participating in what has been a pretty substantial increase in volume [because of the pandemic], you've seen more volume in your network," said Gregg Zegras, evp and president of global e-commerce at Pitney Bowes. Pitney Bowes said its "other carriers" category — which includes mostly regional carriers — saw their parcel volume grow 13.9% across the board in 2020.
Texas-based LSO, for instance, reported that its shipping volume doubled in 2020, and it predicted that it would hit $100 million in revenue by the end of 2021. So far this year, the company said that the e-commerce side of its business specifically is on track to grow between 180% and 190% year over year. LSO is also expanding outside of its core bases in Texas and Oklahoma and adding capacity in Louisiana, Arkansas, Missouri, Illinois and Kansas. LaserShip, before the acquisition, also reportedly grew its revenues by 58.2% in 2020, while OnTrac said it saw a revenue jump of 34.6% in the same year.
Once LaserShip and OnTrac pool together all of their resources, LaserShip estimated to the Wall Street Journal that the new company would have over 100 sorting and delivery hubs across the U.S., and would be able to reach 74% of the U.S. population within two days. LaserShip is also reportedly installing an Amazon Logistics executive, Mike Roth, as its new CEO.
Seeking out diversification
Jindel said that regional shippers are not necessarily any cheaper than their large counterparts, and neither are they significantly faster. Though "there may be some lanes where they are a day faster" than the UPS and FedExes of the world, the speed for a regional shipper tends to be relatively on par with that of competitors.
Rather, the regional companies are growing largely because shippers — meaning brands and retailers — are looking for ways to diversify their carrier networks. Bracing for a hectic holiday shipping season, the USPS, for instance, announced this month that it would extend its delivery windows for first-class mail from up to three days to up to five days. Brands and retailers are turning to regional carriers to close the gaps.
For now, regional parcel carriers represent a relatively small cross-section of the parcel shipping business. Most estimates peg the market share of regional carriers at 6% to 8% of the parcel delivery market. Still, while Jindel said that historically regional carriers have been content to operate in their local niches — "they all were very small, operating in the small area, they didn't have the same ambitions to grow rapidly," he said — that might be starting to change.
If the merger of LaserShip and OnTrac is any indication, regional carriers might grow into larger companies that can take on, at least in some areas, the likes of UPS and FedEx.
Some of the recent growth has been fueled in the near term by pandemic-era supply chain constraints. But Jindel said that the shippers that have embraced the regional carriers — so long as those regional carriers meet expectations — are unlikely to turn away from them in the future. The demand for regional carriers that the pandemic brought will, in all likelihood, continue. "The clock will never turn back," he said.
More deals and acquisitions, too, might be on the horizon, leading to even bigger regional carriers. "I don't think this is the end," said Zegras. "I think you're going to continue to see more and more investment, [and] you're going to continue to see more and more M&A activity in this space."