Rental and resale services hope to benefit from inflation concerns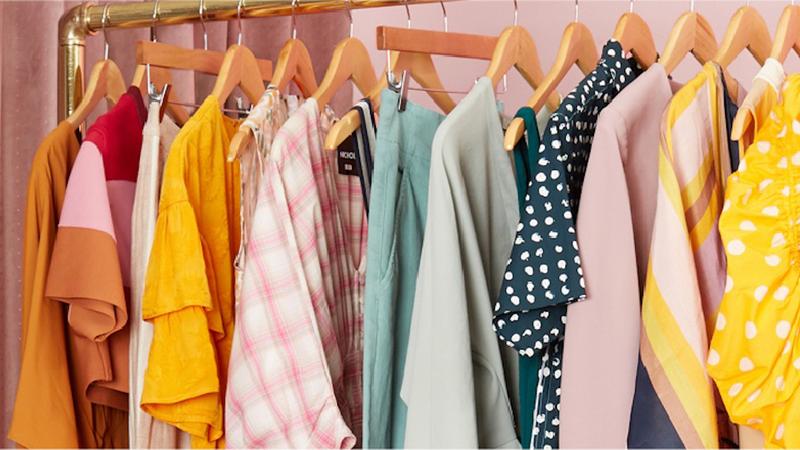 Image via ThredUp
Rental and resale companies are betting more people will use their services as inflation rises.
Rental and resale offerings have been growing in popularity with retailers since before the pandemic. In recent years, Patagonia and outdoor clothing brand Arc'teryx have launched and grown their trade-in businesses. This month, denim brand Wrangler and mall retailer PacSun both launched their own lines of secondhand apparel. Target, meanwhile, is revisiting the resale format with a new pilot program with resale vendor ThredUp.
Prices have skyrocketed over the past year, with inflation jumping inflation 7.9% in February — the fastest rate in 40 years. With more Americans concerned about inflation, resale and rental providers are hoping to attract even more customers with discounted, pre-used merchandise. Rental platforms like Rent the Runway are hoping customers will want to pay flat fees to borrow pieces for in-person occasions, rather than buying new items outright. Meanwhile, other brick-and-mortar retailers like Lululemon are launching or expanding resale programs as they pull back on seasonal discounting.
In its fiscal fourth-quarter earnings, Rent the Runway reported a 91% increase in revenue — bringing in $64.1 million, from $33.5 million a year earlier. The company also hit 115,240 active subscribers this quarter, up 110% from the previous year. Rent the Runway CEO Jennifer Hyman cited inflation as an advantage for the rental service's post-pandemic recovery, as customers look for ways to affordably dress up. "We're entering into one of the strongest environments for rental we've ever seen," Hyman told CNBC. "The inflationary environment is basically a competitive advantage for Rent the Runway."
Still, Rent the Runway isn't immune from inflation itself. The company also raised its subscription prices earlier this month — from $135 to $144 per month. But, the company is trying to give customers multiple ways to use the service if they don't want to commit to a monthly subscription. Last year, for example, the company launched a resale business that allows customers to purchase previously-rented clothing and accessories.
Rental upstarts say they are also seeing renewed interest amid inflation concerns. Wardrobe, a peer-to-peer rental app that launched in 2019 — is positioning itself as a better solution for the return of events and weddings this year. This month, the company launched a new program called Swap in time for Earth Day. Modeled after clothing swap parties, Wardrobe users can share their listings on the app to lend out. Once they list five items, they're notified of certain store credit they can use to borrow from other users.
In an email to Modern Retail, Wardrobe founder and CEO Adarsh Alphons wrote that the platform "offers an attractive option for fashion-conscious consumers seeking to beat rising inflation." He also pointed to renting being "more inflation resistant as the transactions involve goods that have already been purchased."
Consumer-facing resale platforms are also positioning themselves as an affordable, sustainable option for fashion-conscious consumers.
James Reinhart, co-founder and CEO of ThredUp, said in a statement that "in a world where retailers have been forced to raise prices due to inflation or supply-chain pressures, consumers can always find a vast and ever-fresh selection of secondhand items on ThredUp — 100% of which are already in stock and ready to ship." Reinhart added that the company is in "a position where we can continue providing great brands at great prices during a time when many are feeling price pressure in other parts of their lives." In March, ThredUp reported a 35% jump in year-over-year sales for its fiscal fourth quarter.
Other resale companies are still trying to figure out how to frame inflation in their marketing. Poshmark chief marketing officer Steven Tristan Young told Modern Retail that the company hasn't officially positioned its listings as an alternative to out-of-stocks and inflation. "Supply chain-related concerns aren't sexy to market," Young said. "But we're trying to figure out how to better frame resale as an option amid rising inflation." For its 2021 full fiscal year, Poshmark reported a net revenue of $326.0 million, a 25% increase year-over-year over 2020.
The rise of re-commerce
Similar trends have driven increased retailer interest in both resale and rental over the past several years; both types of services are geared toward customers who are more environmentally conscious or price-conscious, and as a result have a desire to own fewer new goods.
According to ThredUp data, more brands have launched in-house resale over the past couple of years. The report, which analyzed 41 brands with resale shops such as Levi's and Madewell — many of which partner with ThredUp — cited a 275% growth in adoption between 2020 and 2021.
Much of this growth is driven by young upstarts helping retailers launch resale and rental services. ThredUp launched a business-to-business service in 2019, Meanwhile, a startup called Caastle has helped retailers from Banana Republic to Express launch their own rental services.
Michael Prendergast, managing director at Alvarez & Marsal Consumer Retail Group, said that resale programs are the best fit for brands that have premium prices and a big following. 
Take Lululemon, which is officially launching a trade-in and resale program after testing it out last year. Dubbed "Like New," the program will allow customers to sell back their used Lululemon items in exchange for store gift cards. The rotating assortments will also have a dedicated section on Lululemon's website, where customers can shop the gently used version of a product. The resale hub is being phased in as Lululemon plans to "take selective price increases over the course of the year on a small portion of our styles," CEO Calvin McDonald said during the company's recent fourth-quarter earnings call.
Resale offers customers wider access to a brand like Lululemon, whose popular leggings run as steep as a few hundred dollars. Programs like Like New are also a straightforward way to ensure customers are spending their resale earnings at Lululemon, Prendergast explained.
Chris Ventry, vice president in the consumer and retail practice at SSA & Company, said re-commerce's popularity amid inflation is unsurprising.
"A year ago, I would have said that the sustainability and environmentally friendly roots of re-commerce were rapidly becoming the primary conversion driver," Ventry said. "But that calculus has shifted back to resale's historical roots of providing price-value."
Ventry noted that as the supply chain continues to cause crunches, sustainability as the purchase driver has been trumped by pricing inflation. "During times of economic uncertainty, consumers frequently turn to value for money purchases, where secondhand has always played an important role in purchasing behavior."