Resale services startups like Archive and Trove are trying to target high-end brands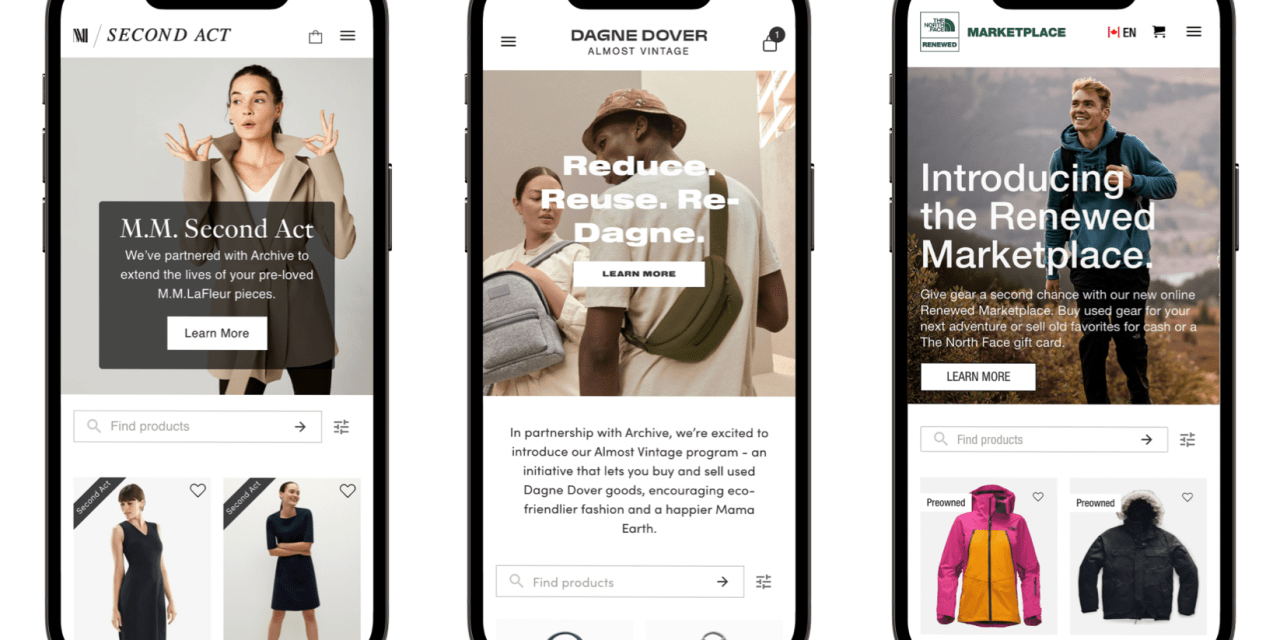 Archive
Apparel resale marketplaces have been having a moment. Etsy acquired Depop for $1.6 billion in June, for example, while Poshmark and ThredUp went public in at $3.5 billion and $1.3 billion valuations, respectively, in January and March.
Now, spurred on by their success, software companies are trying to help more brands launch their own apparel sites.
Over the past six months alone, brands from URBN to H&M to Oscar De La Renta have launched their own resale sites. Moreover, resale service providers have continued to secure more venture capital funding during this same time period. One company called Archive announced an $8 million funding round on Tuesday led by Lightspeed Venture Partners and Bain Capital Ventures. Trove, meanwhile, announced a $77.5 million series D funding round led by G2 Venture Partners in August.
While apparel brands may want a piece of the resale pie, the model can prove both expensive and logistically challenging for brands used to selling only new items. Deciding where to store product and how to build a site infrastructure for lower quantities of more varied products, for example, are potential pain points. Still, as consumers continue to embrace online resale, analysts interviewed by Modern Retail predict that more brands will experiment with launching their own resale programs.
Since launching in February 2021, Archive has quickly amassed funding and notable clients. In total, Archive has raised nearly $10 million, and its clients include brands like Oscar De La Renta, The North Face and Dagne Dover. In return for an initial set up fee and commission on further resale sales, Archive sets up sub-sites for these brands dedicated to resale. The sites look like the brands' traditional product listings, and often feature branded product imagery alongside pictures of used products.
"[Before we launched], I kept hearing from brands that they were seeing the growth of Poshmark and ThreadUp and the RealReal, and that they were very much curious about taking ownership of that market and that customer engagement," said Emily Gittens, Archive co-founder and CEO.
The potential challenges
Brands getting into resale is nothing new. Outdoor brands like Patagonia and REI for example, have had their own resale programs since 2018. However, on the heels of the growth that resale-focused apps like Poshmark and Depop have experienced, apparel brands in a wider variety of product categories are getting involved.
For many brands, the logistical hassles and costs of setting up resale can be prohibitive. To start, brands must decide if they want to accept returns, and then resell the used items themselves. Or, they can operate on what Gittens calls a "peer-to-peer" model where sellers and buyers engage directly with each other. Gittens said Archive's most popular client choice is this peer-to-peer model, but Archive is hoping to provide a "more elevated experience" of peer-to-peer.
At peer-to-peer Archive client Dagne Dover, for example, anyone can list a used product from the brand, but Archive offers a buyer protection model if the product is misrepresented. If a seller hasn't disclosed damage or is selling an inauthentic item, buyers will receive a full refund.
"We believe that the peer-to-peer model is the direction that the industry will go," said Gittens. "It's ultimately better for the customer because they get a lot more value back if they sell their item directly. As people get more and more used to buying and selling secondhand, we think that the willingness to create a listing — using brand imagery and descriptions — will increase."
Trove, meanwhile, operates on a return-to-brand model. "Customers expect a level of service when working directly with a brand," Andy Ruben, Trove's CEO, said. Trove works with companies like Levi's, REI and Eileen Fisher. "That level of service means that — when you when you want to trade in an item — it is far more convenient to simply walk into a store and be able to hand your item back," Ruben added.
Moreover, as numerous multi-brand resale marketplaces like Depop, ThredUp and Poshmark have already established dominance, brands must find ways to convince both sellers and buyers to return and rebuy in-house.
For buyers, Ruben said desirability is key. "This is not for every brand," said Rueben. "The brands we work with tend to be well-loved, desirable brands." The used product discount at a mid- or high-priced brand like Lululemon or Patagonia, for example, could allow new buyers to access these products for the first time.
For sellers, building out more convenience than an Ebay or a Poshmark is important. Trove allows sellers to drop off a product at a brand or retailer's store, and instantly receive money for their used item. Ebay sellers, meanwhile, have to photograph, list and ship a product themselves.
Archive, for its part, already has a pricing algorithm to tell sellers what the best listing price is. Now, it is using its new VC funding to build features to tell consumers purchasing new products how much they might expect to receive once they choose to resell. These buyers will also be able to opt-in to reminders to resell their new purchases later.
"That almost becomes a discount on your upfront purchase of a really high-quality item," Gittens said.
The growth opportunity
Analysts say the model might work amid a rising consumer interest in sustainability.
In 2018, McKinsey research found that the apparel sector was responsible for over 2.1 metric tons of greenhouse gas, or about 4% of total global emissions. Resale models offer brands a chance to take more control over a product's lifecycle and help brands reach their stated sustainability goals.
"I think it's a nice evolution of some of these [brand sustainability] promises that we've seen," Jessica Ramirez, a retail analyst at Jane Hali and Associates, said. "Product is being adopted back into their own cycles."
Beth Goldstein, a fashion footwear and accessories analyst at NPD Group said over email that an NPD study found that "when it comes to sustainability in apparel, footwear and accessories, consumers are most interested in long-lasting and high-quality products." Less consumption — in addition to its environmental effects — gives these consumers a price benefit as well.
While setting up programs may be expensive, added Goldstein, they can reinforce brand loyalty and draw in new customers. Ruben said that 70% of customers buying resale from two of Trove clients — Patagonia and Eileen Fisher — hadn't previously purchased new products at the brands.
"I think we'll see significant expansion in resale this year and brand and retailer-owned programs will lead the charge," Goldstein said.