Retail salespeople are transforming themselves into social influencers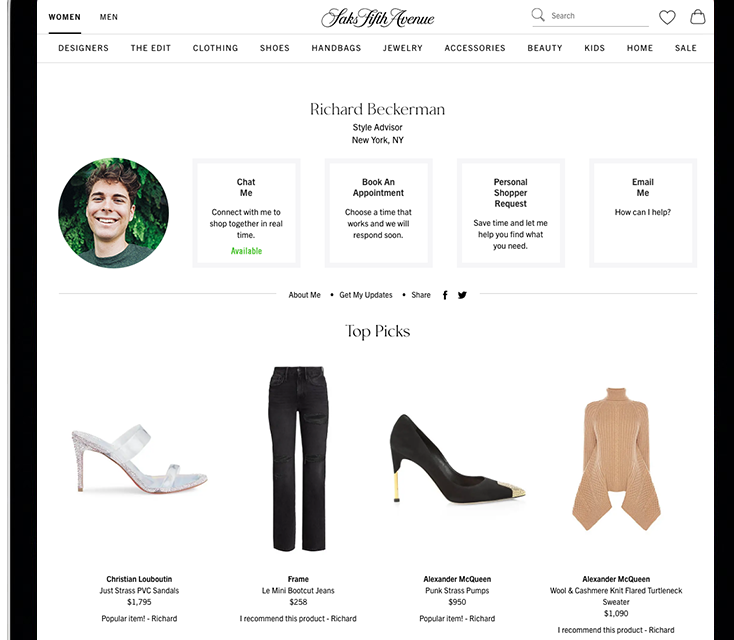 In 2012, Cesar Callejas decided to test out a new sales strategy. Callejas had worked full time at a Tiffany store in Texas since 2010, earning most of his salary through commissions on jewelry sales, but he decided he could reach more customers through Instagram. He started an account, PleaseReturnToCesar — a reference to the popular Return to Tiffany jewelry line — where he posted photos of new jewelry arrivals at the store. In his bio were instructions for his followers to schedule sales consultations with him. After he posted a photo of the new jewelry, an interested buyer got in touch. Eventually, he sold her a $150,000 piece over a phone call and a series of DMs.
His supervisors, he said, "never experienced anything like that." It was a moment of awakening for Callejas and the company. "Wow, we just sold $150k and we never met this person, all through an Instagram picture," he remembered thinking. He started posting photos and Boomerangs of new jewelry on a regular basis, and he began to hold meeting with interested customers over video chat — essentially trying on jewelry in front of them, from inside the store. By the time he left the company to start his own jewelry line a few years ago, he said 30% of all of his sales were coming from Instagram.
Callejas said that, as he built up a following, Tiffany started paying attention. Tiffany sent out memos of tips about how to take pictures and use social media more effectively. Now, dozens of Tiffany employees have set up accounts on Instagram, WhatsApp and Facebook devoted to posting photos and videos of jewelry, with handles in many cases starting with "bluebox" or "returnto." These workers, who rely on sales commissions for their salary, have pivoted into becoming social media personalities in order to boost sales. Many post pictures featuring their newest products. To make a sale, customers click over to that person's specific storefront on the Tiffany website, where they can schedule a consultation, a product recommendation and styling discussion or a call on another topic. (Tiffany declined to comment to Modern Retail.)
That same pattern is cropping up across the retail industry. For decades, sales employees have been strictly floor workers: they interacted with customers browsing in stores, showcasing and pitching them items in order to make commissions. Now, more salespeople are also building up their presence on apps like Instagram and TikTok, in order to reach customers there. While some companies, like Macy's, have encouraged select employees to post about products — and earn commissions — on social media for years, the pandemic opened the doors to a much larger set of commission-based workers building out their social presences.
Among the new crop of retail workers with large social followings is Richard Beckerman, a sales associate at Saks Fifth Avenue who has amassed over 128k followers, and a Tiffany worker named María Luisa, who — until removing her account this past spring — sold Tiffany jewelry to 23k Instagram followers. Their feeds are relatively simple: they post mostly photos of new products arriving at their stores, with occasional personal pictures or styling tips interspersed throughout. That same strategy is used by dozens of workers at both companies. Another senior sales professional at Tiffany, for example, mixes photos of new rings with videos answering customer questions about how to properly maintain jewelry purchases. A sales associate at Nieman Marcus publishes photos of new shoes that reach her store in Florida nearly every day.
In their bios, many of these sales associates feature either links to their online personal storefronts or a directive to DM them for more info or to discuss a purchase. It's not just small-scale purchases that are taking place over DM, either: last year, retail workers at the jewelry store Gismondi 1754 successfully sold a diamond over WhatsApp for 300,000€.
How salespeople are building out their online storefronts
One reason that more commission-based workers pop up on social channels is that more startups are providing the tech infrastructure to help them sell directly. One of those companies is Salesfloor, which offers white-label software to help salespeople set up virtual storefronts on retailer websites. Lord & Taylor, Saks Fifth Avenue and Nieman Marcus are among the retailers that have used Salesfloor. On his virtual storefront for instance, Richard Beckerman — the Saks salesperson — has a list of his curated "Top Picks" from the retailer, as well as options for customers to book an appointment to talk through products with him or request his personal shopper services.
"What we're seeing is a lot of retailers are taking their in-store associates and assigning them to digital responsibilities," said Ben Rodier, co-founder of Salesfloor. "They're essentially assigning them to do the work of connecting digitally with customers."
Rodier said that, as virtual sales associate programs grow in importance, retailers have increasingly prioritized workers with already substantial social followings. Especially in luxury stores, "there definitely are some parameters and requirements that retailers are asking of their applicants that weren't around 10 years ago," Rodier said, in reference to the size of a virtual associate's social following. Increasingly, he said, "there needs to be an expectation that if a virtual sales associate is hired, they're doing it to bring in new followings." While Rodier did not give specifics, other retailers are known to ask about follower counts. The fashion chain Brandy Melville, for instance, asks in interviews, "How many Instagram followers do you have?," according to reports on Glassdoor.
Sometimes the retailers themselves are encouraging their employees to build their own digital storefronts.
Dan Hull, a senior affiliate and influencer manager at the influencer agency Silverbean, told Modern Retail that oftentimes "the staff who work in those beauty counters, a lot of them came with ready-built social followings." In recent years, he said, a number of "the brands that we work with started to think, how we can leverage that?" For those workers who aren't yet active on social channels, he described one retailer (which he declined to name) that, as a part of the onboarding process, offered to set up all of its new salespeople with social media accounts. 
Other salespeople, however, have gravitated toward Instagram and TikTok of their own accord. Nicholas Dunlevy, a sales associate at a Celine store, told Business of Fashion that he started messaging people who commented on Celine's main Instagram page, asking if he could help sell them something, as a way to cope with declining sales during the pandemic.
Even some hourly workers are beginning to become small-scale social influencers. Walmart, for instance, has been rolling out a new app called Spotlight, which it eventually plans to make available to all of its 1.5 million U.S. workers. Through Spotlight, employees can earn bonuses of up to $1,000 for the top-place finisher in exchange for promoting certain products sold at Walmart, like the toy brand Funko. Others, like Dunkin', give extra compensation (Dunkin' has not clarified if it's monetary) to a select number of employees who are enrolled in their official Crew Ambassadors program.
For now, only a minority of salespeople have gravitated toward social selling, even at a company like Tiffany where employees are well-represented online. "Most of them don't want to do it, they think it's extra work," said Callejas. And while the rise of social-savvy salespeople raises questions around what happens if retailers starts to expect social media experience from their workers, Callejas said that, to his mind, "it's just a fun way to express your job and the passion you have around what you do."