Retailers and employees struggle to navigate new CDC mask guidelines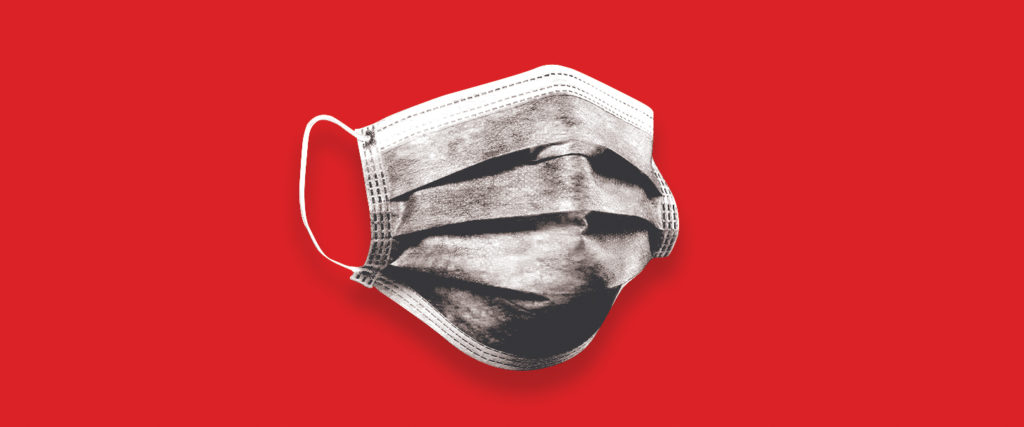 In light of new guidelines from the CDC, retail groups and employees feel in the dark about in-store mask policies.
Last week, the CDC released its updated mask-wearing policy, saying people who are fully vaccinated are not required to wear a mask "in any setting" unless local laws and regulations demanded it. In response, major retail businesses released a flurry of statements over the weekend updating to a no-mask-policy or doubling down on continued mask usage for customers and employees alike.
However, most of these businesses didn't address their plans to support their sales associates amongst the confusion, and some employees and worker advocacy organizations are concerned about enforcement, health, and safety moving forward.
Like much of the American public and even President Biden himself, businesses were caught off guard by the CDC's sudden announcement that those fully vaccinated — which currently make up 37% of the American public — no longer had to wear masks or socially distance indoors or out. But over the last few days, many retailers have announced new mask policies or continuations of old policies while they "continued to monitor the situation."
Trader Joe's was one of the first retailers to announce that vaccinated customers were no longer required to wear masks in stores, followed by Walmart, Sam's Club, Costco, Publix and Starbucks. On Monday, Target and CVS joined these companies. These retailers are still, however, asking customers to continue wearing masks in places wear its required by local ordinances.
Despite these customer policy changes, retailers are divided on whether to keep their mask mandates in place for employees. Trader Joe's continues to ask its employees to wear masks, while Walmart has extended its mask-free policies to its employees.
To assess mask-free-eligibility-status for its employees, Walmart is having employees fill out a daily health assessment, in which they will be asked about their vaccination status, rather than asked to provide written proof. However, to receive the $75 bonus for vaccination that the retailer is offering, employees must present their vaccine card for assessment. When asked about the disparity between these assessment models, Walmart did not return Modern Retail's request for comment.
This is a continuation of a months-long problem for retail workers. Many employees who attempted to enforce social distancing guidelines or asked customers to wear a mask rules physically or verbally assaulted. Even before this change, enforcing mask rules has been a challenge. An employee at Ulta, speaking to Modern Retail on the condition of anonymity, said enforcing CDC guidelines throughout the pandemic has been difficult.
"[In the past], it was a challenge enforcing CDC [mask] regulations when stores reopened. Even now people still argue or refuse to put their mask on [correctly]," said the employee. "[Under new regulations] how can we trust those people to not lie about being vaccinated?"
In response to a request to comment from Modern Retail, an Ulta spokeswoman said that the company was "actively assessing the implications" of the CDC's new guidance, and that the company would "continue to adhere to our established Shop Safe Standards, inclusive of masks and social distancing, until our assessment is complete."
Without an adequate system to address vaccination status, organizations like the Retail, Wholesale and Department Store Union (RWDSU) worry about the unfair burden on retail workers to police these new rules.
"People who work in public facing jobs – such as in supermarkets and other retail establishments – will still need to be protected. They have no way of knowing whether customers who are not wearing masks have been vaccinated, "said Stuart Appelbaum, president of the RWDSU in a public statement. "These workers, many of whom are essential, may be exposed both to the virus and to unnecessary stress. We must encourage customers in high trafficked areas to continue wearing masks."
The United Food and Commercial Workers International Union (UFCW) echoed these ideas. "While we all share the desire to return to a mask-free normal, today's CDC guidance is confusing and fails to consider how it will impact essential workers who face frequent exposure to individuals who are not vaccinated and refuse to wear masks," said UFCW president Marc Perrone in a public statement. "Millions of Americans are doing the right thing and getting vaccinated, but essential workers are still forced to play mask police for shoppers who are unvaccinated and refuse to follow local COVID safety measures. Are they now supposed to become the vaccination police?"
Some retailers — including Kroger, JC Penney, and TJ Maxx — are keeping their masks-for-all policies as of time of writing. In its public statement, Kroger emphasized that it was "soliciting feedback from associates to guide the next phase of (their) policy." UFCW's Perrone praised Kroger for continuing a stricter mask policy on a CNN television interview, though he said there was a "donut hole" in Kroger's policy to not have workers confront those without masks.
Over the last year, some customers have responded violently when asked to wear a mask even under the less obscure mask policies of the last year. For example, a Michigan security guard at a Family Dollar shot and killed after asking a customer to put on a mask last August. With this as a backdrop, many on social media worry that employees at businesses that continue to enforce mask policies will face pushback and continued violence.
This leaves questions of employee safety somewhat unanswered under both policies. That said, the same anonymous Ulta employee would prefer that Ulta keeps its stricter mask mandate.
"I think that [Ulta] should keep the mandate on masks. It protects the workers and the customers," said the  employee. "If a customer truly doesn't want to wear one, that's why we have curbside."