Retailers hope to capture toy sales this holiday season with shop-in-shops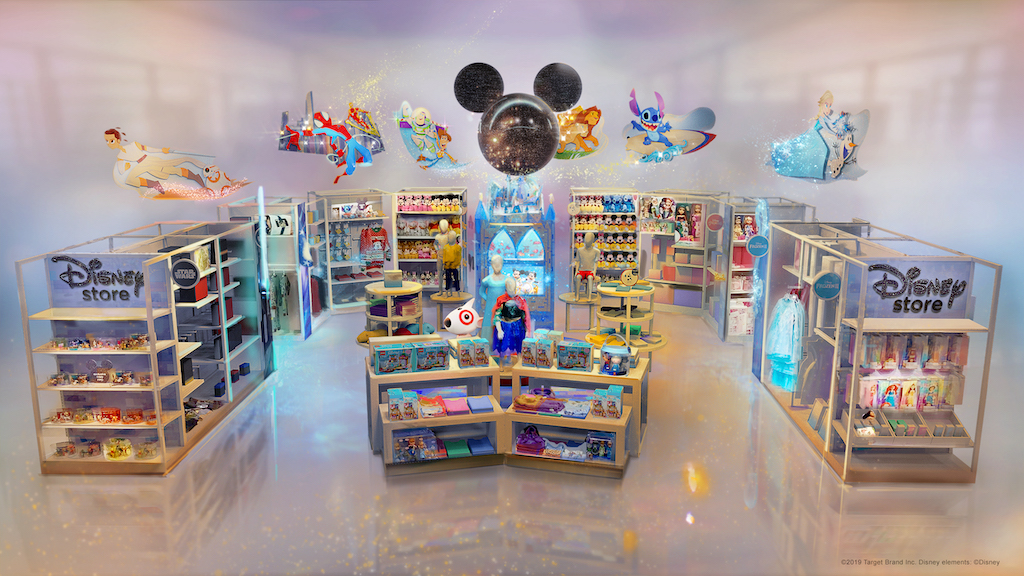 Image via Target
Retailers are preparing for the toy-shopping boom this holiday season by opening shop-in-shops with popular brands. 
This week, Target announced it will expand its partnership with Disney ahead of the holidays. Target plans to have a total of more than 160 Disney branded shops inside Target stores by the end of the year, which sell branded toys and costumes. Target's news comes a week after Macy's announced it will open over 400 Toys 'R' Us sites within its department stores in the coming months. 
For years, retailers like Target, as well as Walmart and Amazon, have been expanding their toy selection, mostly with a focus on partnering with popular brands such as Disney. Ever since specialized players like Toys 'R' Us and KB Toys shuttered their large, freestanding shops, there's been significant market share up for grabs.
The Macy's partnership is Toys 'R' Us' biggest new retail venture since it shut down its standalone stores in 2017. Macy's first collaborated with the company by opening Toys 'R' Us Express locations back in 2012. The department store then struck a deal with toy company FAO Schwarz, and has since built branded toy departments and online toy inventory for Macy's.
Target, meanwhile, first partnered with Disney in 2019, both on online merchandise and by opening 25 mini-shops in locations. This latest expansion will take place as Disney closes the remainder of its North American stores by the end of September and follows Target's growing toy sales trajectory. In its latest earnings, Target reported that toy sales grew "in the low 20% range" year-over-year. 
These shop-in-shops are aimed at capturing holiday foot traffic, while offering shoppers popular fulfillment services like in-store pickup and same-day delivery. 
Jonathan Jagard, head of insights at research firm Edge by Ascential, said that while retailers do their best to maximize revenue within limited square footage, some categories — such as toys — present unique challenges because of high seasonality and unpredictable consumer trends. As such, the mini-store concept, while modest compared to the size of former Toys 'R' Us and Disney stores, could benefit from the high-traffic areas they're being placed in. 
In the case of Toys 'R' Us opening shops at Macy's, Jagard said that this model is a clever approach to the Toys 'R' Us brand comeback. "Instead of outfitting a massive warehouse for the upcoming holiday season and leading out with quantity," the company is focusing its effort on effective brick-and-mortar locations, he said. It also follows a fulfillment deal Toys 'R' Us struck with Amazon ahead of last holiday season, in which, in shoppers browsing toysrus.com are instead directed to buy their desired toys through Amazon.
A rough time for toy stores
Over the past decade, the toy industry has gone through volatility, with the decline of standalone retailers. This began with the 2009 recession-induced KB Toys bankruptcy, which saw the retailer close all its stores and lay off thousands of employees.
Toys 'R' Us filed for bankruptcy in 2017. Two years later, an entity called Tru Kids — formed by former Toys 'R' Us executives — bought the brand and intellectual property. Then, this past March, brand management company WHP Global announced that it had acquired a controlling stake in Tru Kids.
Under Tru Kids' management, Toys 'R' Us made a minor return to physical retail with its experience-focused concept stores, in which it opened two locations in partnership with B8ta. However, these locations shut down in early 2021, during the height of the pandemic. 
The lack of legacy, branded toy stores — in combination with the rise of e-commerce — has created a fragmented market.  According to a Profitero report, Walmart, Amazon and Target now make up the top three toy sellers in the U.S., having taken over the 15% of market share that Toys 'R' Us left vacant.
James Zahn, senior editor of toy guide publication The Toy Insider, noted that retail partnerships in the toy department are nothing new. "In the past, seasonal toy departments have worked well as gap fillers for retailers in non-traditional spaces," he said. Going back even further to 2002, Toys 'R' Us created additional channels by partnering with retailers like Albertson's grocery stores on co-branded toy aisles, Zahn said. 
"These partnerships eliminate a lot of overhead while forcing the merchandising to be razor-focused on top-selling items across the biggest brands," he said. Two years into their own collaboration, Target's Disney Stores — which take up about 750 square feet and are typically located near the kids apparel sections — have proven the model can be successful, Zahn said. 
Shop-in-shops may also allow players like Macy's — which hasn't historically generated a significant share of toy sales — to gain major footing.
If these branded shops can give families a trip-worthy shopping experience, said Zahn, "they can provide value and create memories for a new generation."