'Simple and visual': Food and beverage brands embrace viral recipes on TikTok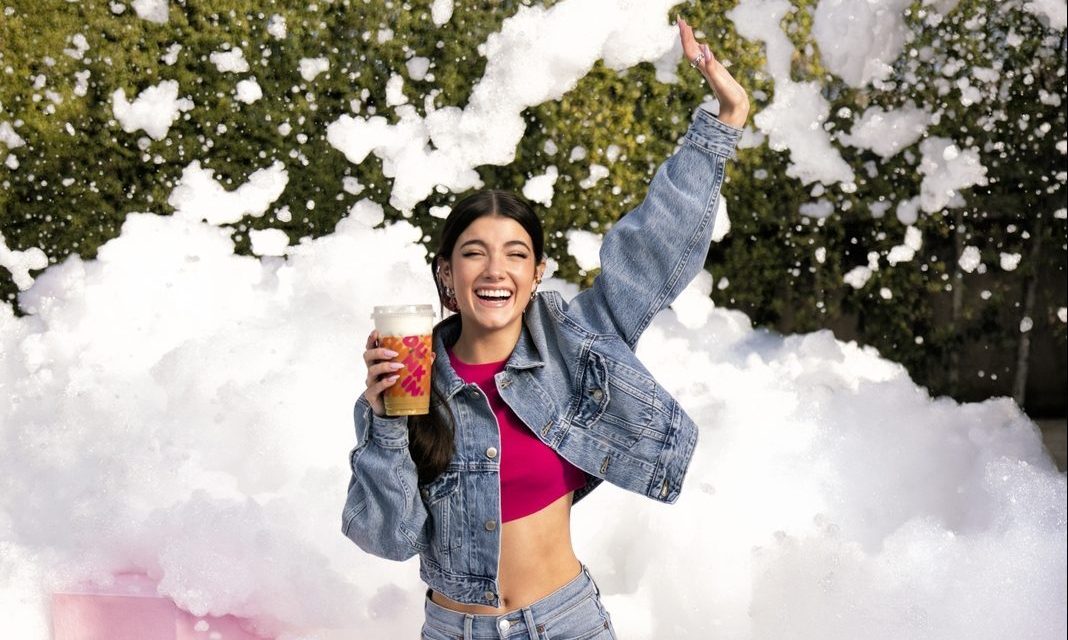 Dunkin'
As viral recipes dominate social media platforms, food and beverage brands invest in TikTok.
On TikTok, recipe content has the power to go viral. Hashtags for feta pasta and Dalgona coffee — two of the platform's biggest recipe hits of late — have 999 million and 516 million views, respectively, spread across thousands of videos from thousands of users. These videos are evolutions from earlier recipe video trends on Facebook or Instagram, though trends are now created by users and feature somewhat sloppier and less preened aesthetics. To capture these fans, brands have started investing in viral recipe content; some are creating responses to already established trends, meanwhile other brands are building out new recipes in the hope to spark engagement and subsequently scaling TikTok trends to other owned platforms and in product development.
In 2015, Cristina Ros Blankfein and Jennifer Ross launched Swoon, a zero sugar lemonade and mixer brand. This June, when launching the brand's TikTok, Blankfein knew she wanted to create content around the platform's whipped lemonade trend. Whipped lemonade, a drink with lemonade on the bottom and a strawberry whipped egg white dollop on top, was already driving views on Instagram. She reached out to TikTok creators to create the brand's first content, a mix of recipe-driven and influencer videos.
"This is the first time we've done this — we saw the [whipped lemonade] video on TikTok and it was just too good of a fit to not create our own content around," said Blankfein. "TikTok response videos are going more viral than the original sometimes."
A Swoon-featured whipped lemonade video posted by digital media company PureWow last week is now in the top video section for the trend on TikTok.
Larger brands are also honing in on TikTok food trends. Recipe content is a way to both promote old favorites or build interest in new launches, said Olivia West, the assistant manager of brand engagement at donut and coffee chain Dunkin'. Dunkin' is one of the most popular food brands on TikTok, with 2.9 million followers, 20.7 million likes and an official partnership with TikTok's most followed creator, Charli D'Amelio.
"Dunkin' coffee, specifically iced, will always be a fan favorite that we lean into for TikTok content and recipes frequently," said West. "We also try to showcase our newly released products if possible. Luckily for us, we have an amazing fan base on TikTok full of creators who love to review our new product line-ups, so there's always a new beverage or food item becoming the next 'TikTok Made you Buy It.'"
Viral recipe videos aren't unique to TikTok. In 2015, media company Buzzfeed launched Tasty, a multi-platform recipe and video hub that quickly became one of Buzzfeed's largest revenue drivers. Tasty's greatest success is largely on Facebook where the publisher now has close to 98 million fans. Tasty's initial videos, like TikTok's videos today, were short, mobile-optimized and shot overhead to focus on the ingredients being used, rather than the chef using them.
However, BuzzFeed has since shifted to longer-form videos of three minutes or more to drive revenue, according to Facebook, while TikTok's videos are three minutes or less. TikTok's trends, meanwhile, aren't shaped by media hubs like Tasty, but instead by users themselves often via an organic viral video and subsequent re-creations of that recipe. The old videos were tidier, created by media teams with production budgets and curated towards traditional algorithmic concerns on Facebook and Instagram. Today's TikToks are messier, DIY recipe iterations that further highlight how TikTok has diverged from older social media platforms.
As the TikTok platform continues to grow — it has 689 million users internationally, up from 54 million in 2018 — TikTok viral recipes have the power to influence buying trends. A recently-viral feta pasta dish on TikTok — a relatively simple recipe that has at-home-chefs add a whole block of feta to a mix of pasta and tomatoes — drove increased feta cheese sales. According to Midwest supermarket chain The Fresh Market Inc., sales of Feta in their stores increased 45% after the feta pasta trend took off on the social media platform in January 2021. In March 2020, after the whipped instant coffee trend of Dalgona coffee was popularized in South Korea, instant coffee imports rose 65% across the nation, according to research firm Fitch Solutions.
A new formula
Simplicity is key given the short-form nature of TikToks. While TikToks can last up to three minutes, most of the more successful videos are even shorter. Dan Slee, an independent communications expert, analyzed the top 100 videos in 2019 on the platform and found that 80% of top videos were 20 seconds or less. Moreover, most viral recipes are five ingredients or less.
Recipe videos that work on the platform are "simple and visual," said Yi Wang, the brand manager of peanut butter cookie company Nutter Butter.
Nutter Butter has 315,000 followers and 1.6 million likes on the platform, far outpacing its communities on Facebook, Instagram or Twitter. From a cookie-led "house tour" of a grocery store to a continued feud between the peanut butter snack and its mortal enemy jelly, Nutter Butter embraces iPhone-filmed videos and zany content.
"We found that 'Pinterest-worthy' recipe shots on Instagram were not resonating with our audience, so we took a different route when we joined TikTok: a platform where we could highlight the brand's personality in a less curated way," said Yang.
The brand regularly posts a mix of responses to already-viral recipes, its own unique recipes and user generated recipe content. In response to the #tortillatrend — various videos featuring a single tortilla and ingredients portioned into quarters then panini-pressed together — Nutter Butter loaded a tortilla with nuts, peanut butter and cookies then threw it into a pan. For its own tongue in cheek attempt at a new viral recipe, Nutter Butter posted a #nutterbuttercoffee trend where it placed a single cookie in a mug then poured coffee over it.
However, "viral" can be hard to capture on the dynamic and organic TikTok, said Ross Farquhar, ice cream mochi brand Little Moons' Marketing Director. Little Moons, has 238,000 followers and 3.2 million likes and instead focuses on "creativity."
"Planning for virality very rarely leads to virality — you need to allow room for serendipity to strike," said Farquhar. "We've long stopped trying to second guess which pieces of content will get great pick up and which won't on TikTok…  So we just try to be as creative as we can and listen in closely to what's taking off at the time."
When serendipity does strike and viral recipes see particular success, many brands scale this success outside the platform, using trends to guide not only marketing decisions on other platforms, but even inspire product development and rebrands.
Starbucks hosts recipes for Dalgona coffee on its Coffee at Home website, promoting the use of its two instant coffee lines across platforms. IHOP is embracing TikTok's mini pancake cereal trend via a planned release of a new "Panflakes" cereal product. When Jalisco, Mexico's goat-stew Birria grew in fame on the platform, NYC taco food truck El Toro Rojo saw massive sales of its Birria tacos and then rebranded to Birria Del Toro Rojo in October 2020.
For brands like Little Moons, TikTok success informs the brands' identity across channels.
"We've found great success in taking what's happened to us in TikTok into mainstream press," said Farquhar. "The interest is huge… even amongst people who aren't on TikTok. Beyond that, the spirit of TikTok — entertainment, playfulness, lightheartedness — has had a big bearing on the more 'traditional' advertising we do."