Smaller food delivery apps are seeking out more ethical business models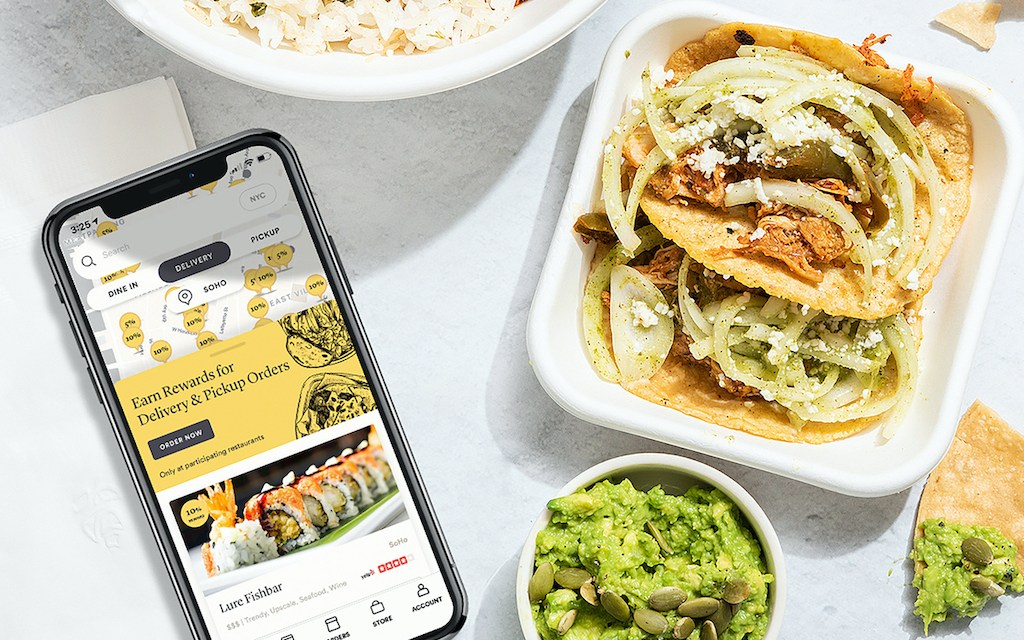 The coronavirus brought much focus to the relationship between small businesses and on-demand platforms. Recently, there's been a pushback against high commission-based delivery apps, with some even calling for their boycotts.
This culmination of events in recent months has opened a lane for a new crop of restaurant solution platforms. Companies like Seated, Slice and Chowbus are positioning themselves as friendlier, more ethical partners to popular delivery services like DoorDash and Grubhub. These niche platforms are introducing new business models to compete with the ever-growing competition among GrubHub, DoorDash, Postmates and Uber Eats.
One of the biggest qualms restaurant owners have with today's top takeout platforms are their enormous fees for being on them. For example, Grubhub and its subsidiary Seamless have reportedly taken as much as a 20% to 30% cut from orders.
This month, Seated launched Seated at Home as a takeout version of its reward program-based dining booking platform. The company's pivot aims to help dine-in restaurants offer pickup and delivery without relying on costly third party apps. "The more direct orders they can get, the better," said Peabody, who explained that instead of taking a per-order cut, Seated's business model relies on the rewards credit that restaurants dictate. The idea is: instead of paying Grubhub or Uber Eats a commission fee, owners reward customers who order from them directly with Seated credits, co-founder Bo Peabody told Modern Retail. The Seated rewards can then be redeemed for credits with brands like Amazon, Target, Starbucks and Sephora, among others; Seated makes money down the line by charging a 3% processing fee on redeemed credits.
Local businesses can use their preferred direct ordering platform, like ChowNow or 9Fold. (Chowhound currently charges businesses between a flat monthly rate of $99 and $150, which the company claims is still much cheaper than the $900 on average it takes to get on Grubhub; software provider 9Fold similarly promises "No Commissions, no contract and no commitment past 30 days.") Alternatively, Seated participants can integrate Seated Direct, a direct ordering back end service that's free to use during the pandemic.
This approach is meant to make the economics of delivery more fair for everyone: the restaurant, the customer and the solution platform. As a restaurant owner himself, Peabody believes this model is also more sustainable down the road than the VC-subsidized services. With the margins on food delivery already tight, "no one is making any money," he said, pointing to UberEats's unprofitability; meanwhile, Uber recently acquired competitor Postmates. "At some point there will be a reckoning, and the decision to order takeout will become more difficult for diners," Peabody explained. "It's not sustainable."
For Slice, which specializes in local pizza spots, the strategy has always been to bring small businesses together "to create economies of scale," said CEO Ilir Sela. As an Albanian immigrant from a long line of local pizzeria owners, Sela said that taking a page out of franchise giants is the way to go. "The point is to empower a smaller business to successfully compete with chains by creating great value, with a high quality, locally-inspired product."
Slice currently supports about 12,000 local pizzerias in more than 3,000 cities. Unlike delivery fulfillment apps like UberEats and Postmates, Slice doesn't take a percent of each order. Instead, the company charges a flat rate per order to allow independent pizzerias to take online orders. Many of these restaurants didn't have in-house delivery when Covid-19 hit, Sela noted. Meanwhile, the Slice app acts as a "pizzeria marketplace" for the nearly four million active users to browse and order through.
Sela said he hopes to provide the mom and pop shops with revenue-generating tools, such as customer data and affordable delivery solutions. The company recently closed a $43 million funding round to further invest in solutions beyond the pandemic. The fresh funding will go toward "creating vertical integration for owner-operators," Sela said, an important step in the company's roadmap as calls for local business support continue.
A testament to owners' hunger for alternative vendors, there is Asian food delivery service Chowbus, which is mainly geared toward Asian-American diners. Co-founder and CEO Linxin Wen recently told Modern Retail that revenue is "up six times from a year ago," following a $4 million funding round in 2019. Chowbus does take an undisclosed commission cut, but the company says it's a much more fair rate than Grubhub's. It's also encouraging customer return with a $9.99 per monthly subscription program.
So far, Peabody said Seated at Home is resonating with restaurant owners, and they're nearing hundreds of signups a month since the build-out in the past 10 weeks. He added that restaurants "like the idea of owning the customers," by choosing how to reward them for repeat purchases. "It's an easy sale with better economics," he said.