Snapchat is doubling down on commerce features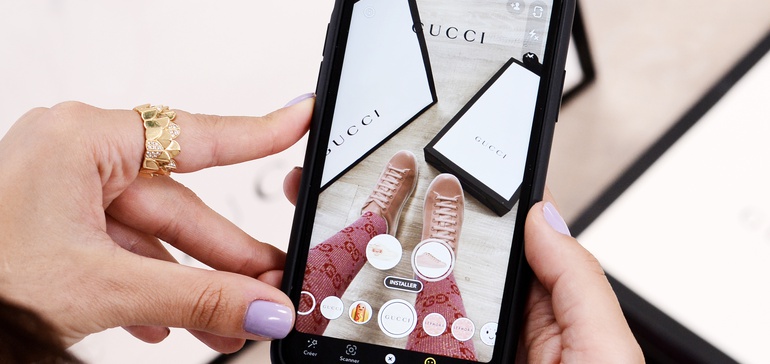 Snapchat is going all in on commerce.
At its Partner Summit on Thursday, the company announced that its in-app stores, which have only been available to a limited pool of brands since last year, are now open to any company. That allows any businesses to set up shoppable product catalogs and AR filters, and lets customers place orders with each business without leaving the Snapchat app. It also further showcases Snapchat's attempt to turn itself into an e-commerce marketplace similar to the way Instagram has with its Shops feature.
Snap has been courting retailers since at least 2018, first through more dynamic advertising units and then by creating branded AR filters that come with buy links when customers try them on. Last summer, it introduced business profiles for the first time, the initial steps toward making itself a hub of product discovery. But the rollout of business profiles — called Public Profiles for Businesses — nationwide shows that Snap may be well on its way to becoming an important sales vehicle for retailers.
Snap isn't alone among social platforms making an aggressive e-commerce push. Facebook's suite of apps now let customers add products to a cart and check out within each app, and TikTok and Pinterest are testing similar features. Over the last year, social platforms have viewed facilitating in-app purchases as a lucrative additional revenue stream. But Snap is looking to differentiate itself from rivals like Instagram by blending AR and e-commerce, making the purchasing process more experiential — and potentially involving fewer returns — than on other social platforms.
What Snap unveiled
In addition to the opening of Public Profiles for Businesses, Snap also announced a bevy of new in-app shopping features. Among them is an effort to make AR filters, which the company calls Lenses, a more central part of the purchasing process. Customers who visit a business's Snapchat page can try on any product in their catalog as a Lens, then make a purchase in Snapchat. Through a new API tool, Snapchat also said it will match Lenses to available product inventory: if a new product is added, or one runs out of stock, Lenses will appear or disappear on Snapchat accordingly.
Snapchat is also building voice functionality into its AR filters through an integration that displays products based on a user's command. Farfetch is the first company to take advantage of these tools. In one example that Snapchat highlighted at its Partner summit, a user who was browsing through Lenses from the Farfetch catalog could say commands like "Can you show me a windbreaker jacket?" and "Maybe something with a pattern," and the outfit in Snapchat changed accordingly.
Finally, Snap is expanding what Lenses can do. Most existing shoppable Lenses have, until now, centered on trying on makeup or clothing, but Snap said at the summit that it had developed fitting tools for people's wrists and eyes — so that watch brands and glasses companies alike can design AR filters for their products that are crafted to fit users. "Accurate sizing is a total must," Carolina Arguelles Navas, the head of product marketing for AR at Snapchat, said at the event.
Why AR e-commerce is getting a serious look
Buoying Snap's e-commerce push is its AR tools. Snapchat has long offered users the ability to try on different Lenses, but only in recent years has the company begun to collaborate with brands on Lenses, including by adding buy links to some. As it invests in e-commerce, Lenses are meant to differentiate it from TikTok, Instagram and Facebook, all of which far surpass Snap in terms of user numbers.
Earlier this month, Snap CEO Evan Spiegel said that the retailers he works with "are really excited about the potential for augmented reality to reduce returns in the future." The company has recently gone an acquisition spree, first buying Fit Analytics (a company that tries to project how clothing will fit through AR) and then Screenshop (which can identify similar products based on a screenshot).
Snap isn't the only company betting that the future of retail involves AR. Last week, when Walmart bought the virtual try-on app Zeekit, it seemed to cement the use case for AR-based shopping. "I think there's almost an order of magnitude of more interest in virtual fitting or AR solutions than there was a year ago," Raghav Sharma, co-founder and CEO of AR try-on company Perfitly, told Modern Retail.
Yet both Snap's and Walmart's recent announcements show how platforms are tackling AR in diverging ways. Some retailers, like Walmart, are folding AR try-ons into the shopping experience on their own websites. Meanwhile social platforms like Snapchat and Pinterest have cobbled together AR filters from many different brands in one place.
Sharma said there's a place for both in the AR try-on ecosystem. Platforms like Snapchat, he said, might work best as discovery tools, whereas the websites are a way to engage and retain customers. "On the platform, I think those things are going to be great for discovery, for increasing conversion," he said, in reference to a company like Snapchat. But when a customer places an order, "you purchase it, and then you go back to Snap," he said. "You're not discovering more about [the brand] or the other offerings for them." That desire to capture customer data and customer loyalty is why retailers like Walmart are opting to integrate AR into their own websites — in addition to potentially selling on a platform like Snapchat.
But Snapchat is hoping that, at least compared to other social platforms investing in e-commerce, AR will help it stand out to brands. Because of the ephemeral nature of social media, products purchased over social platforms are more likely to be impulse buys — and that could create big return problems down the line. There is evidence that AR drives down customer returns overall — Sharma said, "we've taken return rates down 64% for the brands that we're working with" — and having users try on a product virtually in Snapchat before making a purchase might help avoid pure impulse purchases.
For Snapchat, though, the lingering question remains to what extent AR filters will actually convert sales for most users. Just because someone tries on a Gucci shoe in Snap and sends it to a friend doesn't actually mean they intend to make a purchase — many Snap users see Lenses as purely fun. (Snapchat itself reported that 74% of people think AR has "entertainment value.")
"I think Snap will be forcing the issue" of AR and retail, said Sharma. "It's going to become core to their offering for brands and tied into their core app." But he added, "my question is how many sales will they actually drive? Will they get people away from the fun factor [and] into actually seriously buying the brands?"