'So much of my audience in one place': The rise of the TikTok small businesses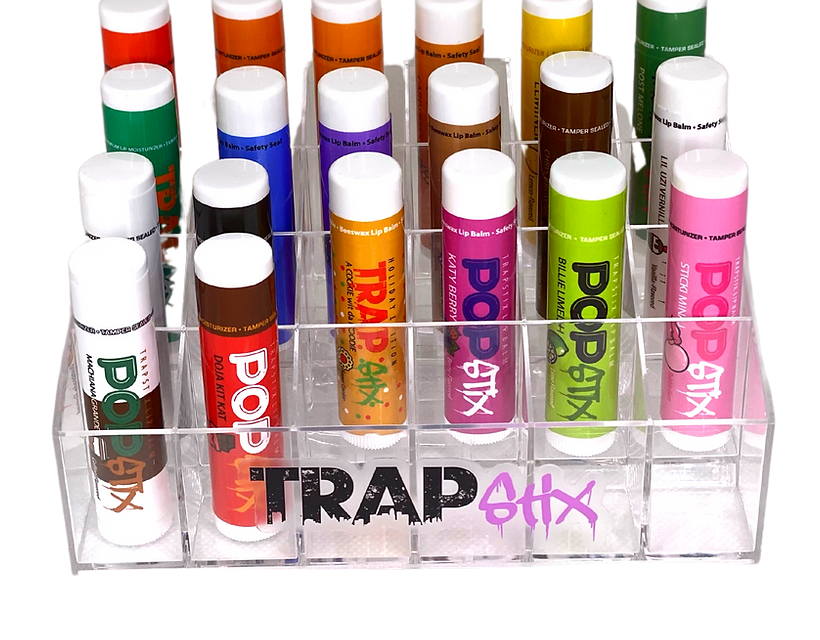 Trapstix
Hip hop-themed lip balm brand Trapstix had only 75 orders between when it first opened in 2018 and when founder Aysia Hilliard posted her first TikTok in July 2020. Now, two years later, the brand has sold more than 50,000 units to date after a series of viral TikTok videos boosted sales. Currently, Hilliard attends school and operates the business on the side, avoiding any paid advertising on the platform.
"TikTok had so much of my audience in one place," said Hilliard. "With the pandemic… so many people were on TikTok at that time on a daily basis."
Hilliard is part of a rising group of small businesses that are now building the majority of their early sales by going viral on TikTok. Pre-pandemic, Instagram and Facebook provided a platform for small brands to acquire customers. They sought to emulate the beautifully curated paid placements embraced by venture-backed startups. However, TikTok's popularity soared during the pandemic — monthly active users grew from 507 million at the end of 2019 to over 1 billion in September 2021 — while Facebook's monthly active users declined quarter over quarter for the first time this month. In turn, small brands are taking their marketing and brand-building efforts to TikTok.
These TikTok small businesses, however, are different than the brands built off of past social platforms. Instead of a paid strategy, these businesses are growing off of organic content; instead of static product flatlays and pristine images of models, they are using their founders as talent and telling more unvarnished stories in the hopes of tapping into the TikTok algorithm and growing sales.
Even with the social media success, these brands now face the same issues of those in the past: namely, scaling success beyond likes and views. After experiencing short-term sales gains after a video goes viral, they're now on a quest to translate that into long-term sales success.
Using in-house talent
To date, Trapstix has 2.2 million likes, 96,000 followers and individual videos with nearly a million views each. The businesses' reach is exceeding multi-million dollar retail giants; brands like Gap, Kellogg and even competitor ChapStick all have under 10,000 likes and followers on their verified brand accounts.
Trapstix's rise follows a growing playbook for brands on TikTok — namely, testing out a bunch of different formats and turning everything (and everyone) into content. While Instagram or Facebook brands may have relied more heavily on static, product-focused images with a soothing color palette. TikTok brands have used regular employees going about their days for content.
U.K. beauty retailer Cult Beauty, for example, regularly features employees in TikTok videos — dancing to trending sounds or jokingly 'crying' over a too-full email inbox — and now has over 180,000 views on the platform. Loungewear company Lounge Underwear, meanwhile, drove nearly a million views on a single video of an employee running through the company's warehouse to a trending sound. Even Walmart and Sephora have gotten on board with creator employees.
"I definitely see myself as a content creator," said Hilliard.
Anti-chafing brand Chub Rub Patch — which launched in July last year and posted its first TikTok just after — already has 1.1 million likes and over 60,000 followers on TikTok. The brand is small with just three employees, and viral TikToks have bumped up average monthly unit sales from 250 to 1,750.
The company's most popular video, with over 9.7 million views, has founder Brittany Lammon lifting up her dress, unpeeling a Chub Rub Patch and applying the product to her thigh. The brand's second most popular video with 3.3 million views has Lammon wearing the product on a long day of walking throughout Disneyland.
"For me, what has worked is the product in use," said Lammon. "We'll put the Chub Rub Patch on my thigh, and people will click on it."
While the brand has advertised on channels like Facebook, Instagram and Twitter, Lammon said none of the paid efforts on the platforms have driven as many sales or traffic as organic views of the brand's content.
Authenticity works
Jacquie Kostuk, director of creative strategy at marketing firm Fuse Create, explained that with TikTok there's an important distinction between content creators and influencers. TikTok virality comes from videos that are "more real" and "less filtered" than other social content, said Kostuk.
"[TikTok is] really a place where you have to blend in to stand out," said Kostuk. "A brand has to act like a real person. It's not going to be as glossy as a TV spot and you have to accept that you don't have as much control as you do with a YouTube video."
In many ways, this preference for unfiltered content has lent itself more naturally to smaller brands that are willing to be more flexible on the platform.
Trapstix's Hilliard, for example, will post some videos with trending sounds and formats directly relating to TrapStix. However, she'll also post content without any mention of the brand in videos about her haircare routine or how she is faring while studying for finals at Howard University.
"TikTok is a lot more personal [than other platforms]," said Hilliard. "People just want to know that you're also a regular person, which is also why I stopped privatizing any videos that don't do well."
Instagram, by contrast, has prioritized a more preened aesthetic. Venture-backed direct-to-consumer startups that embraced this aesthetic were able to build businesses worth hundreds of millions of dollars by embracing this aesthetic. Casper, Allbirds, Glossier, Prose and Casper, for example, all used some mix of sans serif font, heavy white space and minimalist logos to build their followings on the platform.
As a result, many small businesses sought to emulate this playbook, albeit with a smaller budget. Now, however, brands are doing things differently as what resonates on TikTok is almost the opposite.
"It's just not pretty people looking beautiful, very stylish or very edited in a one frame [image]," said Kostuk. "It's these personalities coming to life."
Moving beyond TikTok
However, the big question is what comes next. Like brands built on media virality in the past, TikTok brands are faced with the issue of growth. Several viral TikTok videos do not always translate into continued sale success. For many, the hope is to become more like a traditional retail brand.
"What I hope 2022 has in store for me is definitely to get into more retail-based businesses," said Hilliard. "My number one goal is Target… but [for now] I'd love to be in beauty supply stores and popup shops."
While TikTok-specific content can drive viral sales, it's by nature not as plug and play as Facebook or Instagram posts. Bigger brands might build out an in-house content studio for the platform or tap pre-established accounts for sponsorship, but smaller startups might not have the budget to do so.
In turn, retail partnerships can also help to scale customer acquisition efforts. Big-box retailers are increasingly tapping smaller online startups to quickly diversify their brand portfolios or enter new product categories. Target and Walmart, for example have relied on digitally-native startups to expand their product assortment in popular categories like pet care or sexual wellness.
While they are still just getting started, small businesses that have found success on TikTok are hoping that they can eventually parlay that virality into one day securing retail partnerships.
"Right now we are focusing on getting into major stores," said Lammon. "TikTok has been working, but I just don't have the money or the time or the capacity to do all of the marketing [forever]. I want to be in a CVS or a Walgreens where someone is like 'hey, I have this problem and this is where I'm gonna go and look for [a solution].'"