Starbucks' new store layout signals an industry mad dash toward pick-up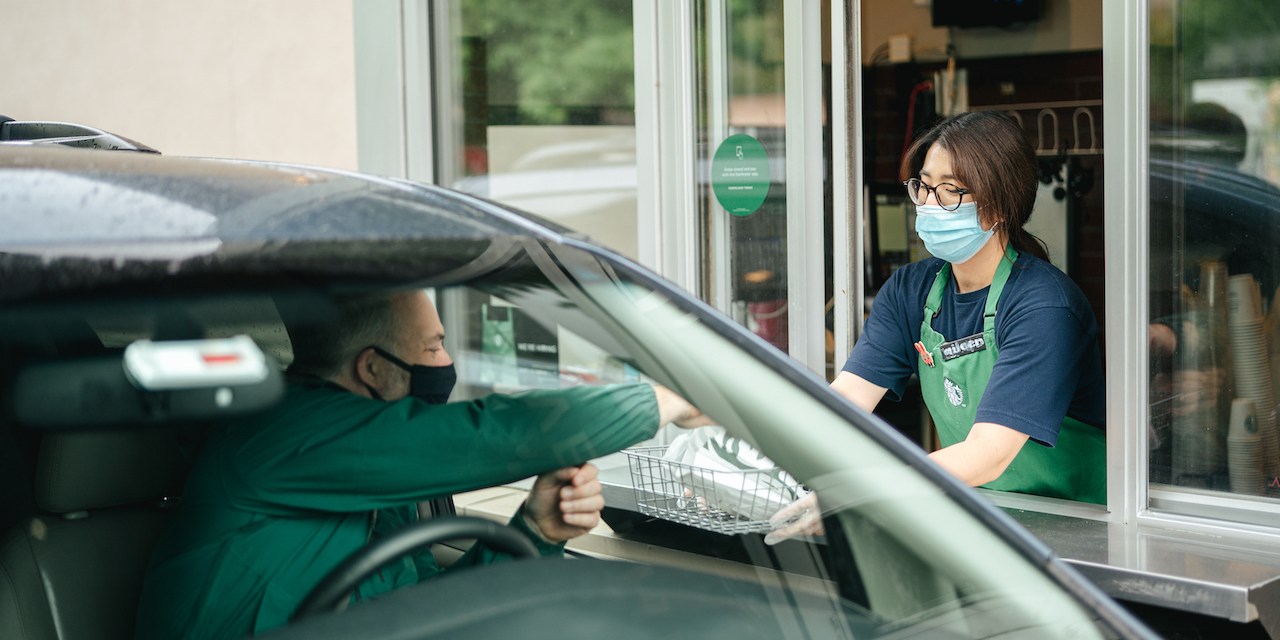 Starbucks is accelerating plans to convert its shops' layout to favor of pickup.
The coffee shop chain announced last week it will "increase convenience-led formats" in the U.S., including both drive-thru and curbside pickup options, over the next 18 month. As part of this, it is closing 400 North America locations, while adding a total of 300 net new stores in 2020. This will also apply to the growing number of Starbucks Pickup locations, with all locations being integrated with the app.
It's a distinct shift for Starbucks. For decades, it positioned itself as a venue for working and socializing. But now, many of its shops' seating area designs makes complying with social distancing guidelines difficult. The closure of its lounges impacted Starbucks' earnings greatly during the pandemic, the company confirmed in its Q2 report in late April, with same-store sales falling by 10%. 
While Starbucks began experimenting with pickup-only locations over a year ago, it's now positioning them as facilitators of "on the go experiences." This includes further increasing its Uber Eats delivery availability, along with the physical renovation of some store layouts. The remodeling will feature the addition of a dedicated counter for mobile orders at stores with high volume, which is expected to ease crowding among customer and courier pickups. Meanwhile, others are making increased investments in store experiences that limit in-person interactions. 
Starbucks's investment in mobile orders and its digital rewards program was already paying off pre-pandemic. In February, Starbucks confirmed that its Mobile Order & Pay program first introduced in 2015 has seen an increase in customer adoption. In the first quarter of this year, Starbucks mobile orders accounted for approximately 17% of transactions in the U.S., according to its earnings — up 16% year-over-year, reaching 18.9 million active U.S. members. It also noted that during peak hours, about 5,400 stores had been seeing over 20% of transactions come in via mobile order. 
The new Pickup locations go a step further than those that already integrate digital order pickups. Not only will the retrofitted stores not allow seating, but customers will only be able to purchase items by placing orders through the Starbucks or Uber Eats app. This checkout process is further expands the Starbucks's focus on growing mobile pay.
According to Deloitte's latest research on physical retail's transformation, the move away from dine-in points to retail locations turning into "mini-fulfillment centers and pickup points." 
Starbucks going all in on pickup could inspire other chains to transform their locations to better suit new consumer behaviors. It may also spur more digital innovation for contactless technologies. Earlier this year, seamless checkout gained more traction with 7-Eleven beginning tests of its own cashierless store format. 
In March, right at the start of the U.S. coronavirus outbreak, Amazon announced it will begin selling its cashless checkout technology to other retailers. It's been quickly implemented during the pandemic by OTG-owned restaurants, which are mainly located at airports. In mid-March, the group rolled out its "Just Walk Out" cashierless checkout, starting at Newark Airport's Cibo Express Gourmet Market, with more to follow later in the year. OTG, which operates about 350 hospitality locations, also has a partnership with Starbucks to expand the chain's presence throughout U.S. airports.
This reconfiguration trend is expected to continue accelerating across the industry, said Andy Austin, president of The Industrious, an agency that works with retailers like AT&T and Walmart to make their physical stores more digitally interactive. Restaurants focusing on to go orders will likely stay until at least the virus is eradicated; consumers are likely to suspend retail "as a leisure-time or entertainment activity" in the coming months, he said. especially large communal activities like movie theaters and food courts.
Starbucks has an "envious physical retail portfolio," he added. As a result, the chain will benefit from its early moves to focus on pick-up. That period helped train customers to get used to the new layouts, Austin explained. "The shopper now has a digital muscle memory when it comes to Starbucks," he said.