Suitcase brands are ramping up expansion plans as air travel returns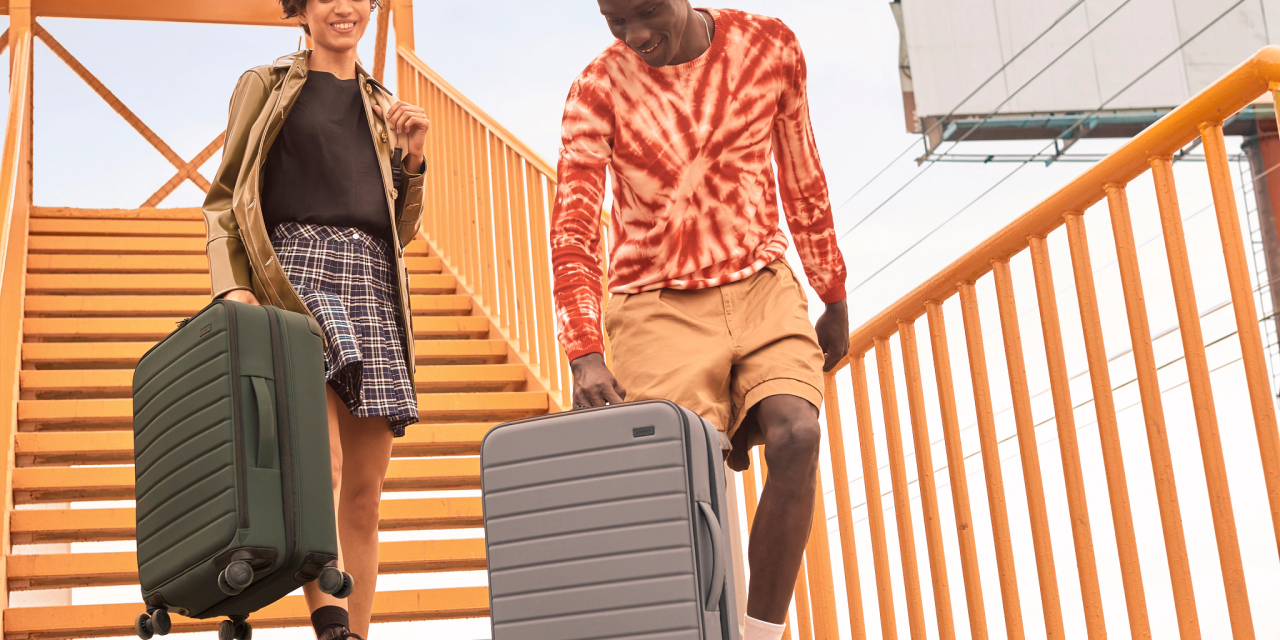 Away
Travel brands have high hopes for 2021 after the pandemic led to many canceled vacations last year.
During 2020, airline industry revenues dropped to $328 billion, only 40% of what they were the year prior, according to McKinsey. Luggage retailers fared similarly: Samsonite, the largest luggage company in the world, reported that net sales decreased by 58%. Now, however, consumers are flying again: Earlier this month, the TSA announced that, for the first time since March 2020, two million passengers were screened on a single day. On that day, June 11, traffic was 74% of pre-pandemic 2019 levels and 1.5 million more travelers than 2020. Travel and suitcase retailers are recognizing preparing for this return by entering new markets, offering new products and opening stores in preparation.
July, an Australian luggage company, plans to begin selling its luggage, bags and travel accessories to U.S. consumers, directly via its own site starting July 1.
"We've had a lot of love for July and we are just super excited to expand to the U.S.," said July co-founder Athan Didaskalou. "It's a long time coming. We would have been there sooner had it not been for the last twelve months."
The brand was founded in April 2018 and secured a Series A funding of $8 million in February 2019, less than a year after launching. What sets July apart from other U.S. suitcase companies, said Didaskalou, is the technological innovation — the brand has a hardshell double-wheel carry-on suitcase that weighs under four pounds. The brand also lets consumers add personalized messages on their bags, beyond what other travel brands offer, including in multiple font styles, colors and languages.
However, the pandemic put a pause on the company's growth: In March 2020, said Didaskalou, "things were dire," with "a 95% drop in revenue." During this downtime, the brand launched a soft goods line of weekender bags and totes — trying to cash in on the smaller trips consumers were taking — and planned ahead for the future, creating two new carry-ons. It also expanded its distribution to China during the pandemic, where domestic flights were still happening. Now, as travel opens up, the U.S. is the next destination for July.
"I don't think there's any Australian or Global business that doesn't foresee themselves eventually coming to the U.S., "said Didaskalou. "We know it's one of the largest markets in the world and as travel starts to come back, we see the potential of being in the U.S. as shifting our entire business framework."
Like July, direct-to-consumer luggage startup, Away, also had to rethink strategy during the pandemic travel slump. During the early days of the pandemic, Away's revenues dropped "down as much as 90%," said Laura Willensky, Away's chief commercial officer.
This required a pivot in the back half of 2020. The brand offered a sale in September for the first time in its history, changing marketing to reflect new ways consumers could use their products in road trips. Away also launched new products that spoke to pandemic trends including a pet carrier; "a direct response to the influx of pet adoptions during the pandemic."
"By the latter half of 2020, Away's recovery was outpacing that of the overall travel industry's … which carried us into 2021 in a position of strength and stability," said Willensky.
During the pandemic, sales in backpacks, totes and weekender bags ticked up. Now, as consumers return to air travel, interest in carry-ons, a hero product for the brand, returns, Willensky said, though she did not share specific sales numbers.
As air travel ramps up, Away has tried to strike a balance in marketing both the at-home and on-the-road use cases of its products. In April, the brand launched a set of travel accessories including a face mask and compression socks — classic flight accessories. However, Away highlighted the at-home usage possibilities of the accessories via a direct mail catalogue in the style of an in-flight magazine, that showed models "at home," gardening with a neck pillow or sitting poolside in compression socks. The brand's neck pillow and travel blanket are already sold out.
"We launched our first line of travel accessories in early April with return to travel certainly on the horizon, but not quite fully arrived," said Willensky. "With this in mind, we wanted to offer products that provide comfort anywhere, whether you're at home or on the road."
As people return to airplanes, they also are starting to return to stores. As such, travel brands are also starting to invest more in brick-and-mortar once again.  LVMH-owned suitcase brand Rimowa for example, is opening a self-service passport studio in its Soho, NYC storefront, in the hopes of attracting customers who are in need of a new passport as they travel internationally again. Away is similarly re-investing in brick-and-mortar, having just opened a new Seattle store in February.
"Looking ahead, we are excited to continue to meet the needs of all types of travel and all types of travelers," said Willensky.