Target's profitable same-day delivery strategy is driving digital sales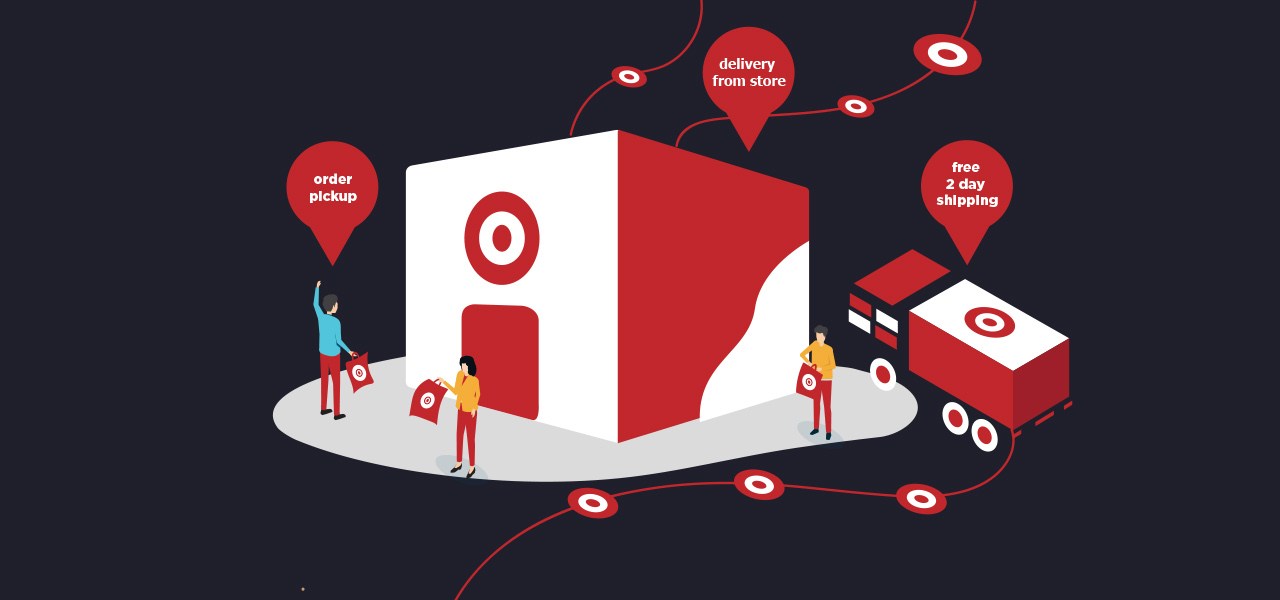 As Walmart and Amazon race to deliver online orders to customers in a one-day window, Target is reaping the profits of its store-centric same-day delivery strategy.
Chief operating officer John Mulligan told investors during the company's first quarter 2019 earnings call on Wednesday that 80% of Target's first-quarter digital sales were fulfilled from stores. Target has three options for customers to buy online and receive orders from stores the same-day: In-store pickup, a drive-up delivery service and home delivery from store using Shipt, the last-mile delivery company Target acquired in 2017. For the quarter, digital sales increased by 42%, half of which was driven by store fulfillments, according to the company. In 2018, Target saw $5 billion in digital sales (last year, two-thirds of those orders were fulfilled by a Target store). The company expects to hit $6 billion in digital sales this year.
While investments in delivery options — which include new technologies for proper inventory tracking, store remodels to make room for order fulfillment and new wage structures for store staff and Shipt delivery drivers — have eaten into Target's bottom line and pinched margins, the company is seeing a bounce-back. Mulligan said that all of Target's same-day delivery options were now profitable, and more profitable than typical online orders that ship items from fulfillment centers to customers' homes.
"That was the strategy at the essence, over the past three years. With more than 1,000 stores, within a three-mile radius of customers, there was no reason Target couldn't compete with Amazon on Prime," said Omar Akilah, vp of product management at supply chain service Yantriks, who formerly was the director of product management at Target. "The consensus was, Amazon was fast, but we could be fast, too. Retail used to be about brand, price and assortment but what they've realized is that fulfillment is that fourth leg of the stool."
To CEO Brian Cornell, it's a move for survival in a retail landscape that's divided the industry into two camps: winners and losers.
"The bifurcation of winners and losers is what we're seeing, and our performance speaks for itself. We're seeing market share gains in all categories, in stores and digital, and sales are up consecutively," Cornell told investors. "This is from execution in stores, customer response to owned brands and customer experience. The emergence of winners will be who's investing in business and adapting to an omnichannel environment, while those ceding share are ones that haven't been able to evolve in a new environment."
What Target's done is spin a potential liability — a massive 1,800-store network — into an asset to profitably compete online, while simultaneously building more revenue drivers into the business, a la Amazon, to pad out the bottom line. The Target is still building out Target+, its third-party marketplace, has rebranded its advertising business to Roundel as it plans to invest more into capabilities, has turned the Shipt acquisition into an opportunity to benefit off of other retailers' last-mile delivery efforts (retailers like Petco and CVS use Shipt), and rolled out more owned and exclusive brands in the past year to yield higher margins.
Chief merchandising officer Mark Tritton said that Target's launch of private-label brands, including a men's grooming brand, Goodfellow & Co., and a natural cleaning brand, Everspring, have helped the company to offset costs related to investments in areas like store renovations — Target plans to remodel 1,000 stores by the end of next year — and fulfillment.
Overall, Target's revenue for the quarter was up 4.8%, ahead of expectations, marking the company's eight consecutive quarter of sales increases. Store traffic also increased by 4.3%, which Cornell attributed to the spike in customers picking up online orders to stores, and then sticking around to shop more.
Target, along with Walmart, is investing heavily in the back-end logistics and foundations of multi-spoke business to compete with Amazon.
"Target and Walmart are both putting what they know about their customer to work to challenge Amazon," said Joe Scartz, the chief digital commerce officer at Velocity Commerce Group. "The idea is that efficiency on the back end drives a better customer experience on the front end. but For competitors that aren't highly invested in logistics, how do you catch up once you're so far behind? Target and Walmart are out in front because they invested so much in logistics."
Earlier this month, Walmart announced it would be rolling out a next-day delivery option that's free for orders over $35 just after Amazon announced it had invested $800 million in narrowing Prime shipping to a one-day window, rather than two days. That's a costly investment that Target hasn't yet bitten off, which could end up working against it. But Cornell told investors that right now, from ship-from-store fulfillment, more than 50% of online orders arrive next day.
"We're deepening our relationship with guests and becoming more relevant through convenience and ease," said CFO Cathy Smith. "As we talk to customers we know how important convenience and speed is, so several years ago, we put stores at the center of our fulfillment strategy. "
—
Sign up for the Modern Retail Briefing to get retail news, analysis and insight delivered to your inbox every morning.