The Crocs effect: Why footwear collabs are getting kitschy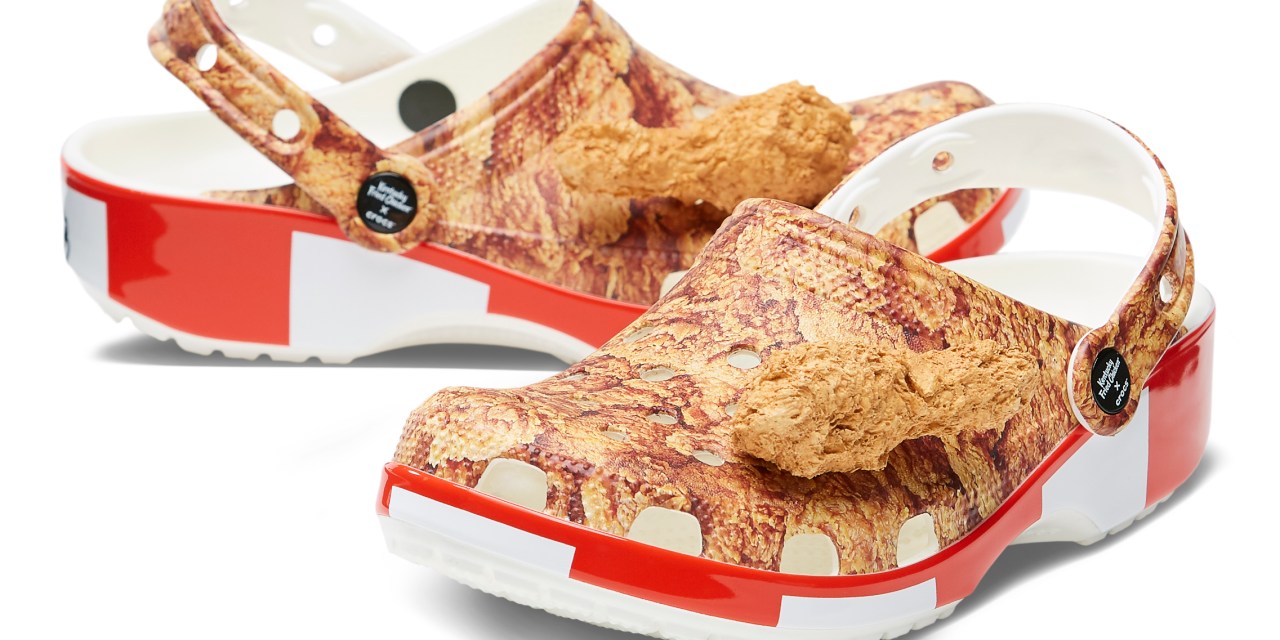 KFC
Shoe brands are taking collaborations outside of the box, partnering with brands and media hubs like KFC and South Park to drive buzz.
Sneaker brands have a long history with collaboration, particularly with athletes. Converse created the ubiquitous Chuck Taylor in 1934 and Nike cemented the phenomenon with Air Jordan in 1984. Over the years, musicians, actors and high fashion brands joined the sneaker partnership mix, helping to build the sneaker industry's collectible hype culture. Now, these shoe brands are moving past traditional tentpoles of what is cool or even what is aesthetically pleasing in their partnerships, launching kitschy collaborations with cartoons, food and beverage brands and child toy companies. These partnerships are trying to bring in new audiences, revive struggling styles or brands and play towards nostalgia.
Now-trendy foam-clog-company Croc's first quarter earnings, CEO Andrew Rees reported $460 million in revenue, up 64% year-over-year, with its most in famous style, clogs, account for 76% of total footwear revenue. While interest for the brand's comfortable shoes naturally spiked during the pandemic — Crocs sold 69 million pairs in 2020 — collaborations were the other key to the brand's success.
The brand hit a low point in 2016, when revenue decreased 10.5% year-over-year. In 2018, Crocs closed 160 retail stores. In 2019, the brand decided to invest in collaborations in the hopes that it would raise its brand cache once again, and revenues began to rise.
While Crocs partners with more traditional sneaker tastemakers like musicians Justin Bieber or Post Malone and, in the past, has partnered with luxury fashion brand Christopher Kane in its SS17 show, other partnerships are stranger.
Last July, Crocs partnered with KFC for a fried chicken-graphic-covered-clog complete with plastic shoe charms, Jibbitz, in the shape of fried chicken legs that that could be stuck in the shoes' holes.
The collaboration, said a KFC spokesperson, sold out in under 30 minutes and helped the quick service food brand break into both fashion as well as Croc's audience in a unique way.
"In terms of new customers and buzz, etc., from the collaborations, it's really a combination, and I would say each one is unique, right?" said Rees in Croc's first quarter earnings call. "Some are designed… to attract new customers, acquire new customers… And some of them are designed to be more, I would say, controversial — or controversial is not the right word, but more kind of interesting and buzz worthy."
Along with increased sales on Crocs' site and with Crocs retailer partners, resale values of Crocs increased 750% year-over-year in 2020 on sneaker and streetwear resell hub StockX, said Jesse Einhorn, a senior economist at StockX.
"Crocs really picked up the ball in the last couple of years," said Einhorn. "As a brand that wasn't even on our radar as a sneaker marketplace when we launched in 2016… over the last couple of years they've become one of the hottest resell brands on our marketplace and that's in large part due to really innovative and out of the box collaborations."
Crocs isn't the only player investing in kitschy collaborations. Reebok partnered with Universal Studios to put out a themed collection of yellow sneakers and glow in the dark slime accents to promote the movie "Minions: The Rise of Gru" and will soon be releasing a series of styles inspired by children's toy brand NERF. Puma partnered with hamburger chain White Castle for the restaurant's 100th birthday, putting a White Castle logo on the heel of its Future Rider style. Adidas partnered with adult cartoon South Park for a purple terry cloth version of its Campus 80s style, inspired by the cartoon's Towelie character and released on 4/20. Nike partnered with ice cream company Ben and Jerry's in a cowprint-covered style, affectionately titled "Chunky Dunky, for its Nike SB line of sneakers. Nike in particular, Einhorn explained, has been relying on this strategy much longer than Crocs.
"Nike SB Dunks have been pursuing out of the box collaborations for a long time," said Einhorn. "They've always been at the cutting edge of collaborations."
Not all collaborations see sustained interest, Adidas' Chewbaca-themed Rivalry Hi sells under its original retail price on both StockX and resell peer GOAT, for example. However, some become instant collectibles, selling out instantly on retailers owned site and then hitting resale platforms like StockX for hundreds or thousands more. The Chunky Dunky, which originally retailed for $100 on Nike's site, now is resold on StockX for $1000-plus.
Key to these collaborations, explained Einhorn is nostalgia. Shoe companies combine their iconography with media and food companies' most famous products and play towards childhood favorites.
"Behind a lot of this kitsch is a very potent theme of nostalgia," said Einhorn. "A lot of collaborations, in addition to being campy and ironic, are also referencing stories and movies and shows that were beloved… [For example], there are over 50 different Star Wars sneakers that trade on Stock X, more so than any tv show or movie, and that's not a surprise. There's more nostalgia for Star Wars than there is any other movie franchise."
Going forward, these collaborations are only set to grow. In Crocs' first quarter earnings call, Reese said the brand plans to expand do more collaborations with a focus on its newer sandals style. He added that Crocs plans to expand distribution of collaborations internationally "far more… both in Europe and in Asia this year."
"Collaboration today is the lifeblood of the sneaker business, "said Einhorn. "Collaborations are what drive excitement and energy and hype, more so than any other feature of the sneaker game."