'The immediate winner': After a Victoria's Secret split, Bath & Body Works begins to forge its own path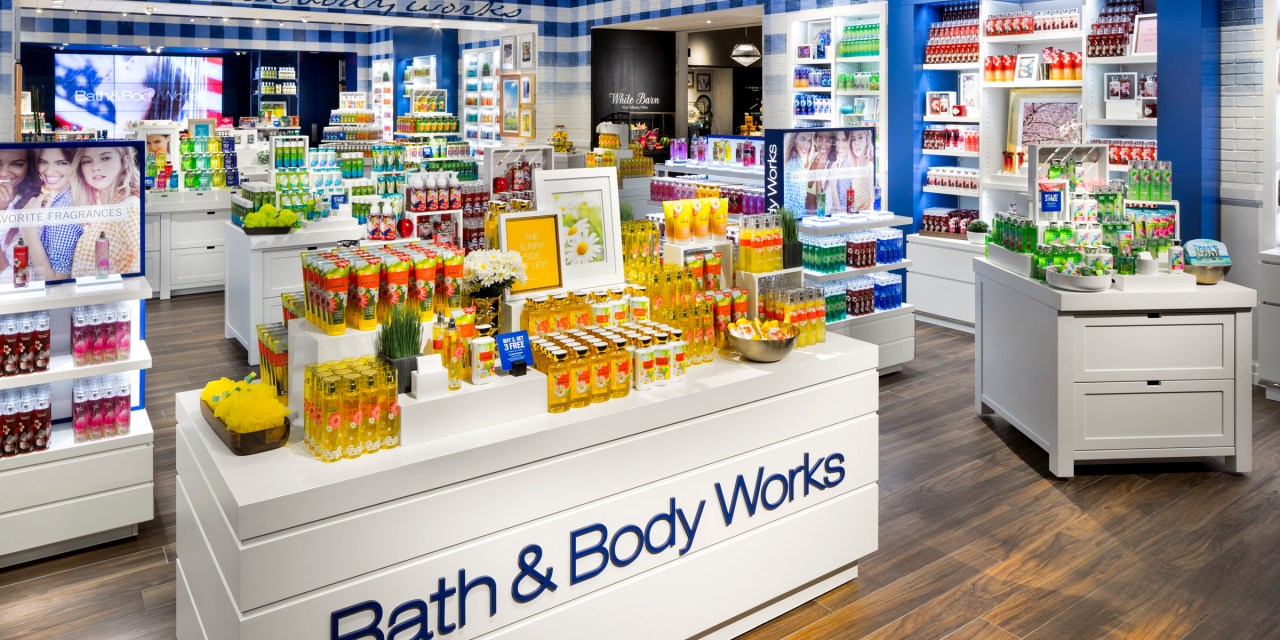 Bath & Body Works
As L Brands prepares to spin off Victoria's Secret into its own company, its other brand, Bath & Body Works, is also starting to prepare for life as a separate company.
Last month, L Brands confirmed plans to spin off its lingerie brand, Victoria's Secret, into its own publicly-traded company via a press release. (L Brands has tried to offload Victoria's Secret before, including trying to sell the brand to private equity firm Sycamore Partners, a deal that fell apart during the pandemic.) Alongside this split, Bath and Body Works will also become its own separate and publicly traded company. In the release, Sarah Nash, chair of L Brands' board said, the separation would allow the two businesses, "leaders in their respective markets," to "achieve [their] best opportunities for growth" and would "return the highest value to shareholders." But where Victoria's Secret has faltered over the last few years, Bath and Body Works has driven consistent growth, shifting to off-mall locations and leaning on vertical integration to quickly shift product to consumer needs.
Bath & Body Works has long reported increasing sales, while Victoria's Secrets sales were declining before the pandemic. This was likely due to its updated strategy that began before the pandemic, but was accelerated once the coronavirus hit and demand for bath and soap products rose. Analysts say that Bath & Body Works' investment in off-mall storefronts, decreased promotions and pivot to home fragrances have been critical to its success — investments that will continue as Bath & Body Works becomes its own company.
"We expect that 2021 will not be easy as the world, the retail environment and our enterprise and business continue to evolve and as we lap these extraordinary 2020 results," said Bath & Body Works' CEO Andrew Meslow during L Brands' year-end 2020 earnings call. "But with continued smart management of the brand and business, I know we can become a fully separate, stand-alone public corporation and proactively accelerate to our next phase of growth."
L Brands hopes that the spin off will be finalized in August. In the first quarter of 2021, Bath & Body Works increased sales 47% year over year compared to Victoria's Secret's 9%.
"At the moment, [Bath & Body Works] is the safe bet, like buying bonds, and Victoria's Secret, with their new brand turn around effort, not so much," said Lee Peterson, former L Brands employee and now executive vice president at retail consultancy WD Partners. "[Bath & Body Works], being vertical, having stores that actually still work, with a great, simple website… should walk away the more immediate winner."
Leaving malls behind
Bath & Body Works' shift to off-mall locations, a strategy in place before the split, helped the company grow during the pandemic. The brand currently has 1,736 store fronts, operating in a franchise model — about half are off-mall.
Meslow said Bath and Body Works will open 50 to 75 more locations in 2021. In the company's year end 2020 earnings call, Meslow said that two-thirds of the company's sales came from off-mall, and that off-mall locations drove "significantly higher conversion rates than we see in mall stores." Meslow added that the format had lower operating costs and, as such, drove "a comp about twice as high… versus malls for the full year." In the company's first quarter earnings call this year, Meslow mentioned how the increased parking space of the format also better lent itself to buy-online-and-pick-up-in-store, a new strategy for the brand.
Going forward, Roxanne Meyer, a managing director at equity trading and research firm MKM Partners, said a pivot to off-mall is "a smart strategy" for Bath & Body Works.
"We've witnessed a longer-term trend away from the mall; it is off-mall where traffic has increased," said Meyer. "Over the next several years, we look for mall based stores and anchors — as well as lower-tier malls themselves — to consolidate, which will enhance the traffic [and] value of off-mall locations farther."
Peterson adds that this physical investment in off-mall locations, particularly in small and suburban localities, will even benefit Bath & Body Works' online sales.
"They've announced plans to 'get local' more often with their physical brand as well as magnify their online presence," said Peterson. "Very few retailers, including their competitors, … have the luxury of a brand billboard in hundreds of neighborhoods, making it easier — as statistics have proven — to sell goods online as well, [direct-t0-consumer]."
Scaling back on sales
Moreover, data from MKM Research showed that, as of June 2021, the brand is significantly less focused on clearance sales and promotions than in 2019, pre-pandemic. For example, the brand has eliminated weekly dollar-off coupons.
"Unlike so many others, [Bath and Body Works'] customers are no longer trained to shop based on receiving a coupon," said Meyer. "[The company] has also demonstrated pricing power in its ability to selectively raise prices and/or promote less across categories.
Meslow, in Bath and Body Works' year-end earnings call, said the brand decreased email and mailer promotions as well, though cautioned that, amongst a 2021 return to normal, "we do expect that some of that merchandise margin gain, we will have to give back."
Product pivots
Finally, Bath & Body Works' quick product category pivots have helped the company thrive during the pandemic and will, said analysts, drive success going forward. The brand's supply chain is vertically integrated, centered in parent company L Brands' manufacturing and distribution industrial park.
During 2020, the brand established "soaps and sanitizers as true traffic drivers and a solid third pillar of the business," said Meslow. Soaps and sanitizers accounted for one-third of growth while home fragrance drove the other two thirds.
Meanwhile, Meyer believes that spending in the home category shows no signs of slowing down — and that should benefit Bath & Body Works.
"The pie itself has grown — more consumers are interested in home fragrance and spending more on the category broadly," said Meslow. "Competitors are small and fragmented in a highly competitive space, and largely sell through big box stores. [Bath and Body Works] continues to be one of few distinct brands that is vertically integrated and sells through its own retail stores; there is no other meaningful direct competition."