Q&A
// August 27, 2020 ■ 4 min read
'The pandemic made me rethink the DTC playbook': Bearaby founder Kathrin Hamm on growing a company amid the coronavirus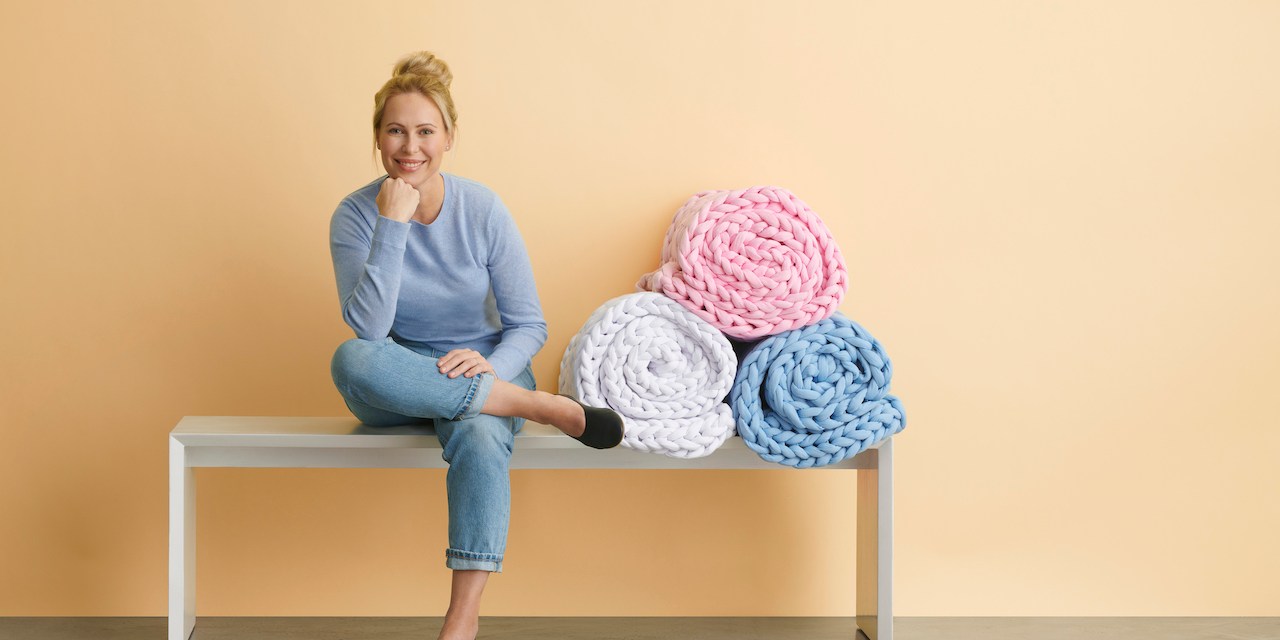 After launching in December 2018, the weighted blanket brand Bearaby has become a bestseller in its category and expanded a long term partnership with West Elm, with overall sales having increased 650% year-over-year. Since the coronavirus first hit, the company has experienced further growth that's forced it to tweak and modify its strategy in launch mode. 
Over the last six months, the company has focused on keeping its expenses down while also launched new products, including the Nappling line for kids. Bearaby founder Kathrin Hamm spoke to Modern Retail about the company's organic growth strategy and why owning an adept DTC supply chain is more important than a sleek Instagram feed. The interview has been edited for clarity and length.
How have you approached growth over the last year — especially given the current climate?
The pandemic has made me rethink the so-called DTC playbook, and go back to fundamental business practices in some aspects. Branding can be easily copied by someone with more money and putting out a beautiful Instagram feed. But putting out a thoughtful and relevant product with a specific price point requires a supply chain. 
Usually, it's common to "borrow" your supply chain in DTC, making for a low barrier of entry to launching a brand. We now own a substantial amount of our supply chain by owning our own machine that develops the yarn. We're also looking at more automation and getting more focused on production methods in socially distant settings. When it comes to investing in wellness, which has become a buzzword, the value proposition has to be very obvious to the customer who's asking: "Am I getting a product that's helping me sleep better year-round?"  
Did you tweak your supply chain to avoid the delays many other retailers saw?
With the discrepancy between supply and demand, we knew we had to do a better job supplying customers in a timely manner. Planning for these needs without producing excess inventory is tricky, so we started with a simple email button on the website to notify them of stock availability. Then we added additional sign ups for specific colors and weight category, which we put through directly to our production team. While it wasn't an official "pre-order method," these steps helped drive a reliable 90% conversion rate from the early requests. 
How has the product development evolved?
Our post-launch period coincided with a lot of unexpected stress and anxiety in people's lives. On the product side, we got emails from people who wanted the product at any cost, which led us to onboard a second supplier, something I wouldn't have done until a later stage. We opened up two additional warehouses to speed up fulfillment. 
We were also hearing from a lot of parents using the blanket on their children whose schooling and daily schedule were interrupted. Obviously a 20-pound blanket on a 3-year-old doesn't make sense, so we used the data to narrow down the age group and moved up the Napper launch to April. 
Have you changed your social media marketing on platforms like Instagram?
Instagram has been an interesting channel for us, with growth coming from word of mouth. We run zero ads ourselves, but our following has helped us get organic traffic and crowdsourced marketing material, especially during quarantine. Most weighted blankets out there aren't very aesthetically-pleasing, so coming up with beautiful and plastic-free designs that people can share online is certainly one priority. 
You embarked on wholesale and collaborations early on. How has that side of the business been affected?
Brand collaborations are a great way to showcase limited edition colorways that get customers excited. In the case of the new Hyppo popsicle collection coming in at the tail end of the season, it's intentionally tied to this summer being very different from others. 
With weighted blankets, the high touch feel is important in deciding on size and fabric. So for many who aren't familiar with the concept, a quick trip to West Elm is really helpful in showing them how it works. Another factor in our wholesale strategy is that we've never taken any outside venture capital, so having secondary retail channels was always a way to complement DTC and keep the unit economics making sense. While we're not fully omnichannel yet, retail partnerships helped us achieve profitability early on without investing in customer acquisition marketing. Being bootstrapped has the advantage of allowing us to make mistakes on a smaller scale, which helped us see what was working and what wasn't early on.