Q&A
// March 23, 2022 ■ 5 min read
'The plan is to become the number one in fit': How Cassey Ho of Blogilates and Popflex built a fitness ecosystem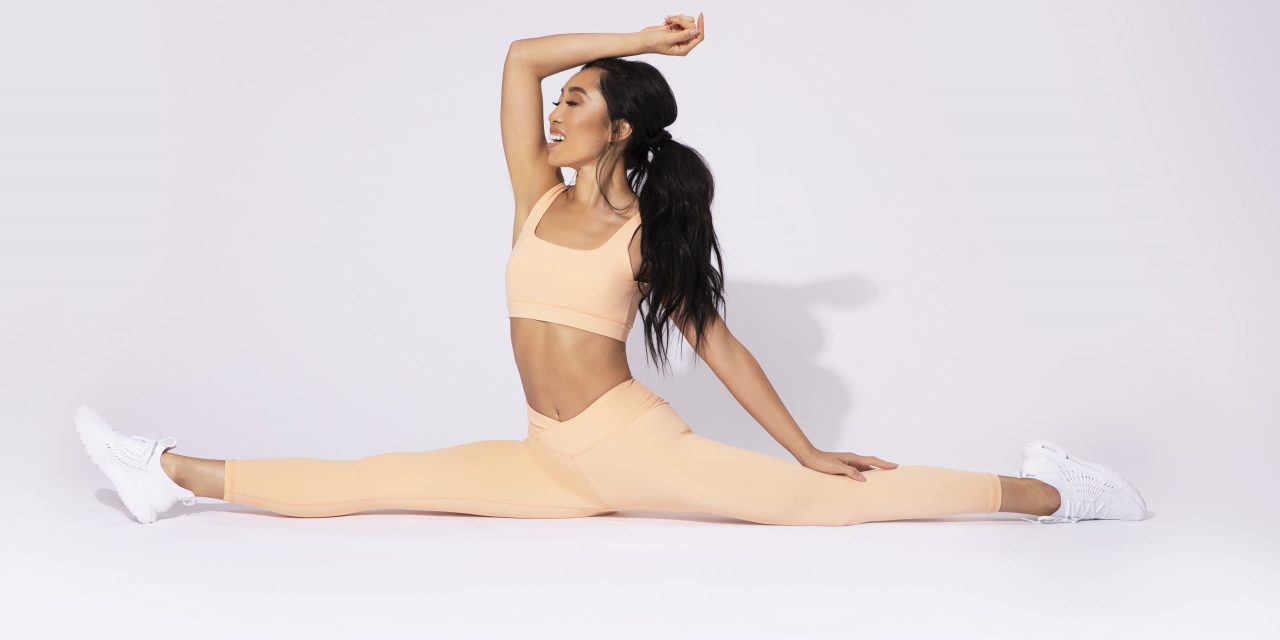 Popflex
On a yoga mat clad in matching activewear sets with colorful dumbbells laid out on the floor, Cassey Ho executed a full-body workout for her over 6 million subscribers to follow along. The video not only features her fitness routine but also products from her own brands: Popflex and Blogilates.
Ho started Blogilates primarily as a YouTube channel in 2009, though she also creates content for other channels like her blog and additional social media apps. Since then, she has transformed Blogilates into a brand that sells home gym equipment, which is available at Target. She also founded activewear brand Popflex in 2016, and serves as its CEO.
Creating content and running her brands are very much interconnected. Products from both Popflex as well as Blogilates frequently appear in her workout videos, and she often designs products herself based on her audience's feedback. Ho is just one of a number of YouTubers in recent years to launch her own brand, with Jeffree Star and Connor Franta being other notable examples.  
Ho's ability to leverage her platform has allowed Popflex to double its sales year-over-year over the past two years, and she plans to do the same this year. Though both Popflex and Blogilates center around fitness, Ho told Modern Retail she wants to create a distinction between the two brands. Her goal for Blogilates — which offers fitness journals, yoga mats and dumbbells — is to position it as a more accessible and affordable brand. Popflex products can be found on its website, while Blogilates products are sold at Target and some at Popflexactive.com.
Meanwhile, Popflex is positioned to be a brand for women who are already deeply invested in the fitness lifestyle. Unlike Blogilates, Popflex offers clothing like bras, crop tops, leggings alongside other equipment. Popflex's revenue from social media between January to February has increased four times in 2022 compared to its figures around the same time last year.
As a long-time aspiring fashion designer, Ho said she designs about 95% of Popflex's products but has recently hired new designers who've worked for brands like Spanx and Reebok. Popflex also plans to open pop-ups, possibly sometime in the fall, and create partnerships with influencers. 
"Growth plans always go back to the product development for me because that's the heart and soul of the brand," Ho said about Popflex. "Growth-wise, the plan is to become the number one in fit. That is in our three-year growth plan."
Modern Retail spoke with Ho about how she manages her brands and how she plans to turn Popflex into the number one fitness brand. This interview has been edited for clarity and length.
How big of a jump was it for you to go from content creator to CEO of a retail business?
My content has really transitioned as the business has grown and, in some fortunate way, the content that is working for me right now is my design content. Me sketching — showing the why behind the design, how I developed something — is really working. In fact, it's more interesting and getting more views and going more viral than my fitness content.
I spend 95% of my day, running the business, designing, doing that sort of thing. And fitness is a part of my lifestyle. I work out every single morning like it's part of me.
In the beginning, I didn't realize there was a difference between management and leadership. Like I feel like I have the leadership part, but if you don't know how to manage people, that's where you run into trouble. Four or five years ago, I reached a point where I was going to throw in the towel on everything. 
You design most products from Popflex. Where do you find inspiration for your designs?
It goes back to the community and the relationship we have with them. Because, literally, what [feedback] I see in the comments, I will take that and I will solve the problem. 
A really basic example is I released this bow gym bag… but a lot of people were like, 'oh super cute, but like not into the bow.' 
Using those comments, we are able to develop you know that perforated bag with the rubber logo and stuff. And that one went super viral and like is almost sold out. We released that two weeks ago.  
What are some of the ways that you leverage your platform to elevate your brands?
Those design videos for me have been doing so well — something that I really didn't expect. For example, for TikTok… I was getting around 10 million views a month, which is really crazy. But once I started posting those design videos to YouTube Shorts, I'm now getting 100 million views a month. 
That in itself is getting us crazy traffic, more followers to my own channels, to the Popflex social accounts and we're getting more visibility. 
Our whole goal in our growth strategy and stuff is to acquire new customers. And so I just didn't realize how important these like videos, these design videos, were going to be.
Where do you see Popflex going in the near future?
I want Popflex to become the number one in fit. I want us to be known for that. I want Popflex to be a legacy brand that lives on even after I die.
Of course, I love running the business. I love being behind it. But I don't want me to have to be the reason why something sells. That's the future that I want to build for Popflex.