The RealReal and Rebag's luxury resale stores are a wellspring for new customers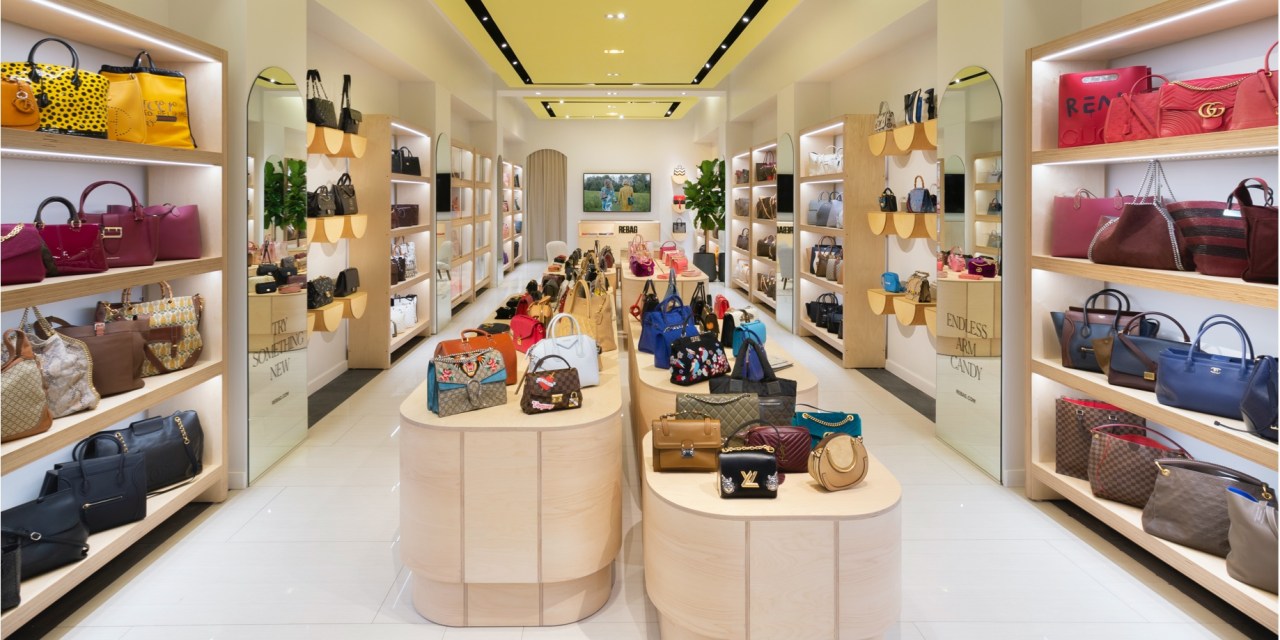 Rebag
The RealReal and Rebag, two purveyors of luxury resale online, are doubling down on high-end brick and mortar stores to build brand affinity and source premium goods.
At the majority of its 18 U.S. locations, The RealReal authenticates and sells a curated selection of items from customers including high fashion, footwear and fine jewelry. After opening nine branches last year, the San Francisco-based company is due to launch another store in Brentwood, California in the coming months. Meanwhile, Rebag's seven retail locations are stocked with designer handbags, watches and accessories. Customers can also access its digital catalog of 30,000 online products and consignors can use its in-person authentication or automated self service kiosks to get their items valued. 
Although they primarily derive their revenue online, both companies claim their stores help to attract new sellers — who can then be converted into buyers — and generate higher average order values. When done right, experts believe that stores can help online resale companies to establish a brand identity and reduce customer acquisition costs.
The twin goals are vital for resale businesses looking to stand out in a crowded sector overrun by unprofitable startups and high-profile luxury brands. All of them are vying for a slice of a potentially massive circular economy that insiders claim is growing due to a socially-conscious shift toward sustainability and away from fast fashion. Despite having been around for years, analysts suggest online luxury resale's brick and mortar locations are freshly valuable due to their ability to capture new customers amid an ongoing rise in digital marketing costs, and as people are returning to physical retail.
Both The RealReal and Rebag say that stores play a key part in securing supply and generating high-ticket sales. Last year, 30% of The RealReal's new consignors came through its stores. The company has four locations in New York, including Soho, Midtown and Brooklyn; one in LA's Melrose Avenue; one in the pricey enclave of Union Square in its hometown of San Francisco; and individual stores scattered across Dallas, Chicago, Miami and Palm Beach, among other cities.
What's more, the most expensive item ever sold in The RealReal's history — a $350,000 yellow diamond ring — was purchased at its Austin location. Overall, The RealReal claims that average order value at its stores is two times greater than online and that 57% of all consigners end up being buyers. 
More broadly, the secondhand market is projected to double from $36 billion in 2021 to $77 billion by 2026. Currently, much of the revenue is flowing into two camps: peer-to-peer consignment at scale that lets people sell all manner of items to buyers (think Poshmark or ThredUp) or more luxury goods that require a keen eye, deeper pockets and ideally authentication. To do the latter correctly, stores have become a key part of the playbook.
For its part, Rebag claims that it is also seeing positive pricing and supply momentum at its locations in LA, New York, Connecticut and Florida. "Our brick-and-mortar stores are another channel to bring in more sellers and supply," CEO Charles Gorra told Modern Retail. "With each location, Rebag reaches a new set of traders and sellers who bring in fresh inventory as well as additional customers…and the average order value is typically higher than online."
The priciest item sold at a Rebag store was a $70,000 Hermès Himalayan Birkin handbag. Having raised $101 million in funding to date, Gorra said the plan is to expand Rebag's brick and mortar footprint to more luxury markets across the U.S. The locations feature the company's Clair Technology Suite, including an image recognition tool that instantly recognizes and prices handbags. Gorra previously told Modern Retail that Rebag envisions licensing the proprietary tech to other secondhand stores.
Beyond providing a new avenue to grow supply, experts believe that brick and mortar locations can also help reduce customer acquisition costs for the companies, which are spending big on marketing to attract more patrons at a time when online ad targeting is in disarray due to Apple and Google's privacy changes. In the nine months ended September 30, The RealReal spent $44.38 million on marketing expenses, up from $37.75 million a year ago.
"Online you pay for every customer you acquire," said Marie Driscoll, managing director luxury and fashion at Coresight Research, an advisory and research firm specializing in retail and technology. "But stores offer a multi-functional way of building a community around your most high-quality, luxury items."
Like other DTC brands before them, the two digitally-native resale companies have latched on to stores as means of showcasing their best products to customers in urban centers and affluent neighborhoods as part of a brand-building strategy, she added. In addition, the stores provide a convenient place for customers to buy and sell, which is particularly important for high-priced items in the range of $3,000 to $5,000, Driscoll noted. She said the stores provide a treasure hunt experience akin to a department store or off-price retailer like TJ Maxx — albeit for a much different shopper.
However, not everyone is convinced that the resale companies have cracked their branding yet.
"Some locations are done well, but others are super generic," said Lee Smith, head of Kantar's global commerce practice. "It's not the same as online, where you can post a good photo on a white background for a listing. This is the reverse of how old retail did not know how to create an e-commerce presence."
Of course, brick and mortar comes with its own costs around labor, leasing and setup, particularly in pricey locations such as The RealReal's Union Square branch in San Francisco and Rebag's Westfield World Trade Center store in New York. In the nine months to September 30, The RealReal spent $37.76 million on "purchase of property and equipment and capitalized proprietary software development costs," up from $22.33 million in the year ago period. Its net property and equipment assets totaled $83.93 million in its fiscal third quarter.
But, Gartner analyst Chelsea Gross claimed that the resale companies have tried to manage those expenses by securing leases on a short term basis in highly trafficked locations such as New York City or Los Angeles. Clearly, Rebag is also banking on its authentication tech to help alleviate costs elsewhere.
Ultimately, both The RealReal and Rebag claim that they are investing in stores for the long-term. With supply chain hurdles currently hurting all aspects of retail, Kantar's Smith claims the ability to source goods through stores could raise their importance in stature, even as their overall footprint remains small relative to online. 
"It's a move to get closer to the source," she said of the companies' brick and mortar play. "Whoever has supply in the next year is going to win."