The shortage of paper, glass and raw materials has upended manufacturing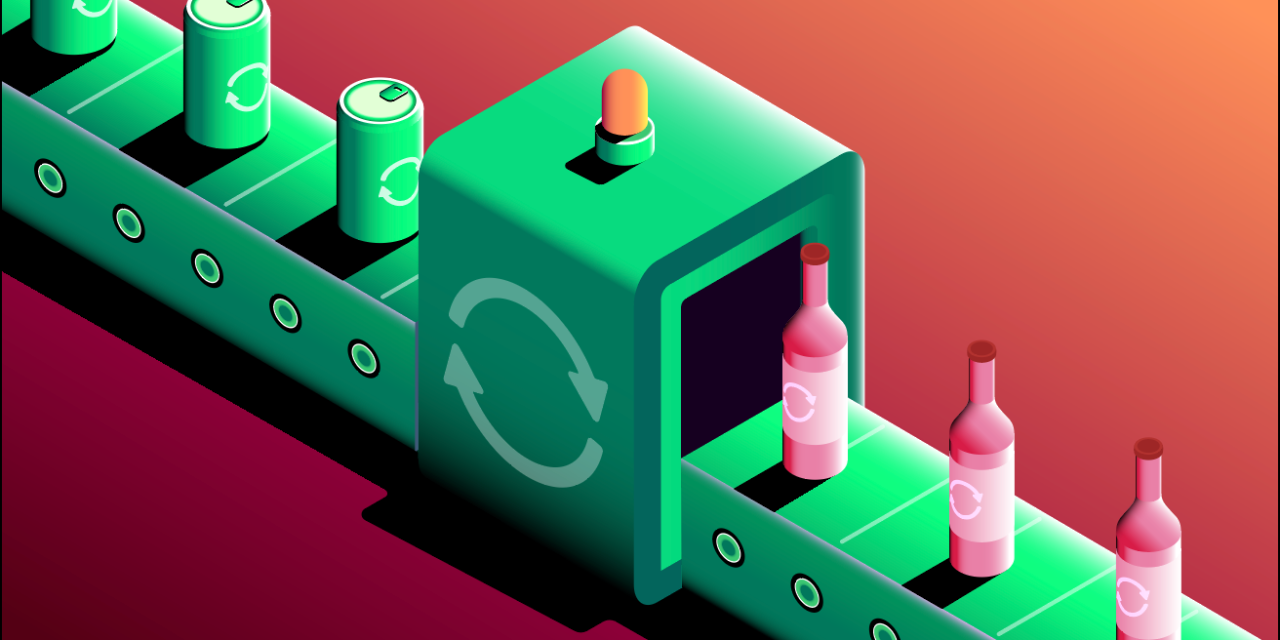 Ivy Liu
This story is part of The Chain Game, an editorial series looking at all the ways the supply chain has been upended over the last two years. You can read the entire package here.
Over the past two years, raw materials have proven to be some of the most important — but hard to procure — slices of the supply chain. With a shortage of these basic components, brands cannot deliver inventory to customers on time.
But commonplace items like paper and plastic — basic materials that retail companies previously never had to give much thought to — have been in scarce supply. And businesses have had to become nimble to deal with these shortages.
"Planning forward is the best tool we have in a situation like this," Prabha Cheemalapati, chief operating officer at cherry beverage brand Cheribundi, told Modern Retail. "There's no magic bullet for any manufacturer right now."
Over the past two years, factors like labor shortage and Covid-related factory shutdowns have led to a bottleneck effect of raw material being produced and shipped. This has caused many major retailers and upstart brands to compete in order to get their hands on the raw material they need. Other factors, such as severe weather storms, have led to temporary shortages in certain materials over the course of the pandemic.
In turn, a number of brands have taken on more preparatory tactics, such as buying ahead, swapping out raw materials, or sourcing new manufacturers to cope; a new first-line supply chain strategy has materialized — and it's very different from the 2019 playbook.
Below are some of the top categories of raw materials that retail brands have been trying to source in time. 
Can and bottle shortages 
In the past year, major food and beverage corporations have complained about a lack of aluminum cans to fill their products with. This is due in large part to a combination of increased at-home alcohol sales, along with more brands moving from glass bottles toward the cheaper aluminum can design even before the pandemic. This high demand for cans, coupled with domestic factories' inability to keep up during the pandemic, has created a shortage.
Metal and aluminum packaging was still short supply last year, despite an increase in domestic manufacturing. U.S. can production increased by 6% year-over-year in 2021, to more than 100 billion cans. Even so, CPG companies like Monster Energy and Molson Coor were still forced to source cans from overseas. Importing cans itself is expensive, and the most popular it's been in 10 years — with aluminum costs climbing 35% between 2020 and 2021, according to FactSet. This jump was a result of China's new environmental policies, which installed tighter restrictions on factories in the country that produce the silvery element.
However, other alternatives to aluminum cans — such as plastic or glass bottles — also come with their own set of challenges. 
Last year's Texas winter storm Uri, for example, caused a temporary shortage in plastic. This was largely due to petrochemical plants' production being disrupted for weeks, which pushed many companies to find alternative suppliers around the world.
Cheribundi is one brand that's been navigating challenges in securing enough packaging for its bottled line of products. The company has seen "unprecedented increases in packaging lead times over the past six to nine months," Cheemalapati said. Since then, the company has made changes by sourcing new manufacturers for its plastic bottles. 
"We're lucky to have partners, both on the manufacturing and supply side, who have been willing to be flexible and have made this a more manageable situation for us," Cheemalapati said. "We've secured supply for our most critical components and will continue to watch lead times on other materials."
Similarly, CBD brand Cornbread Hemp has seen its plastic and glass bottles go up in price. Co-founder Eric Zipperle told Modern Retail that the brand's liquid dropper bottles have gone up 30% in price in the past year. "Unfortunately, that means 10% of our cash flow sits in front-loaded supplies right now," he said.
Then, there are brands that are tweaking SKUs to avoid raising retail prices. 
Jordan Silbert, founder of cocktail mixer brand Q Mixers, said the company has made the slight pivot of switching from glass bottles to cans to keep pricing competitive. The company sells its beverages at major retailers including Kroger, Albertsons, Target and Publix. 
Q Mixers still uses glass bottles, Silbert noted, but the company is now focused on packaging beverages in slim aluminum cans for retail sales. "Our 6.7 ounce glass bottles are mostly used at bars and restaurants, such as all the Four Seasons hotels," Silbert said. This, he explained, is because hospitality accounts prefer single-serve glass for presentation purposes. "But at retail, we've been emphasizing cans, as they're more affordable than glass and as a result tend to sell better at conventional retailers," Silbert said. Q Mixers' 4-pack canned drinks retail for $3.99, as opposed to $5.99 for the glass bottle counterpart. 
Chasing a paper trail
Paper is another material that's been harder to come by in the past year, and the shortage shows no signs of slowing down.
As of February, paper mills have been behind on fulfilling orders due to a wood pulp shortage, according to a Financial Times report. This has resulted in yet another challenge for U.S. consumer packaged goods.
For DTC stationary brand Appointed, whose products are made in Washington D.C., the shortage has delayed its production. According to the U.S. Bureau of Labor Statistics, the costs of pulp and paper for corrugated boxes increased by over 25% between 2020 and 2021, making it more expensive to procure paper. 
"The shortages and inconsistent supply of paper has required us to adjust how we source our materials," Appointed founder Suann Song told Modern Retail. It typically takes Appointed eight weeks after they receive raw material to ship out its products. Prior to last year, the company purchased material and the needed paper based on that cycle.
"We now purchase material in bulk and 12 to 16 weeks in advance to assure that we don't run short of material," Song confirmed. After months of constant delays, the brand has become accustomed to constant shifts in lead time in 2022. The good news, Song said, is "we're slowly seeing ease in the strains, but it is a constant pivot and exercise in flexibility."
The chase for packaging components 
Packaging is another important aspect of how DTC brands present themselves to customers.
DTC sanitizer brand Noshinku, which launched was founded in 2017, has had prices go up across the board. Andrew Zahornacky, co-founder of Noshinku, said that the company currently sources its packaging material from a Chinese supplier, which has experienced delays due to California port congestion. 
The company uses plastic containers for its travel sanitizers, which have gone up in price in the past year. The same product also uses paper sleeves, which have gone up by about 20% to 25% in the past six months, Zahornacky said.
To date, the company has been stockpiling the plastic and paper packaging it needs for 2022 inventory, which it had to prepare for late last year. "Even though we're importing our material, last year's storms still delayed domestic movement of inventory once it arrived in the U.S.," Zahornacky said. The Gulf Freeze during February 2021 resulted in many commodity makers declaring force majeure. This led to more raw material shortages that extended into the end of 2021; Year-over-year plastic prices increased between 4% to 10% in 2021.
These ongoing situations have caused brands like Noshinku to carefully plan as it tries to scale production. "We stockpile a little bit but we're trying to avoid the waste by forecasting demand as best as we can," Zahornacky said.
Sugar alternatives to sweetener the deal 
In addition to packaging, staple ingredients like food sweeteners are another ingredient that's been hard to come by for nearly a year, according to several CPG brands. This includes alternatives like monk fruit, stevia and erythritol, which have all increased in price since the pandemic began.
Jeff Yoskowitz, director for the professional pastry and baking program at the Institute of Culinary Education and chief product officer at online baker Raize, said ingredients like sugar alternatives have nearly quadrupled in price over the past year. Yoskowitz confirmed that as of the beginning of this year, the new company has stockpiled at least six months-worth of its sugar alternative blend to avoid running out of inventory in 2022.
Other niche sugar alternatives have also become difficult to source in time.
Nutrition bar brand Mindright has experienced delays for its preferred sweetener. The company uses coconut palm sugar in its recipes – which has had long lead times in the past six months. "As a new brand, we are trying our best to absorb some of these costs to remain competitive," Mindright co-founder Chris Bernard told Modern Retail. "But where we can, we've increased our order volume to take advantage of economies of scale," Bernard said.
All in all, brands are figuring out how to find raw material or substitute when necessary. At least for the foreseeable future. "You might get what you need but will it fit within your supply chain timing," Noshinku's Zahornacky concluded.
For smaller businesses competing with major conglomerates over supplies, the increased costs appear irreversible. "I don't expect the prices to come down anytime soon," Cornbread Hemp's Zipperle said. "We just have to deal with eating the cost for the time being."