'The timing couldn't be better': Vending machines are entering a new golden age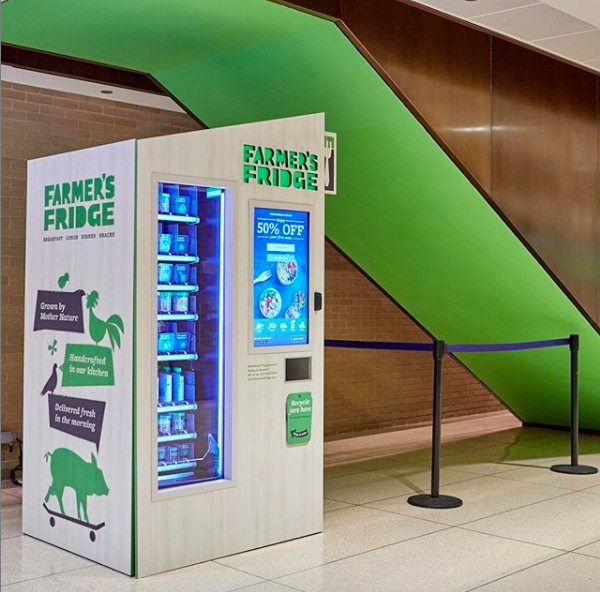 Vending machines are in the midst of a renaissance.
Nearly 30 years after New York's final Horn & Hardart restaurant closed its doors, entrepreneurs continue to cite the automat as an inspiration. From the late 19th century to 1991, the chain served hot food out of glass and steel mechanical lockers, inspiring pretenders as unexpected as Andy Warhol and his ill-fated Andy-mat. With workers secreted away behind closed doors, customers could enjoy the illusion of Jetsons-worthy automatic food, dispensed on demand to anyone with a roll of quarters at the ready.
In the months to come, as shelter-in-place orders lift but social distancing remains in place, retail solutions that can limit capacity and contact have suddenly become gold dust. The post-Covid restaurant world is going to look very different: vending machine-based dining has seldom seemed like a better idea. "The automat to me is probably the greatest distribution for food and fast food," says restaurateur Stratis Morfogen, the founder of Philippe Chow. "I got really turned on to the whole concept."
Still, while there may be promise ahead for those looking to innovate, many traditional vending machine companies have struggled in recent months. Stay-at-home orders have kept customers out of workplaces, resulting in a drop in snacking on the go. Earlier this week, the AI vending machine startup Stockwell, formerly known as Bodega, announced that it would shutter entirely in early July, while in April, Paolo Ghidotti, the president of the European Vending & Coffee Service Association, called on European leaders to support a flailing industry.
For the past year, Morfogen has been developing an 880-square-foot automat-style dumpling restaurant, to be launched in New York's East Village in July or August. Brooklyn Dumpling Shop will serve 32 flavors of dumplings and spring rolls, from Peking duck to peanut butter and jelly, 24 hours a day. At no step of the ordering or purchasing process must customers come into contact with another person (though someone will be standing by to monitor the restaurant's temperature sensors as customers enter). "I hate to say it," he said, "but the timing couldn't be better."
Brooklyn Dumpling Shop is one of a few companies hoping to hit the big time through a combination of socially distanced customers, better vending technology, and reduced labor costs. Many of these businesses have national ambitions: Morfogen is booked in at multiple franchise shows before the end of the year, while startup Farmer's Fridge, which serves healthy food from self-serve smart fridges, has 400 fridges currently in place and intends to expand within the Midwest. Even established fast food restaurants, such as Pizza Hut, are exploring the format.
Within the U.S., vending machines are typically thought of as little more than a vehicle to buy Dasani water. Overseas, they are used more inventively: In the Netherlands, the chain FEBO sells warm hamburgers and croquettes from humid glass boxes. In Japan, meanwhile, the machines are ubiquitous, selling PPE, hot and cold coffee, and almost anything that will fit behind the door.
Luke Saunders, the CEO and founder of Farmer's Fridge, believes the potential for a new era of vending machine-driven dining within the US has only grown over time: "I started the business with that in mind," he said. "A lot of the current situation has magnified trends that were already in motion." He suggests online grocery as one example. "It's similar, I would say, for vending — all the trends were already there." Technology costs have fallen, while the margins for most restaurants have grown tighter, he said. At the same time, customers are more comfortable than ever before with ordering through their devices.
These new attempts are far from the first to revolutionize vending-style food sales. From 2006 to 2009, New York's Bamn! targeted college students in lower Manhattan with a lurid pink-toned automat format, seling late-night custard buns or hot soups. Last year, Starbucks took a significant stake in Brightloom, formerly known as eatsa, which had attempted to popularize quinoa-based fast casual dining, served from glass cubbyholes. After launching in 2015, eatsa opened seven units across San Francisco, before abruptly closing them and announcing a pivot to licensing its technology for other restaurants. Starbucks' stake gives the coffee giant the right to these tech offerings, potentially paving the way for its own spin on automatic service.
Morfogen has his own theory on why these restaurants couldn't go the distance: "They didn't go far enough with the heating and cooling of the lockers, and it was just a mess. But the technology now is so great." His own forthcoming lockers, supplied by Panasonic, allow food to be refrigerated or warmed up to 150 degrees. UV lighting serves as a disinfectant between orders. "It kills any kind of germs or bacteria or viruses inside the unit," he said. "We tried with a disinfectant, but we were afraid that it might change the taste of the food."
Better technology is at the heart of many of these businesses' plans. Since 2017, Hudson Valley-based Applestone Meats has sold cuts of raw meat from vending machines, restocked up to eight times a day. It currently has two branches, in Stone Ridge and Hudson, and intends to open three more. "When I started talking about doing something like this, people thought it was the weirdest, most obscure thing—you know, who the hell is gonna buy meat from a machine?" said butcher and founder Joshua Applestone. "Well, we're so busy. We're developing our own machines, we're going to have more and more where they have more and more retail locations."
Applestone believes that customers want the experience of being served by a human being, but provided round the clock and available at-will. A smart machine fits the bill, he said. "You can simulate that experience so that someone feels like they aren't being avoided, that whatever they said matters, by asking the right question or remembering their birthday—there are so many ways to do it."