Q&A
// March 10, 2021 ■ 3 min read
'The website was an afterthought': Simplehuman CEO Frank Yang on its new DTC focus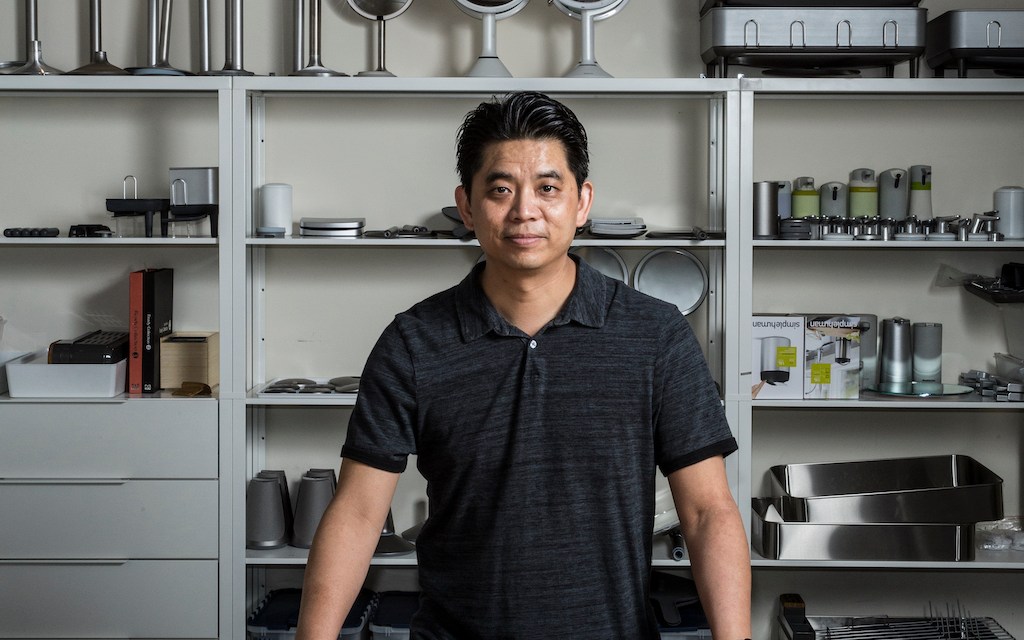 Simplehuman
It's no surprise that the home essentials category saw exponential growth during the pandemic. 
Cleaning brands — from Clorox and Lysol to greener options like Grove Collaborative — saw demand for virus-busting products spike. By the end of 2020, Clorox had its biggest quarter since 1998, reporting that its health and wellness and household care divisions grew by more than 20%. Similarly, Lysol owner Reckitt Benckise's third-quarter sales grew by 13% in 2020.
For bath and kitchen tool manufacturer Simplehuman, the focus has been on growing the brand beyond being a brand by growing the direct e-commerce website and app. The company is known for its stainless steel trash cans, and has since added items, like trash bags and hand sanitizer refills. Founded in 2000, Simplehuman has become increasingly popular in national stores. This was done through wholesale partnerships with Bed, Bath & Beyond and The Container Store, along with online marketplaces; Simplehuman recently became a first-party Amazon vendor.
Over the past year, direct-to-consumer sales became a much bigger part of the channel mix — along with dropship sales from retail partners' sites. Despite being known for its sleek trash receptacles, some new products have begun to gain bigger traction. During 2020, year-over-year sales for Simplehuman's sensor soap pumps and sensor cans grew by 320% and 39%, respectively. The DTC digital sales grew by double digits in 2020, beginning with a substantial increase last March and April.
The company said that it has shifted its marketing budget over the last year, allocating 65% toward social and search, as a result of its growing DTC business. The remainder 25% is allocated toward owned ads (website and email) and 10% for earned media.
In an interview with Modern Retail, founder and CEO Frank Yang discussed the growing need for a direct-to-consumer relationship, developing pandemic-appropriate products and expanding internationally. This interview was edited for length and clarity.
As a brand with a large brick and mortar presence, how has the e-commerce boom impacted your distribution and sales?
Historically, we haven't actively presented ourselves as a DTC company. We think about being in places customers want to get our products, which include big box stores and platforms like Amazon. But with stores getting less foot traffic than they used to, we've started ramping up our DTC channel to reach more customers. In a way, our channel mix has shifted from mainly wholesale to include a bigger chunk of DTC and e-commerce dropshipping. 
What are some of the changes you've made as a result of this shift?
The decisions we've made have mainly been to mitigate supply chain delays — especially for our Asia-made products, whose shipping has tripled in time. So we started directly dropshipping to our retail partners' sites, along with transforming our own website to be more shopper-friendly. 
Over the years, the website was an afterthought, but it's become front and center as a direct line to customers. We also have a growing international presence, but not all markets are as DTC focused as the U.S. at the moment. So we want the direct website sales to reflect our markets.
We're also in the process of launching an improved new app; This will make for a stickier way to interact with subscribers of soap and trash liner refills.
How has the pandemic impacted your product development?
Aside from increasing production, we've fast tracked creating new products that are relevant to today's cultural landscape. We recently expanded into new home categories that specifically hone in on sustainability and sanitation. For example, we recently released a new phone cleaning device and the Pulse Pump, our take on a long lasting alternative to plastic soap bottles.
We also launched our magnetically-attachable food compost caddy. This category is ripe for disruption because while most people want to compost, there is a big barrier for many who don't know where to start.