This holiday season, 'American-made' holds a different importance for brands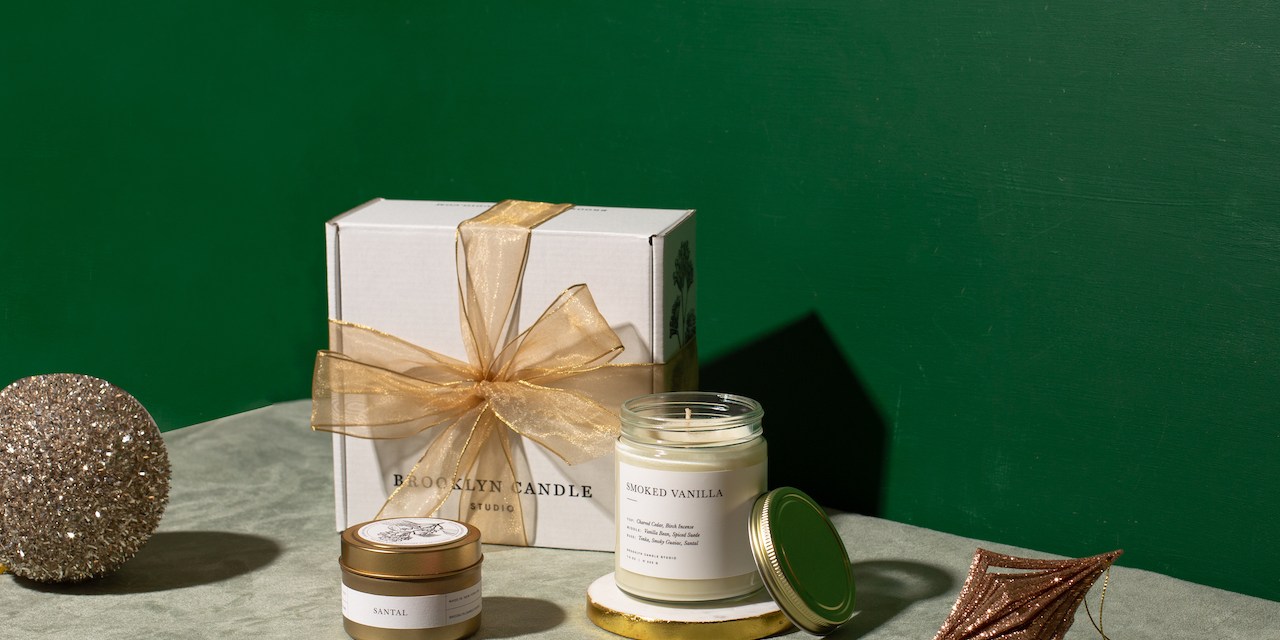 Image via Brooklyn Candle Studio
For months, retailers of all sizes have been pleading with customers to place their holiday orders early, as container shortages and port delays mean they don't have as much inventory as they would like in time for the holidays.
But one group of retailers that aren't as worried about port delays are companies that manufacture or customize their products in North America.
Historically, larger retailers usually have an edge over smaller guys due to the scale of their businesses. But recently some, locally-made brands are finding that their in-house manufacturing capabilities are actually giving them an edge this holiday season — given that they aren't as reliant on overseas orders as other brands. With this, companies that specialize in handmade or made-in-America products are betting on a big holiday season, trying to direct more sales to their direct-to-consumer sites, and ramping up custom products or limited-edition items. 
Other elements may be helping this phenomenon too. This holiday season, smaller brands specializing in handmade or customizing products are anticipating a lift from shoppers looking for alternative gifts. Indeed, about 34% of American shoppers said they're prioritizing buying from small businesses during the 2021 holidays, according to a CNBC and Momentive Small Business Survey.
Growing DTC sales
Since launching as an Etsy store in 2013, Brooklyn Candle Studio has grown to make all products in-house at the company's New York facility. Some of the companies' products' components are sourced overseas — such as paper packaging and German-made candle wicks. However, for the most part "we have direct control over the manufacturing in New York City," owner and creative director Tamara Mayne said.
Over the past few years, the brand has struck up wholesale partnerships with retailers such as Nordstrom and West Elm. However, Mayne said that after experiencing its biggest year-to-date in 2020, the candle brand wants to use focus on growing sales through its own website, in light of the opportune position it is in this year. About two years ago, the company generated 80% of its sales from wholesale, versus 20% from its website. Now, Mayne said the sales breakdown is "nearly 50-50." 
"We've always had a DTC presence, but it wasn't until around 2018 that we started growing it with email and paid social ads," said Mayne. The brand has also increased its SMS marketing to prompt customers to order earlier this holiday season.
To prepare for the gifting order rush, Brooklyn Candle Studio stocked up on candle jars over the summer and stopped taking wholesale orders in October. The only delays the company is anticipating ahead of the holidays from its shipping carriers, Mayne said.
To draw customers to the website over retail partners, the company began offering exclusive scents and product bundles over the past two years. The brand also runs a program called First Flame Friday, where it launches an exclusive limited-run candle scent on the first Friday of each month. "First Flame Friday and our subscribe and save 'Candle of the Month' offers are helping us build a DTC following," Mayne said. 
Offering customizable gifts
Though it is typically considered a term for marketing copy, some executives say that being 'American-made' has also helped them avoid shipping delays this holiday season. Stationary brand Appointed manufactures and ships all notebooks from its Washington D.C. warehouse, allowing customers to monogram their stationary. 
"Because we produce most of our products in-house with American-made materials, we've been able to stay ahead of many supply chain issues," Appointed founder Suann Song told Modern Retail. Throughout the year, the company had been stockpiling raw material, like paper and a specific Chinese-made glue used to bind its notebooks, to prepare for the holidays Song said. Hiring was another big area of focus to ensure it could properly meet holiday demand — the company has doubled the size of its warehouse team this year.
In October, the company opened a flagship store, which is attached to its production facility and features a "Notebook Bar," where customers can design and receive custom notebooks in under 15 minutes.
For the 2021 holiday season, Appointed launched three exclusive limited-edition holiday bundles that include planners and calendars for the first time, which come gift wrapped. For its Black Friday weekend sale, the brand offered up to 30% off on stationery and writing tools to kickstart the seasonal orders. The company has also been promoting its cut-off delivery windows, which include international shipping until December 14 and overnight domestic shipping December 21.
The company's "locally handmade" operations and messaging has helped Appointed cultivate a following during heavy gifting periods, Song said. "We've seen this in our holiday sales, which are already 50% higher than last year."
"Being U.S.-made turned out to be a blessing in disguise," she added. 
Using limited-edition colors to drive hype
Cadence, which makes travel and organizing containers from recycled plastic, is another domestically-made brand planning to grow via holiday sales. Founder Steph Hon launched the brand out of a New York City co-working space in February 2020, where she and her team of part-time employees laser embossed the capsule containers with customers' custom initials, characters or product labels like "moisturizer" or "vitamins."
The company has since opened a fulfillment warehouse in Upstate New York, where employees customize capsules and ship them out within 24 hours. The containers themselves are manufactured in Canada, which is an 8-hour drive from the fulfillment center.
Cadence has built a following over the past 18 months in part doing limited-edition color runs, like Pantone Cadence Sand and Pacific blue which it promotes on its website, email and on Instagram. The brand also offers "build-your-own" bundles of six or 12 capsules at a discount. Hon said that one of the benefits of fulfilling orders close to where the company manufactures its products is that it is easier for Cadence to do limited-edition items. For example, Cadence's Ocean collection, released for Earth Day 2021, became one of its best-selling collections.  For the holiday season, Cadence launched an Evergreen collection, which sold out in three days. The company is working on producing another run of the collection. 
Like other brands, Hon said she anticipates carrier delays will be the biggest hurdle for Cadence's holiday sales.  The company is telling customers to place orders by December 13 in order to get gifts in time for Christmas. "But we're also doing free 2-day shipping on the 16th to give last-minute shoppers a chance to order." 
This month, Hon said Cadence expects to surpass last year's holiday sales. Much of that is thanks to its localized manufacturing. "Having nearby production and fulfillment has been a lifesaver," she said.