'This is a serious investment': More DTC brands are bringing on celebrity co-founders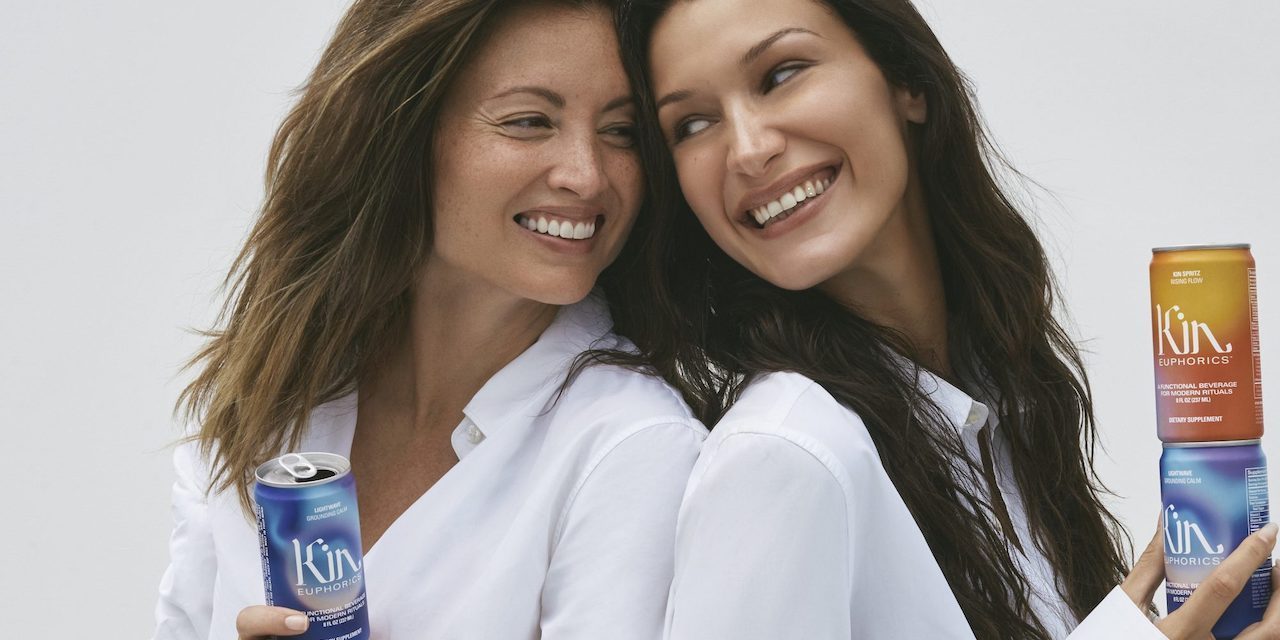 Image via Kin Euphorics
Celebrities are increasingly taking a more hands-on approach to investing, and positioning themselves as post-facto brand co-founders or creative directors.
The celeb-founded brand trend is nothing new, with a number of famous figures launching their own brands in recent years. Prominent examples include Casamigos Tequila, Fabletics and the Honest Company, which respectively count George Clooney, Kate Hudson and Jessica Alba as co-founders. More recently, rapper ASAP Rocky took a guest artistic director role at PacSun. 
However, several startup brands have recently been bringing on a celebrity as an investor or co-founder, and making their prominent partners more involved in their marketing strategies. These include sexual wellness brand Maude, the non-alcoholic beverage Kin Euphorics and canned cocktail brand Onda. Unlike the more common paid celebrity sponsorships, these types of partnerships entail a more involved role for their celebrity investors. The startups bringing on these a-listers say the closer partnerships lead to more marketing opportunities, a wider customer reach and an uptick in sales.
Retroactive celebrity co-founder status
What stands out about this most recent wave of celebrity-brand partnerships is that some of them are being given "co-founder" titles after the fact, even for companies that were launched years prior. Some young brands, like Kin Euphorics, say they created these roles after receiving passionate inquiries from their celebrity fans wanting to be involved — and decided to give them the co-founder title to underscore the seriousness of their involvement.
In the case of Kin Euphorics, a booze-free beverage made with adaptogenic herbs and botanicals, the brand was originally founded in 2018 by Jen Batchelor. But last September, model Bella Hadid joined the brand and was given the title of both co-founder and partner.
Hadid has spoken about being a fan of the brand before reaching out to Kin, often drinking it during long photoshoot days. "We had never paid anyone to post about Kin, so I was surprised to hear that," Batchelor said. Still, Batchelor said it took some time before she decided to bring on Hadid as a co-founder.
At the time, Kin Euphorics was already growing rapidly, thanks to the rise of alcohol-free spirits and consumers' interest in moderate alcohol consumption.
"She [Hadid] put a deck together about what she'd bring to the table, and was already well versed in our ingredients," Batchelor explained. "That made me realize this is a serious investment for her." That's when the company raised an undisclosed bridge funding round to bring Hadid onboard, Batchelor confirmed, with Batchelor acting as co-founder and CEO. 
"In a way, it was a reset for the brand and is helping us understand our Gen Z reach," said Batchelor. "Bella now formulates flavors with me," she said. The latest example is Kin's lavender-based Lightwave beverage. Batchelor said that while Hadid is often traveling, the two are "constantly texting" about everything from merch to partnership requests. "She also dedicates about six to eight hours a week to Zoom meetings," Batchelor said. Furthermore, Hadid, who has 50 million Instagram and 4.6 million followers on TikTok, often posts about giving up alcohol and opting for Kin's beverage line. 
Today, Kin Euphorics is currently sold in 1,200 retail locations in 20 countries. The brand is in the process of expanding into more retailers and off-premise locations, as more bars and restaurants try to grow their non-alcoholic offerings. 
An authentic influencer voice 
Aside from Kin Euphorics, digitally-native brands in other niche categories are also receiving attention from entrepreneurial celebrities even after they've launched.
Actress Dakota Johnson joined DTC sexual wellness brand Maude in November 2020, both as investor and co-creative director. Maude was originally founded in 2017. 
"We didn't want to just take the equity without her substantial involvement," Maude founder and CEO Éva Goicochea told Modern Retail. "Especially because with sexual health, it wouldn't be authentic to just slap any celebrity's name on the brand." She also noted Johnson's career, notably as the star of the 50 Shades of Gray franchise and her openness about sexual health, as factors that lent Johnson credibility as a creative director for Maude. 
"Dakota [Johnson] is usually very busy, especially while shooting — but we're in constant communication about operations," Goicochea said. Since joining Maude in 2020 Goicochea said "we like to weave" Johnson's role into the company's public image. "The name has also given us access to places that we didn't have previously," Goicochea said, pointing to newfound influencer and brand partnerships. 
There are further perks that come naturally with being a celebrity-backed brand, especially in the press and on social media, said Goicochea. "There are bigger spikes in sales traffic when [Dakota Johnson] posts about Maude, compared to our usual marketing campaigns," she explained; Johnson currently has 4.6 million followers on Instagram, which pales in comparison to Maude's 81,000 followers. The large following is helpful in bringing in international customers, as Maude has expanded into 33 countries over the past year, Goicochea said. 
"On the other hand, there are scheduling challenges we have to work with," she said of having a Hollywood-based executive. "So we like to use her involvement in a strategic way," Goicochea explained. For instance, last year the company created a sexual wellness campaign around Maude's birthday that was picked up by multiple media outlets. As a result, the brand's direct-to-consumer website experienced an uptick in traffic, though Goicochea declined to say by how much.
In turn, more digitally-native startups are seeking to bring on a celebrity either as a co-founder, or as a more hands-on investor.
Ready-to-drink cocktail brand Onda brought on actress and influencer Shay Mitchell early on — before the brand launched in July 2020.
Noah Gray, co-founder and CEO of Los Angeles-based Onda, said Mitchell "has been pivotal" to growing awareness of Onda in its first two years, as the brand expanded across the country. Mitchell, who has over 32 million Instagram followers, consistently posts about the cocktail brand on social media.
Mitchell was introduced to Gray and the other Onda co-founders in pre-launch early days through mutual friends. "She's [Mitchell] a huge tequila fan, so she was intrigued with the concept, and then really fell in love with the branding and our vision," Gray explained. 
Mitchell first served as an informal advisor, offering her creative input and insight to the recipes, said Gray. "Then we formalized the relationship and she became co-founder and chief brand officer — leading our brand, content and partnership strategy," he said. Mitchell's involvement has also attracted investors since launching, with the company raising a $5 million Series A round last May.
"Shay is a natural voice to Onda and is able to tap into our target communities," said Gray. As a co-founder with skin in the game, Gray said Onda's aesthetic – bright colors with beachy, California vibes – matches the actress' own lifestyle and social media presence. 
Going forward, Gray said that Mitchell will continue to help grow the brand's digital presence and upcoming marketing activations, as Onda positions itself as a hard seltzer alternative. "She is well-connected, and always on the pulse of what's next when it comes to original content creation."
Correction: This article has been updated to reflect that Dakota Johnson is a co-creative director and investor, not a co-founder, of Maude.