Thrive Market's private label strategy drove $100M in sales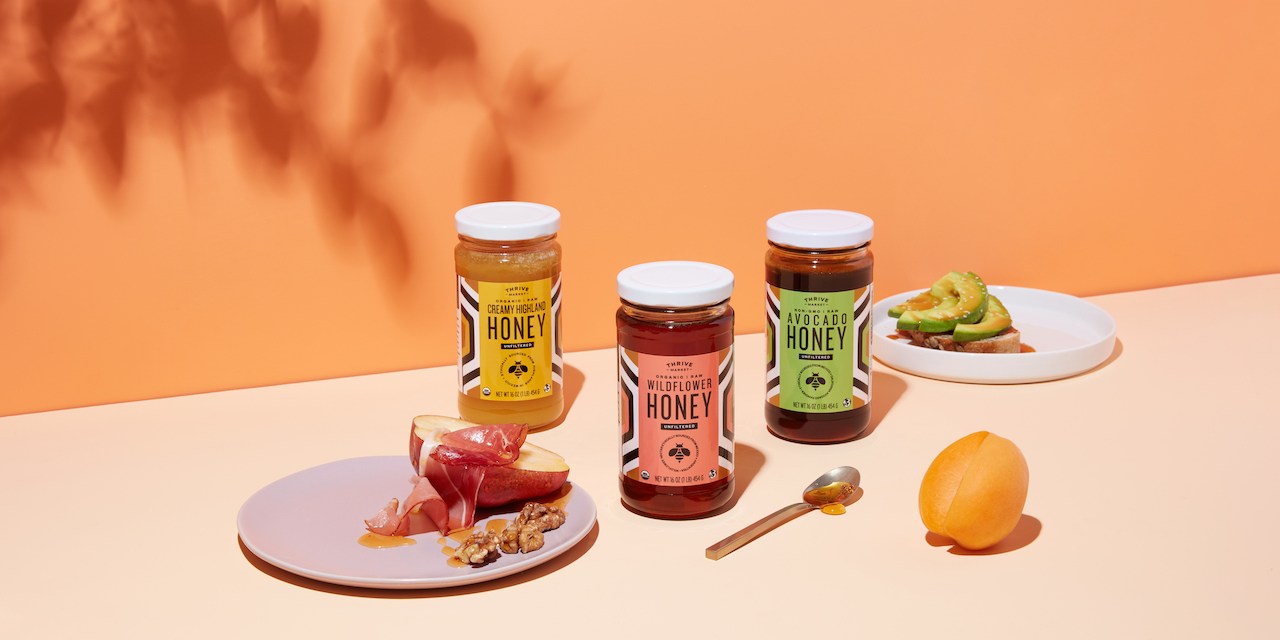 Image via Thrive Market
Private labels continue to be a big revenue driver for grocery startups. 
Online grocery retailer Thrive Market is one such company that's been growing its in-house offerings alongside third-party merchandise. The company currently has three brands under its umbrella of private labels, which are mostly made up of grocery and pantry staples like grains, spices, canned goods and coffee. Its newest line, Rosey, features home care products and launched last year.
Today, Thrive has 5,700 total products, with private label merchandise making up about 20% of overall SKUs. Currently, about 25% of Thrive's monthly sales come from its in-house branded products. Sales from these brands were approximately $100 million in 2021. The company says it has hundreds more SKUs in the works. Thus far, the company's strategy has been centered around launching private label products that cater to trending consumer preferences or diets.
Developing in-house products based on customers' preferences
Jeremiah McElwee, chief merchandising officer at Thrive Market, said that growing a private label program is about filling in product gaps for the retailer's customer base. 
Private labels were part of Thrive Market's playbook back during its 2014 launch. By 2015, the company launched its first private label product, coconut oil, to tap into the emerging interest in paleo cooking, McElwee said. 
McElwee, who previously managed Whole Foods' in-house 365 line, said "the goal is to offer subscribers more value out of being annual members." A Thrive Market membership costs $60 a year and is required for shopping the website and app. 
"We found that members shop with specific diets in mind," said McElwee. Thrive product filters include Whole 30, keto, paleo and gluten-free, among others. "Many products out there don't always cover these preferences," McElwee explained. "There's an opportunity to cater to consumers by checking off more dietary boxes on our private label products." 
McElwee said that Thrive's own category managers are experts on food trends and customers' dietary habits. "So we lean on them for insight on product development."
Striking a balance to achieve healthy margins
Ongoing inflation and price increases are driving customers to consider private brands, said McElwee. According to the U.S. Department of Agriculture, grocery prices spiked by 3.1% in 2021 and are expected to further increase between 1.5% and 2.5% in 2022.
However, for niche categories like health and natural foods, retailers have to be able to provide appealing private label products, not just lower prices, he said.
The biggest challenge in offering organic and non-GMO products is in being able to keep costs relatively low to hit revenue targets, said McElwee. To compete without lowering prices too much, Thrive's merchandising team strives to develop a product by tweaking ingredients to surpass the vendor's version and receive more certifications. For instance, Thrive sells a pouch of USDA organic cassava flour for about $5 less than vendor Otto's Naturals conventional version.
All of Thrive Market's owned products are non-GMO, and free of ingredients the company doesn't allow, such as preservatives, artificial flavors, and no added sugar whenever possible, McElwee explained. The company is also pushing further into agriculture certifications for its owned brands, such as going from conventional to organic to regenerative organic manufacturing. "We often ask our manufacturers and farmers if they can make a version for us without certain added ingredients or modifications," he said.
Joelle Dove, director at private label consultancy Daymon, said private brands are becoming more enticing especially as inflation increases. 
"Consumers are feeling rising costs from every direction, from the cost of gas to the increase in food prices and general merchandise such as clothing," Dove explained. "The shift to private brands has become stronger."
"We are also seeing consumers purchasing more private brand products per shopping trip versus pre-pandemic at mass," Dove said. According to a December 2021 Daymon survey, 60% percent of shoppers who purchased private brand products last year said they intend to shop in-house brands again during the holiday season.
For Thrive, new and emerging brands are still an important part of its business, McElwee said. "We want to strike a balance between in-house brands and third party vendors," he said.