To deal with online demand, Whole Foods turns physical locations into 'dark stores'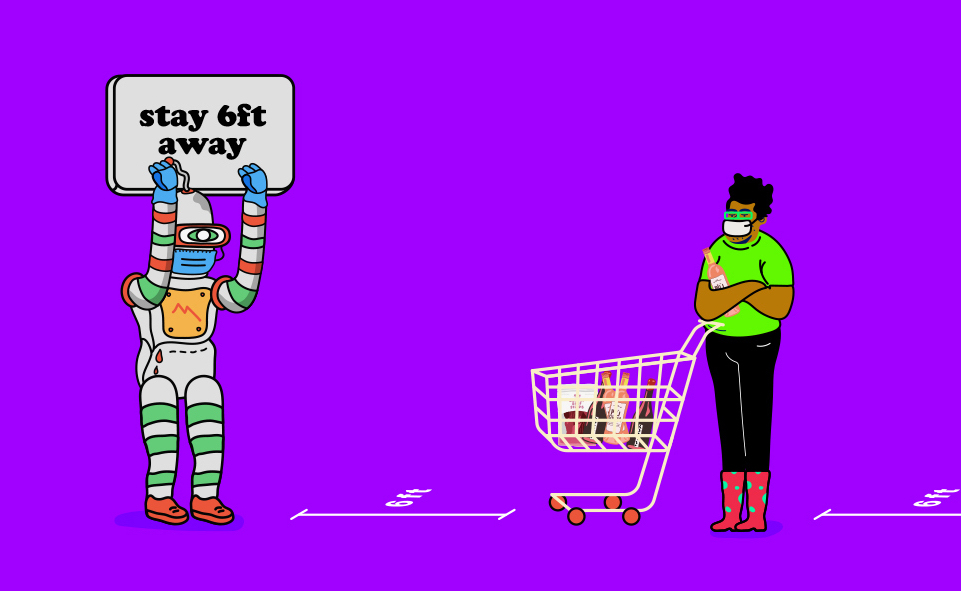 As online grocery demand increases, retailers are having to rethink their spaces and get creative with the resources they have.
It hints at a back-end grocery services boom on the horizon.
At Whole Foods, the company had to temporarily shut down its Manhattan Bryant Park location "to focus on Prime grocery deliveries and help us fulfill more orders." Essentially, the grocer needed to transform the space into a dark store, where only employees can go inside to pick up and package items.
The move highlights the decisions grocers are being forced to make now. These companies are recording record sales, which is leading to increased stress on staff. With digital demand going through the roof, the businesses are trying to figure out how to both keep stores open but also safe facilitate fulfillment. Amazon, for example, has transformed another location in Southern California to also become a dark store as well as implemented a waiting list for new digital grocery customers. Kroger provides another example; three weeks ago it converted one of its Cincinnati-area stores into a pickup-only location. While these big players are transforming existing real estate into new concepts, these grocers are likely looking to invest in other long-term back-end solutions.
Reached for a comment, a Whole Foods spokesperson confirmed the Bryant Park store conversion and pointed to other Manhattan locations still open. "As we continue to face the challenges associated with COVID-19, we are constantly looking for new ways to meet the increased demand for online grocery shopping and serve more customers," the spokesperson wrote in an emailed comment.
In metro areas, the online spike is especially acute; "Trying to get a window for grocery delivery at this point is akin to winning Hamilton tickets," said Oweise Khazi, director of the Amazon intelligence arm at Gartner for Marketers. Still, he explained, Amazon's strategy to deal with the influx of interest has been smart. "In terms of what is in stock, what is out of stock," Khazi said, Amazon was "able to leverage some of the modeling." Which is to say, Amazon used its internal data to try and best weather storm, which explains why it's now temporarily closing certain locations in Manhattan and Los Angeles that likely are epicenters of digital order demand.
Amazon, said Khazi, is "making sure they are doing everything they can to service centralized demand — this includes the conversation of the brick and mortar stores to serve Prime consumers." For Bryant Park, this decision makes sense; the location likely was already fulfilling many digital orders pre-Covid, given the urban location and the concentration of affluent people in its proximity. The company has said that over the last few weeks it's upped its online grocery capacity by 60%. But these popular stores can't be closed to the public forever.
The e-commerce giant isn't the only company dealing with a shock to the system. Grocery stores around the country are both open and trying their best to keep stores clean, healthy and in-stock. Walmart, for example, has hired more than 100,000 over the last three weeks — both to help stock shelves and fulfill digital orders, reported CNBC. Target too announced that it had hired over 70,000 new shoppers for its Shipt platform.
Getting creative
Before the coronavirus, digital orders made up between 3% and 5% of the grocery pie, said Mohamed Vaid, the vp of commercial acceleration at the micro-fulfillment service provider Dematic. Now, "we're firmly in the double digits."
While this is certainly a response to the uncertain times we're all in, it's unlikely consumer behavior will go back to normal. More people are now trying out online grocery, and some of them will almost certainly like it and decide to keep with it. The grocers, then, not only have to deal with the huge spike right now but also prepare for what the channel mix will look like post-coronavirus.
As a result, the brands with the ability to even a little bit of future planning are trying to figure out long-term investments to better cushion this rapid behavior shift. Dematic, the executive said, is seeing a demand spike too. "There has been a surge in interest," Vaid said, but declined to share specific numbers about the boost.
Micro-fulfillment centers are add-ons to existing spaces to more efficiently facilitate online order fulfillment. Other players, like Takeoff Technologies, use robotics to automate assortment picking, as well as high ceilings to maximize stock storage. According to earlier reports, Amazon worked with Dematic to build out a micro-fullfilment center in Los Angeles, though Dematic has declined to comment on the topic.
Most grocers are in a bit of panic mode right now, explained Vaid. "The smaller-to-mid-sized retailers are the ones that are so buried with demand that it's all hands on deck," he said. But the larger players, like Whole Foods, are beginning "thinking about having dark store concepts to cater to online demand." The conversations Dematic is having with potential clients right now, he went on, revolve around "how quickly can you do this?" and "how many centers can you build for us?"
Once the dust settles and demand begins to normalize, more retailers will likely begin to think about the future. Before, said Vaid, the customer need was about "proving out this concept." Now, retailers like Kroger and Walmart are leapfrogging beyond that and figuring out how to build a solution that scales. "They want to roll this out as quickly as possible," he said.