To increase margins, ghost kitchens are going B-to-B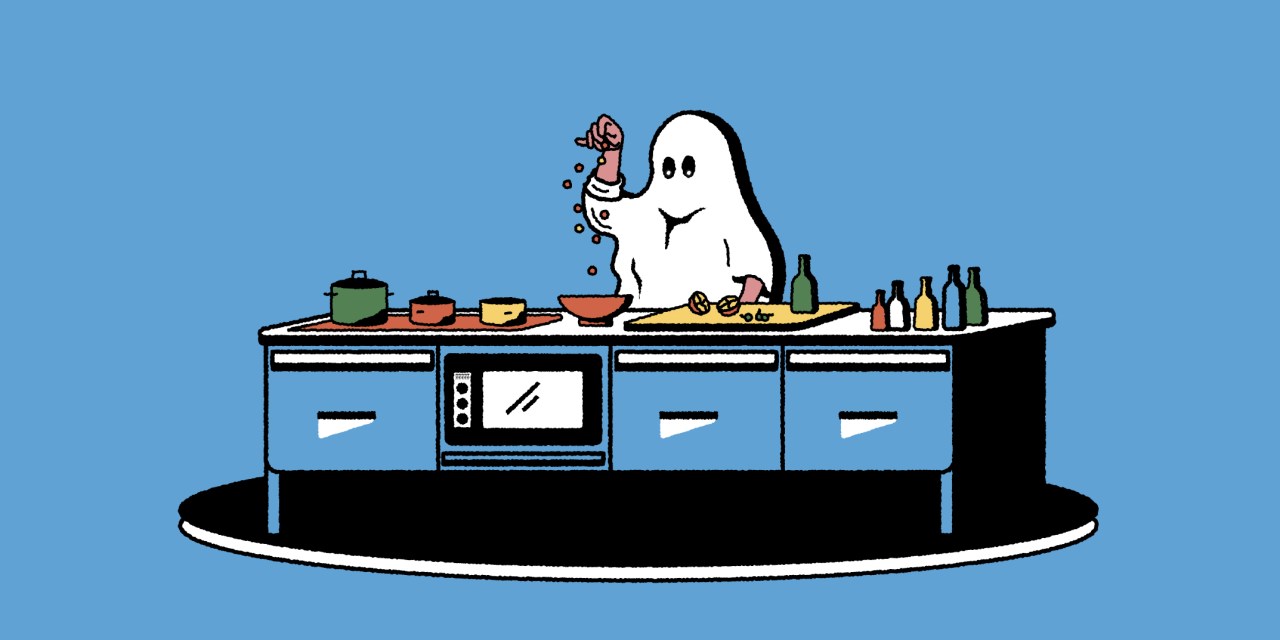 Kevin Kim, directed by Ivy Liu
When workers return to the office, ghost kitchens want to be there to serve them lunch.
Last fall, the virtual kitchen operator Zuul rolled out what it dubbed Zuul Market — a collective of virtual food brands, bundled together into a kind of delivery-only food hall, that the company quickly started pitching to major real estate operators.
Owners of office and residential buildings alike have already signed agreements with Zuul Market, so that tenants — and workers — can schedule delivery orders, usually at reduced cost, from their apartments or cubicles. The orders are then bundled together based on the requested times, and delivered in bulk from the Zuul kitchen in Manhattan. Zuul said it has agreements with 80 buildings across New York City, including real estate firms like Silverstein Properties, which operates office properties in the World Trade Center.
Zuul Market's model offers an early glimpse of a much larger effort by the ghost kitchen industry to establish itself in institutional food markets, largely as a way to keep up their pace of growth even as the pandemic starts to fade. Ghost kitchen companies are signing partnerships with hotel chains, residential buildings and traditional offices in order to supply bulk food orders — all to both build out a steady customer base and cut the overall cost of deliveries.
"All of the ghost kitchens and operators that we work with are so excited for offices to be back," said Kristen Barnett, COO of Zuul. "We're going to continue to see high adoption of delivery in an office environment," she said, especially as a larger swath of workers start to go back in person.
When Zuul partners with a new office building, said Barnett, the company creates a white-label ordering site specific to that building. Any office workers can place a food order, and select from a list of possible arrival times. Zuul then ships orders out to the office building in bulk, through a network of third-party logistics firms. (That is a pivot for Zuul, which in 2019 launched with the goal of targeting general consumers and hosting established restaurant chains, like Sweetgreen, in its kitchens.)
Most of the attention on ghost kitchens, especially during the pandemic, has focused on individual orders; people stuck at home are opting to have dinners delivered to their doors, and delivery-only restaurants have gained traction because of that. But individual food delivery orders tend to be incredibly low-margin, if not outright money losers. For ghost kitchen companies like Zuul, focusing on bulk orders helps dramatically cut the cost of delivery and logistics. Barnett said that, after the pandemic, food delivery isn't going to fade away — if anything, she said, "I think we're going to see a shift in where delivery happens."
"The biggest detriment to the ghost kitchen is fulfillment and the cost that goes along with that," said R. J. Hottovy, a food industry analyst who now manages the foodservice-focused investment fund Aaron Allen & Associates. While ghost kitchens have attracted a significant amount of attention during the pandemic, "nobody's figured out how to monetize it," he said.
Most restaurants already operate on slim profit margins, earning back just 3% to 6% on food orders. With the additional cost of delivery, those margins are even smaller. Add in the fact that the major third-party apps charge 15% to 30% in commissions and other fees, and it's not a model that works well for individual orders.
Hottovy said he thinks the business-to-business approach is likely to catch on among ghost kitchens. "I think what's going to happen is there's going to be some reluctance for a portion of consumers to come back to the office buildings," he said. Big commercial landlords are going to pile on amenities — like discounted lunch orders — as a way to prove their value. Before the pandemic, many businesses or real estate operators had partnerships with catering companies to bring meals to workers at a discount, and Hottovy said there's room for ghost kitchens to break into that space. "A lot of the catering companies are not tech-focused, whereas most ghost kitchen companies are," he said.
To emphasize bulk orders, other ghost kitchen companies have dabbled with similar business-to-business models. The ghost kitchen operator C3, for instance, has begun to partner with hotel chains located near its kitchens. Hotel restaurants are typically money losers, and from the hotel point of view, working with a ghost kitchen would eliminate the need for a full-scale hotel restaurant; on the ghost kitchen side, meanwhile, it would facilitate the kinds of big orders that make food delivery profitable.
Another strategy for ghost kitchens to eliminate fulfillment costs is to set up shop right beside major sources of customers. Walmart Canada is working with a ghost kitchen company called Ghost Kitchen Brands to bring meals to its shoppers. At the end of March, meanwhile, C3 signed a partnership with a series of apartment communities operated by real estate firm Akara Partners, with the aim of providing meals for the community's bars and cafes, plus individual food purchases ordered to a person's apartment.
"They're happy to do these large groups because the economics work," said Hottovy, who noted that a $200-$300 order is much more profitable than the more typical $10-$25 home orders. For food delivery to survive, he said, "route density is the name of the game."